'The Last Dance' Could Keep LeBron James From Overtaking Michael Jordan as the 'Goat'
Many sports fans are eager to watch ESPN's upcoming documentary about Michael Jordan called, "The Last Dance." Jordan is considered to be the greatest basketball player of all-time. So, now fans will get an inside look at a part of his career. However, many people argue that LeBron James is the greatest player of all-time. Can this documentary ultimately shut that idea down?
ESPN announced an earlier release date for 'The Last Dance' documentary about Michael Jordan
"The Last Dance" was originally scheduled to come out in June. However, with the coronavirus pandemic keeping sports from being played, many called for the documentary to come out sooner. 
ESPN ultimately granted their wishes as the network announced that the 10-part documentary will now begin on April 19.
"As society navigates this time without live sports, viewers are still looking to the sports world to escape and enjoy a collective experience," ESPN said in a statement. "We've heard the calls from fans asking us to move up the release date for this series, and we're happy to announce that we've been able to accelerate the production schedule to do just that. This project celebrates one of the greatest players and dynasties ever, and we hope it can serve as a unifying entertainment experience to fill the role that sports often play in our lives, telling a story that will captivate everyone, not just sports fans."

ESPN
"The Last Dance" will take a look at Michael Jordan and the Chicago Bulls' dynasty during the team's final championship season, according to ESPN. The network also spoke to more than 100 people who experienced the Bulls' dominance.
LeBron James and Michael Jordan are always compared to one another
Since LeBron James was in high school, many people said he could be the next Michael Jordan. Now, he has been in the league for 17 seasons and has certainly lived up to the hype. 
Here is a look at the comparison between the two NBA superstars.
James has been to nine NBA Finals while Jordan went to six. 
Jordan won six championships while James has won three. 
James had 34,087 career points while Jordan scored 32,292 career points.
Jordan was a five-time NBA MVP while James has won four MVPs.
James has averaged 27.1 points, 7.4 rebounds, and 7.4 assists in his career. Jordan averaged 30.1 points, 6.2 rebounds, and 5.3 assists in his career. 
Both of these guys were the best in the NBA during their respective eras. So, anyone who argues that one is the "GOAT" over the other certainly has a great argument.
The documentary can keep James from becoming the GOAT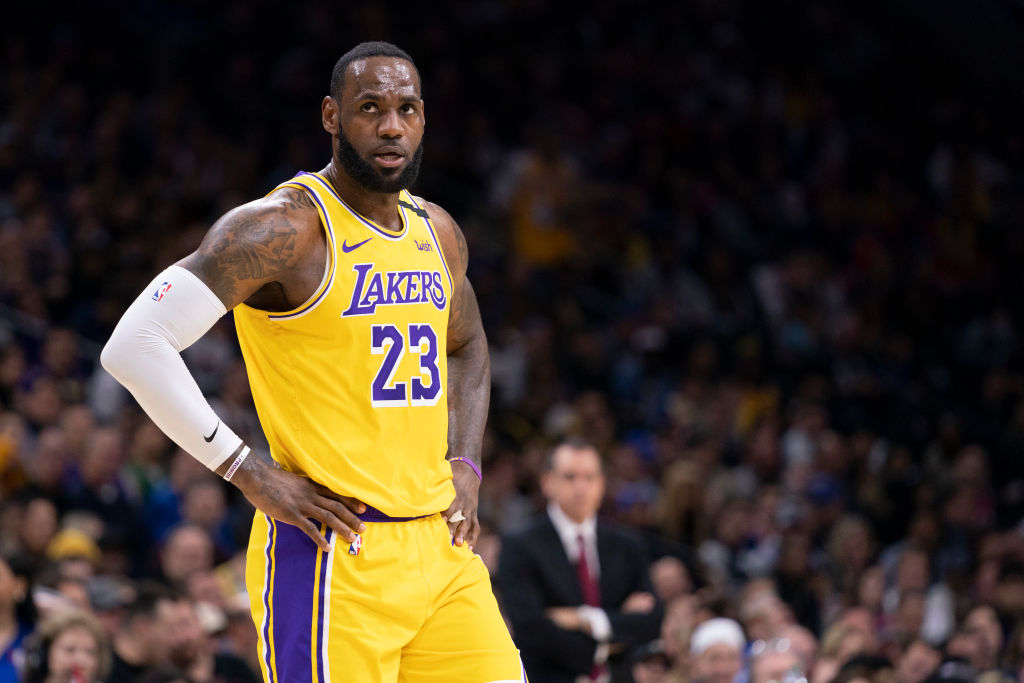 NBA analyst Bill Simmons has been around the NBA for a long time. Recently he said that Michael Jordan is releasing "The Last Dance" to keep LeBron James from overtaking him as the GOAT. 
"In 2009, we knew about this documentary that NBA Entertainment had," Simmons, a former ESPN employee, said on his "The Ringer" podcast, according to Insider.com. "They had filmed his whole season, they had all this behind-the-scenes footage, so [ESPN] got a copy of it and we watched it, and the behind stuff, it was the real Jordan. The homicidally competitive Jordan, the guy yelling at his teammates, all the stuff we had always heard about but I'd never seen. And we were just, like, 'How do we get this made?'"

Bill Simmons
Simmons went on to say that Jordan never wanted the documentary but he thinks in "the middle of the decade, especially after LeBron won that [Cavaliers] title, when things really started to shift and all of a sudden there was a Jordan versus LeBron argument," that Jordan and his camp realized they needed to protect his legacy.
This is an interesting perspective from someone who worked at ESPN and has been around the NBA. Can this actually keep James from becoming the GOAT? It's possible, especially if people born in the late 90s or later watch it. They didn't get the chance to watch Jordan as much they have watched James. If anything, the documentary will spark the debate again and will remind people how great Jordan truly was.