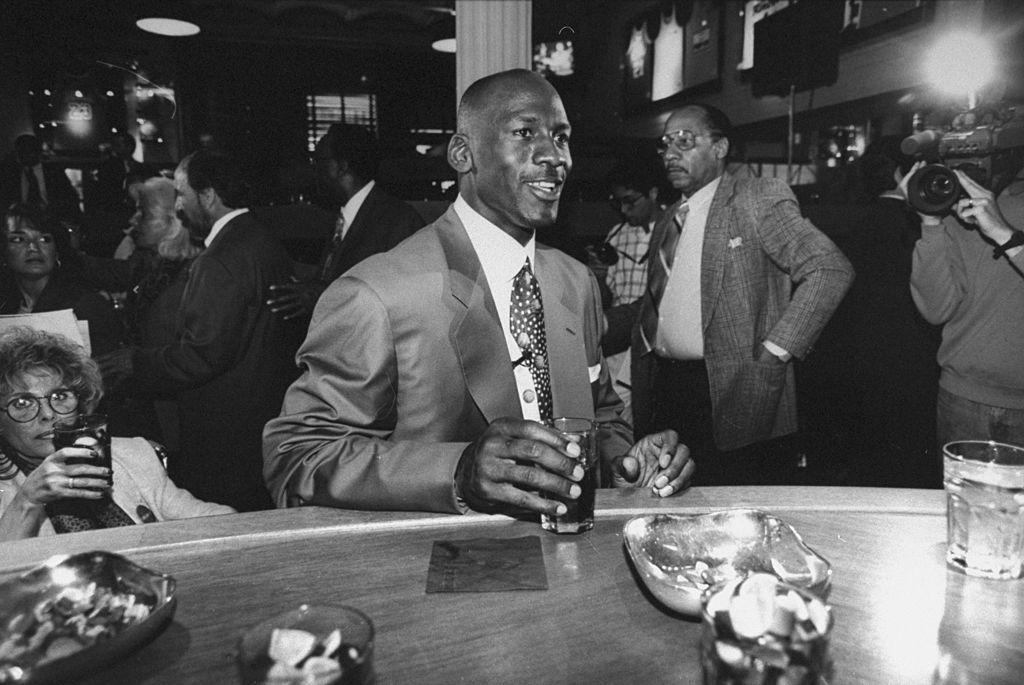 'The Last Dance': Michael Jordan's Iconic Tequila Glassware Set Costs $400
It seems like Michael Jordan drank a lot while doing interviews for The Last Dance, but other things are at play with his tequila glass.
ESPN made a smart choice in airing the Michael Jordan documentary The Last Dance early, giving MJ and Chicago Bulls fans reminders of a gilded basketball age. The look back at what Jordan accomplished is astounding. But his recent interviews for the docuseries are even more revealing.
One thing fans are noticing is his constantly refilled tequila glass when interviewed at home. At different points, it seems the glass is either full, half-empty, or near empty.
If it appears to indicate Jordan drank a lot while doing interviews for The Last Dance, but there may be other things at play here. Based on recent explanations from the documentary's director, Jason Hehir, it appears to be just clever editing and perhaps a little Jordan marketing.
In the age of 4K, more details in The Last Dance' are noticeable
Thanks to the age of hi-def, viewers notice details in this documentary they perhaps never would have in the 1997-98 season covered on the show. Many revelations about what went on behind-the-scenes with the Chicago Bulls then are now being made public. That tequila glass during Jordan's interviews, though, has everyone obsessed.
Many viewers are writing on social media wondering where they can buy a similar glass for their own. A response like this might have some strategy behind it on the part of Jordan himself.
In the meantime, the thought Jordan drank more than a few glasses of tequila during interview sessions is likely a bit misleading. Despite not being in the shape he was in the '90s, Jordan never has the body shape of a heavy drinker. Regardless, he clearly enjoys a little tequila and cigars as part of his retirement.
According to CBS Sports, the reason the glass looks full one minute (then emptier the next) is due strictly to comments shot at different times. Jason Hehir said he never really knew how many refills Jordan had. At the same time, Jordan's recollections about various events were never shot linearly.
What kind of tequila glass does Jordan use?
One reason this tequila glass caught everyone's eye is because it has a luxurious design. It turns out the glass is a Waterford Crystal tumbler, one of the nicest and most ubiquitous in the world.
Leave it up to Jordan to choose one of the most beautiful drinking glasses available. What type of tequila he drinks in the documentary is unknown, though. Suggestions are the drink is Jordan's own tequila brand with a bit of subtle product placement.
Jordan's marketing sense might have won over yet again without having to mention any products outright in the documentary. Just the reminder of Jordan's greatness on the miniseries may have people turning to Google to find out if Jordan has a tequila brand out there.
Indeed, he does, and it is called Cincoro, an investment he delved into with four other NBA team owners. They launched their product back in 2016 to rave reviews on an international scale.
Is it possible to find Michael Jordan's tequila glass?
Not many can afford to buy Jordan's tequila brand at a reported $1,800 per bottle. At the very least, a lot of people wanted to know where they could acquire the tumbler seen by Jordan's side. Various sources are available to acquire a set of those glasses at varying prices.
Inside Hook provides some good leads, including one box set of the tumblers from Nordstrom's for $395. These probably come the closest to what Jordan is using on the show.
Others a little more affordable are available, including one set from Vinepair looking almost identical. They retail for only $34. No one should expect to find imitation tequila, however, matching Jordan's.
If anything, it proves items coming directly from Jordan are always worth their weight in gold. At least The Last Dance allows us to enjoy some of that gold for the price of basic cable.