The Laver Cup Shows Us Roger Federer and Rafael Nadal in 2 New Roles
This weekend in Geneva, the second-most populous city of Roger Federer's home country of Switzerland, the third edition of the Laver Cup is being played. The Laver Cup, named after tennis legend Rod Laver, was designed by Roger Federer to bring an element of fun and celebration to the game of tennis. The tournament pits Team Europe against Team World in what Federer is hoping will become tennis's version of the Ryder Cup in golf.
The Laver Cup is quickly growing in popularity due to its team format and awesome atmosphere. And while the tournament still isn't drawing all of the world's top stars, 2019 marks the second time in three years that both Roger Federer and Rafael Nadal lead Team Europe. Fans are used to seeing Federer and Nadal in their normal roles as elite players, but the Laver Cup is showing them in a couple of new ways.
1. Roger Federer and Rafael Nadal as coaches
Could you imagine having Roger Federer and Rafael Nadal in your corner during a changeover? Every young tennis player's dream was Fabio Fognini's reality in his match against Jack Sock on Friday. Down 1-6, 5-4 in the match, Federer and Nadal stood behind Fognini and gave him some advice.
"I want no more negative. I want only positive. If you go back to return, you do it because you have good intention," Federer told Sock. "If he hits a good forehand, ok, we respect it, maybe it was lucky it doesn't matter. Believe in the good thing."
As Fognini expressed his frustrations, Nadal stepped in with some words of encouragement in Spanish. Federer once again insisted that Fognini "believe in a good thing."
"You can not be frustrated and think something bad is going to happen, or he gets lucky," Federer added after Nadal was finished making his points. "Make him hit a great shot, and we accept it, and we keep going."
Despite the good advice he received, Fognini couldn't curb his frustration and went on to lose the match 1-6, 6-7.
2. Federer and Nadal as fans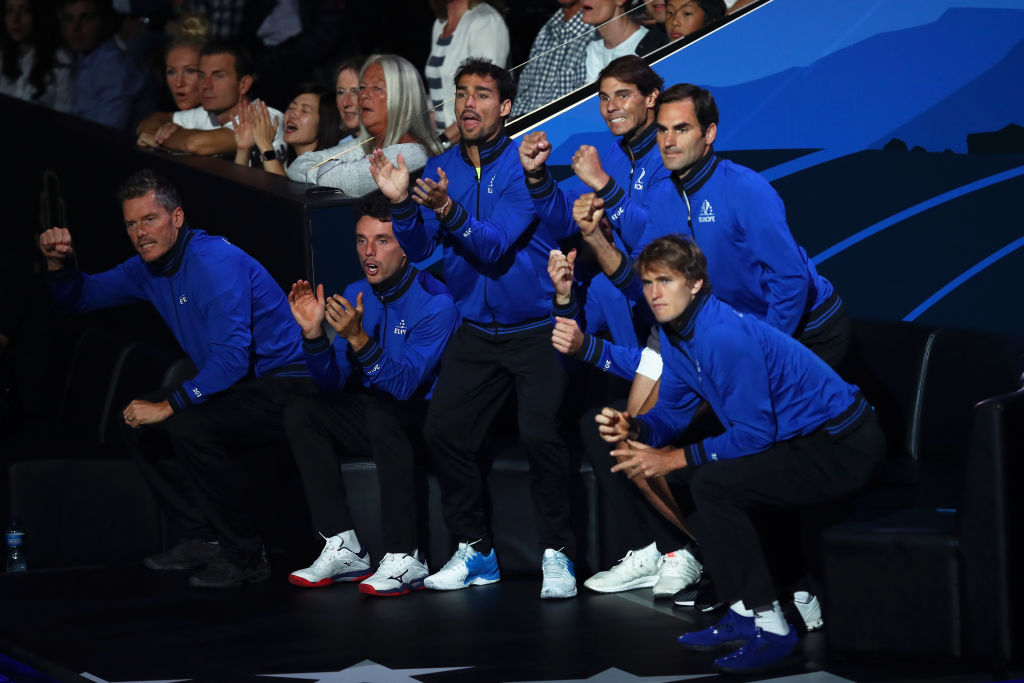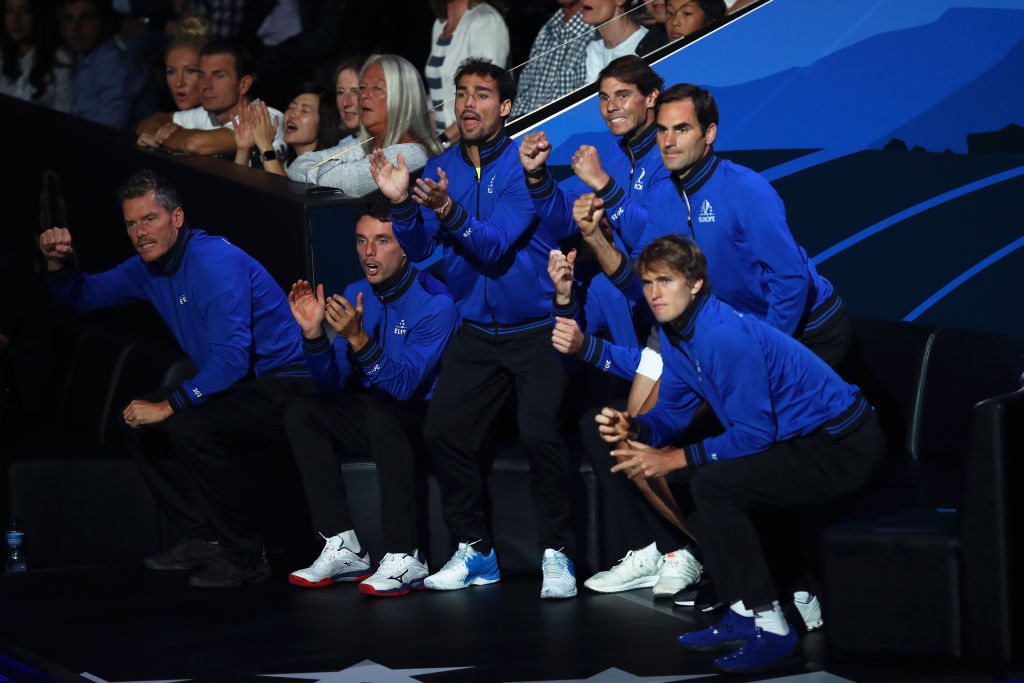 One of the really cool elements of the Laver Cup is the team format, as it gives tennis fans the chance to see some of their players in a role we don't often get to see them in; as invested fans like us.
During the match between Team Europe's Dominic Thiem and Team World's Denis Shapovalov, both team's benches had players on the edges of their seats throughout. Thiem eventually won in a thrilling 6-4, 5-7, 13-11 match, and Federer and Nadal were right at the center of the celebration.
Tennis needs more tournaments like the Laver Cup
For as great of as tennis and its traditions are, some of these traditions hold tennis back from reaching a new audience. While the on-court action can be exhilarating, the off-court pomp and circumstance can be alienating to more casual viewers.
The Laver Cup is played in indoor stadiums that have the look and feel of a much more casual event. Players cheering on their teammates and giving them in-match advice is a sharp contrast to the isolated feel of most major tennis tournaments.
There will always be an audience for on-court rivalries like the brilliant one that Roger Federer and Rafael Nadal have had over the last 15 years. But there is also an untapped audience out there to see the friendship that these two men share, and other behind-the-scenes access that will allow the great personalities in tennis to shine.