Yes, the Los Angeles Lakers Are Old, but LeBron James Will Need the Kids if He's Going to Win Another Ring
Much has been made of the Los Angeles Lakers' offseason moves around LeBron James. LA made a blockbuster deal to bring Russell Westbrook to California from D.C. and went with a theme of experience in the franchise's forays into free agency. But if James and the Lakers are going to get back to the NBA finals after a down season, it might be the young players the organization acquired that get them there.
Age and postseason experience are certainly key to being a title contender. But along with the oldest roster in the NBA comes a higher chance of injury and decline in play. LA will need contributions from its young guns if The King is going to get a chance at another ring.
James and the Lakers have the oldest roster in the NBA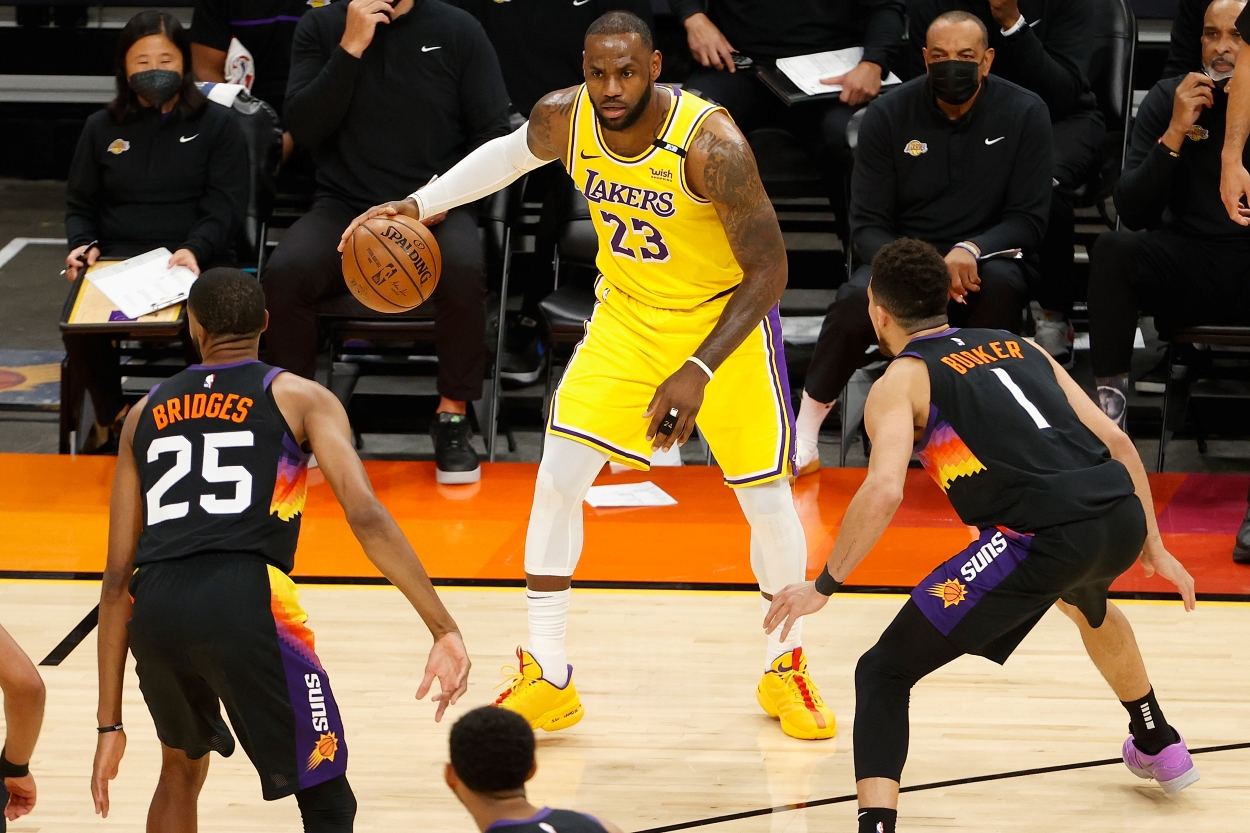 As the team's roster stands heading into training camp, the Lakers' average age of 30.7 is the oldest in the NBA. By a solid margin. Only one other team even crosses the 28-year threshold — the Brooklyn Nets, who come in at the ripe old age of 28.2.
LA brought in Westbrook in a deal with the Washington Wizards. He's 32. The organization also brought back Rajon Rondo and Dwight Howard, both members of the Lakers 2020 championship team, and both 35 years old. Carmelo Anthony joined James in LA, and at 37, is even older than his BFF.
Trevor Ariza (36), Wayne Ellington (33) and Kent Bazemore (32) also signed with the Lakers in free agency. James' co-pilot, Anthony Davis, is only 28 but has a longer-than-desired injury history.
LA also sprinkled in some youth, which could end up playing a contributing factor in 2021-22
Lakers general manager Rob Pelinka sent out three of the team's best young(ish) players in the Westbrook deal in Kyle Kuzma, Kentavious Caldwell-Pope, and Montrezl Harrell.
Only three players from last year's roster remain: James, Davis, and Talen Horton-Tucker. And it might be the 20-year-old Horton-Tucker, alongside 26-year-old Kendrick Nunn and 23-year-old Malik Monk, that provides the right spark and fills the right roles alongside James and the Lakers cast of veterans.
One of the hopes in adding Westbrook is that he takes some of the playmaking burden off of James and could run the offense on his own when LBJ sits. The offense can hum through Davis as well. But each member of LA's Big Three has faced recent injury problems.
James played only 45 games last year and Davis just 36. Both were banged up in the Lakers' opening-round playoff loss to the Phoenix Suns. Westbrook played 65 games last year and 57 in 2019-20.
If any of those three get hurt, much more of the scoring load falls on the old shoulders of Anthony. Rondo and Howard have never been scorers, and while Ellington, Bazemore, and Ariza are all solid in their roles, they don't provide much else.
Horton-Tucker is developing into an all-around wing. The Iowa State product averaged 9.0 points 2.6 rebounds, and 2.8 assists in 20.1 minutes per game last year. Nunn has per-36 career averages of 18.3 points, 3.7 assists, and 1.1 steals on 36.4% shooting from three. The former Miami point guard has also played in 19 playoff games.
Monk is the biggest boom-or-bust signing of all of them. The 11th overall pick in the 2017 draft has always projected as a microwave scorer off the bench, but he finally delivered on that promise last season. The former Kentucky Wildcat averaged a career-high 11.7 points in 2020-21 with Charlotte and shot a career-best 40.1% from three.
LA's ring-chasers, including James, will need their young trio
Monk has the ability to swing games on any given night with his scoring ability. At his best, he's a Lou Williams/Jordan Clarkson type of bench player. Horton-Tucker has two years of experience alongside James and Davis and can fill in at the three or four spots. Nunn has experience running a team in the playoffs and could be an ideal fill in for Westbrook and/or Rondo in short bursts.
LeBron and Pelinka built this year's roster on experience. That could prove to be the right move. But the Lakers are also putting a lot of old, breaking-down eggs into their basket. Monk, Nunn, and Horton-Tucker will be called upon at some point this season; they have to be ready.
All statistics courtesy of Basketball-Reference and roster details courtesy of Spotrac.
RELATED: Jerry West Changed the Course of NBA History and Created the Shaquille O'Neal-Kobe Bryant Lakers With a Single Move