The Mavericks Just Made NBA History by Getting the Band Back Together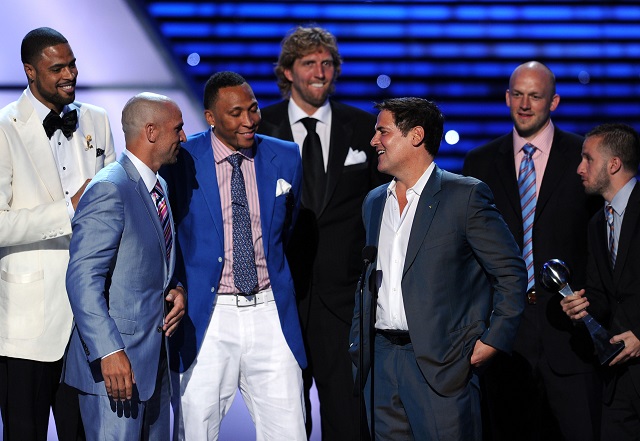 You could forgive someone for looking at the 2011 Dallas Mavericks, NBA champions and constant playoff participants, and assuming that they caught lightning in a bottle on their way to dethroning the Miami Heat, the beneficiaries of systemic problems in South Beach, San Antonio's first round drubbing at the hands of the Memphis Grizzlies, and the inexperience of the Oklahoma City Thunder. That's not wrong; in fact it neatly describes both the postseason and some of the reasons why Dallas hasn't repeated that kind of success.
It's also true, though, that that particular iteration of the Mavs never really had a chance to defend their title properly — in the wake of the lockout, as Mark Cuban put it in a blog post from a couple years ago, "We basically saw the 2011-12 season as a throw away no matter who we signed. With out the time to prepare and get their bodies ready, throwing a team with with an older starting lineup right into the fire was going to be tough. Young guys can walk into an NBA game any day of the year. Get to your mid 30s, not so much. So to bring the gang back, we would basically be losing a year. When you look at keeping together an older team and the first year after your championship is a lost year, it's hard to justify keeping an older team together."
Spoiler alert: They didn't. Point guard J.J. Barea signed a massive contract with the Minnesota Timberwolves, while defensive anchor Tyson Chandler went to the New York Knicks. Neither did much of anything in so far as winning another NBA championship was concerned — and neither did the Mavericks. Then, this summer, Chandler was traded back to Dallas. After Barea got waived he was headed back to the Mavs, too. And this is the first time an NBA Team has so totally tried to recreate a championship roster years after breaking it up.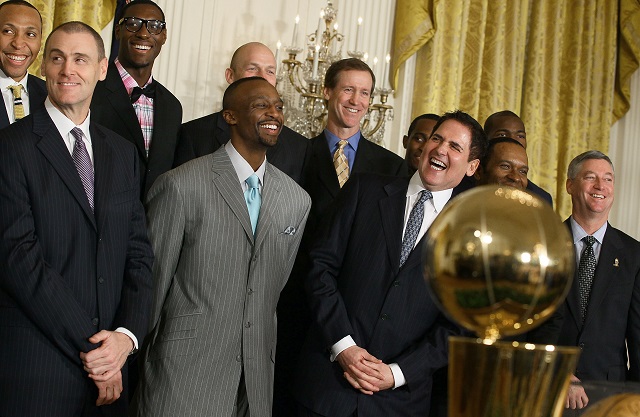 Needless to say, there are some key differences between 2011 and today's Dallas team. Jason Terry is in Houston, Shane Battier's retired, Jason Kidd is a coach, and Shawn Marion is in Cleveland. That's all true, but that's part of the difference between the Mavs and a traditional championship defender — they're bringing back some core components years after they were proven to come together in success. If the Lakers signed Andrew Bynum and Lamar Odom tomorrow, that'd be an analogous situation. And, yes, if you take a look at the Lakers current roster, you might think that there's some wisdom to that idea. Maybe.
Going back through the list of recent NBA Champions, though, and this method becomes quite singular. The Heat were always going to be build around LeBron, Wade, and Bosh, while the Spurs have had the same core crew together for the better part of the decade. The Celtics pioneered Miami's model, while the Pistons brought back Chauncey Billups but weren't seriously going to contend for a title, and they weren't really suffering under any illusions to the contrary. The Shaqobe Lakers never resigned Shaq, or even sought to, and the Bulls let Jordan leave in peace.
There's an argument to be made that Chandler wasn't the lynchpin to that 2011 Dallas team, but it's a bad argument that's mostly wrong, even if Tyson isn't on the level of some of these other NBA superstars (and, for the record, neither is Barea). Dirk, Cuban, and company are still legitimately aiming for a championship, so we've officially entered uncharted waters, where a former NBA Finals winner brings its key ingredients back after letting them go without defending their title. This should be interesting.