The Moment Jason Taylor and Zach Thomas Knew the 2007 Dolphins Would Fail: 'Dude, You Know We're Screwed'
There was an era when the Miami Dolphins were one of the league's best teams. Unfortunately, that hasn't been the case so far this century. The Dolphins have had some very bad teams. One of their worst years was 2007. Two of their best players that season, Jason Taylor and Zach Thomas, knew the team would tank. There was even a pivotal moment when both athletes realized just how bad the season would be.
The post-Marino and Shula Miami Dolphins
RELATED: Tua Tagovailoa Ready to Become Miami's Next Big Star
The Dolphins were blessed with one of the greatest quarterbacks and head coaches of all time. In 1984, Miami drafted Dan Marino. Though he never won a championship, he was one of the best pure passers in NFL history. His incredible arm and pinpoint accuracy kept the team competitive nearly every year he played for the Dolphins. 
The team also had head coach Don Shula, who led the team to two Super Bowl championships in the '70s. He later became the winningest head coach in NFL history before retiring. 
Former Dallas Cowboys head coach Jimmy Johnson replaced Shula and immediately clashed with Marino. By 2000, Marino retired. Johnson couldn't get the team back into serious contention, though he did get them to the playoffs. After Marino left, Miami could not land a franchise QB. They dealt with multiple mediocre-to-bad QBs under center. The Dolphins did manage to nab a few elite players, however.
Zach Thomas and Jason Taylor's arrival in Miami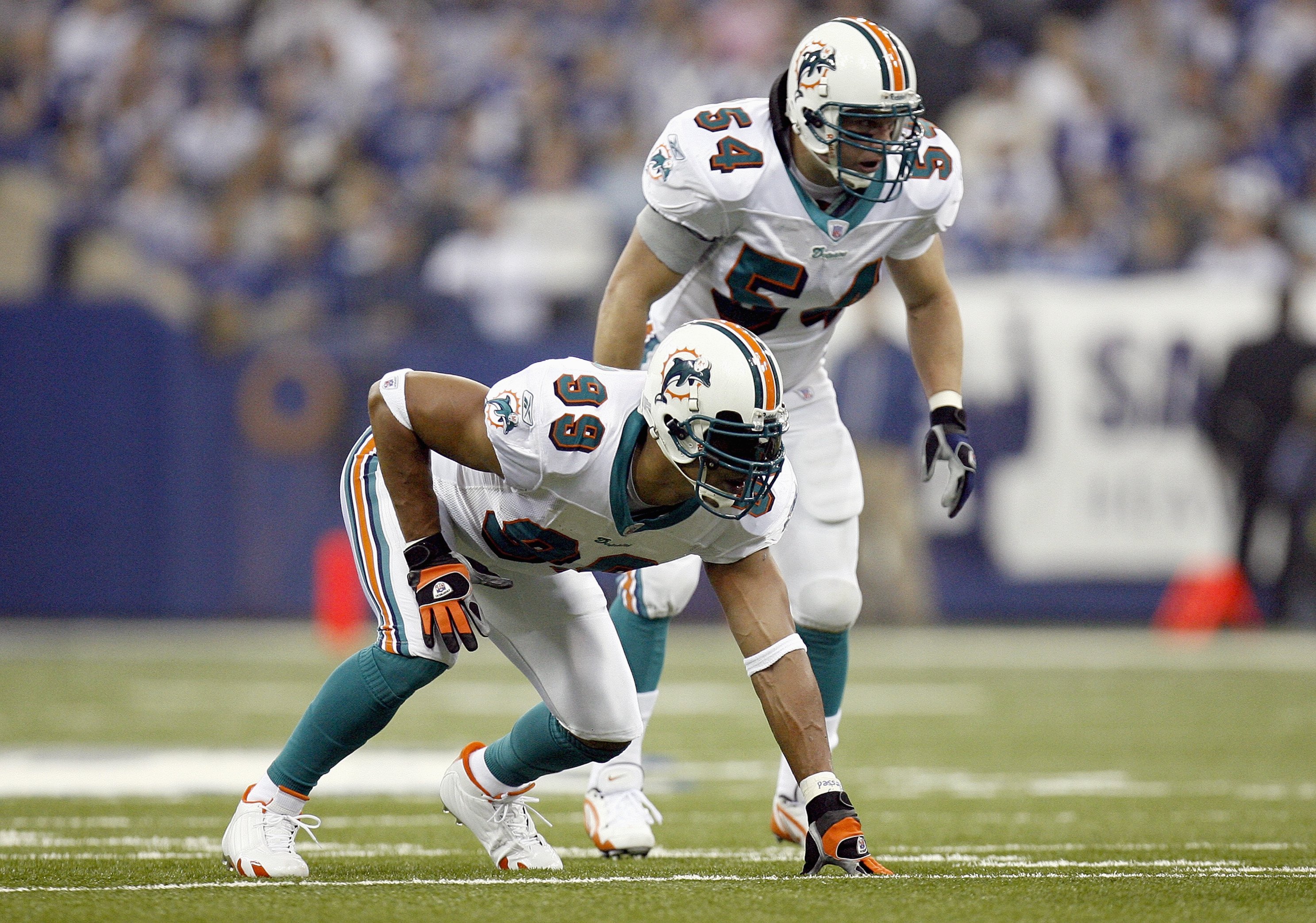 RELATED: The Miami Dolphins Put Minkah Fitzpatrick on the Field With Total Strangers
Taylor and Thomas joined the Dolphins during the end of the Marino/Shula era. The team drafted Thomas in 1996 and added Taylor in 1997. Thomas played with the team until 2007, joining the Cowboys for one season before his retirement. Taylor played with the team until 2007 as well, then finished his career out with one-year stints for Washington and the Jets mixed in with two one-year returns to Miami. 
In an era where the Dolphins didn't have much success, Thomas and Taylor were two of their brightest spots. Thomas made seven Pro Bowls while Taylor made six. Taylor was eventually named to the Pro Football Hall of Fame. 
The moment Thomas and Taylor knew the 2007 Dolphins would fail
The 2007 Dolphins went 1-15 under head coach Cam Cameron. According to Taylor's interview following his Hall of Fame induction, via Nola.com, he and Thomas did not care for Cameron as a head coach. Taylor went so far as to call Cameron an idiot.
Every year, Taylor and Thomas would sit down during training camp and discuss their expectations for the coming season. Not a week into 2007 camp, they knew they were in trouble: 
"We both sat down in that lunch room in 2007 and it went to that conversation. And this is a week into camp and we started talking about it, and Zach says, 'Dude, you know we're [screwed].' I'm sitting there and I think about it and say, 'Yeah bro, it's going to be a long season.' That's a bad feeling when you're going to work and you realize we don't stack up. We need a miracle to win some of these games."

Jason Taylor on the Dolphins' 2007 season
Thomas and Taylor had no idea how right they would be. The team's 1-15 record was enough to get Cameron fired after only one year. The two veterans had enough experience to know a horrible team when they saw one. In two careers full of highlights, this had to be a lowlight for both athletes. Cameron never got another chance to be a head coach, though he has been an assistant.