The Moment Joseph Benavidez Realized He Had to Quit Drugs and Alcohol to Be a UFC Fighter
It's not unusual for UFC fighters to have a rough childhood before they decide to become a fighter. That's the case for Joseph Benavidez, who, while he's never won a belt, is still one of the best to ever compete in the UFC. Here's why Benavidez decided to quit drugs and alcohol to become a UFC fighter.
Joseph Benavidez's family troubles
RELATED: This Crazy UFC Fight Would Never Happen Today
Benavidez's family was not an idyllic one. "Every male in my family has had either a drinking or drug problem," he told MMAMania. His father had it, his older brother had it, and his younger brother had it. Unfortunately, Benavidez also abused drugs and alcohol.
His father went to prison when Benavidez was around six years old, and his brothers also went to prison as he made his UFC debut. However, although he never went to prison, he did go to jail. And Benavidez got there because of his drug and alcohol abuse.
He told ESPN he started drinking and doing drugs when he was about 14 years old, and it escalated quickly. Benavidez did meth among other things. After he came home from college, he started abusing those substances more and more. It was after one of these fateful trips that he realized drugs and alcohol weren't what he wanted in life.
Why Benavidez decided to sober up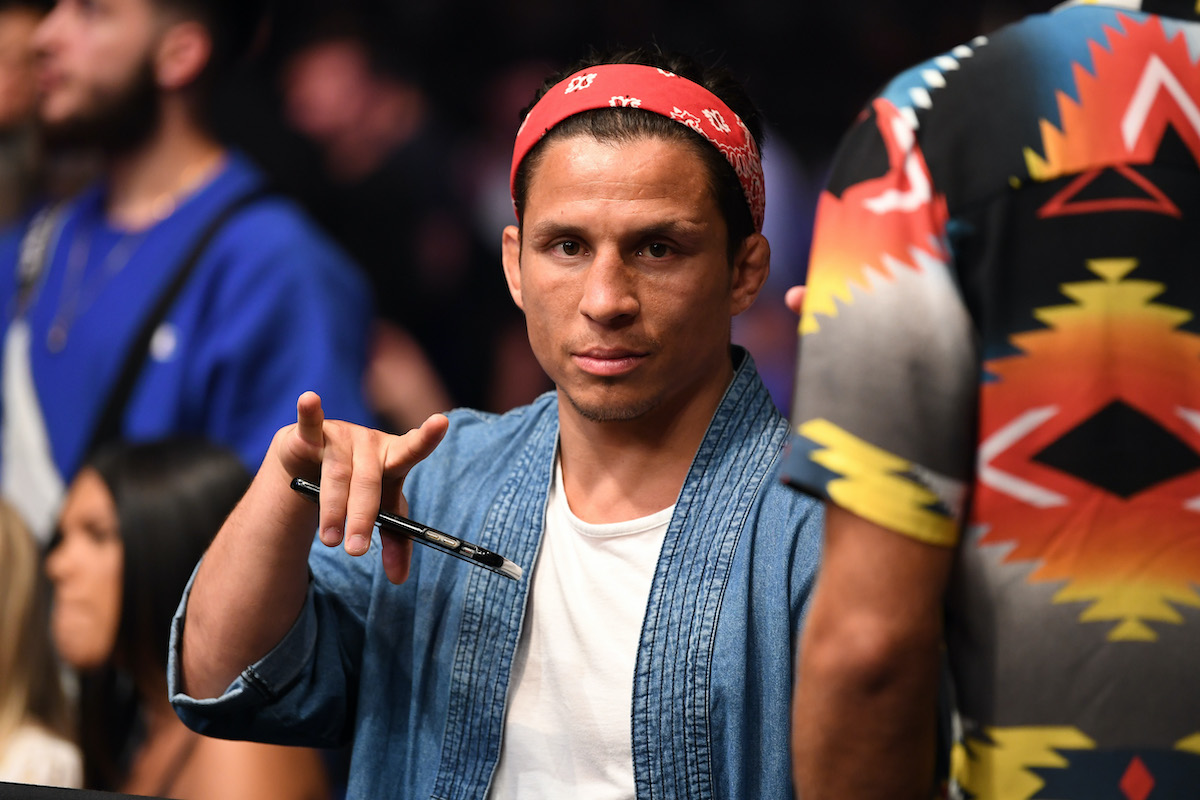 RELATED: Fighting Gave Tito Ortiz Something His Drug-Addicted Parents Never Could
Like he told ESPN, one day, while he was under the influence, he crashed his car while he was driving it with his friend. Benavidez went to jail for 30 days, and that's when he realized that he was going down the same path that his family had gone down. He told MMAMania, "I knew I didn't want to live that life anymore."
Benavidez wanted to pursue fighting, and that's what he set his mind to doing. When he got out of jail, his friend asked him if he wanted to get a drink since he had been sober for 30 days, and, true to his word, he didn't go for it. Not long after, MMAMania said that he and his friend made a pact to stay sober, and that's what they've been doing.
Currently, he's achieved his dream of making a living off of fighting, and his friend is also doing well. Benavidez told MMAMania that his friend went to medical school and is now a doctor. On a personal level, Benavidez also told ESPN that his wife, Megan Olivi, has helped him realize that, despite his rough childhood, he "deserves good things" from life.
Joseph Benavidez's UFC career
One of the good things he's had in his life has been his successful UFC career. So far, Benavidez has a record of 28-7. Although those seven losses seem like a lot, he's only lost to four men. He's lost to Figueiredo twice, Demetrious Johnson twice, Dominick Cruz twice, and to Sergio Pettis once.
Other than Pettis, all three of those men were champs, and Johnson and Cruz are often called the best fighters, pound for pound, in the UFC. In fact, he also has a win over Henry Cejudo, who some consider to be one of the best fighters, pound for pound, in the UFC. This shows how stiff his competition has been, and he's rarely had an easy fight.
For example, after he joined the UFC in 2011, he's had a record of 15-1 in non-title fights. While he's lost all four of his title fights, his dominance outside of title fights proves that he deserves more title shots in the future.