The Moment Steph Curry Knew Virginia Tech Wasn't the Right College For Him
Stephen Curry was not a top recruit coming out of high school. He did not get looks from the big schools like Duke, North Carolina, or Kansas. He attended Davidson College, a mid-major school located in North Carolina.
Curry starred at Davidson, and he ended up being a top pick in the first round of the 2009 NBA draft. Davidson got a steal in Curry, and many college coaches missed out on a special player.
Why Curry wasn't a top recruit
While in high school, Curry did not pass the "eye test" from most college coaches. He was not the tallest or even the strongest. College coaches didn't think he had what it took to compete at a top program.
They were completely wrong. Curry put on an excellent career at Davidson, leading them to an Elite 8 appearance in the 2008 NCAA Tournament. Curry was still that small guard in college, but he did not let that stop him from being one of the best players in college basketball. The way Curry could shoot the ball was insane, and his range was unlimited then.
Turning down Virginia Tech
Curry had an opportunity to attend Virginia Tech, where his dad, Dell Curry, attended. But Virginia Tech only offered Curry a walk-on spot, and the point guard was not going for it. Curry believed they weren't interested in him. It all worked out for a three-time NBA champion in the long run.
How did Davidson get Curry?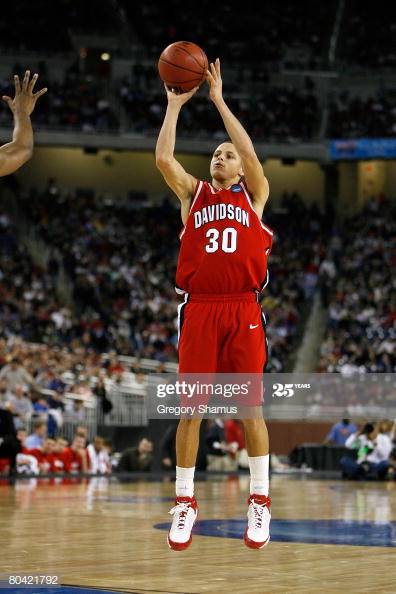 Davidson head coach Bob McKillop was following Curry ever since he was a boy. He watched Curry play Little League and believes Curry could have had a professional career in baseball or golf. Though Curry, loves playing golf, basketball is the sport for him.
McKillop knew he had something special with Curry early on. The moment Curry stepped on that court for Davidson, he displayed his scoring capabilities. In his freshman season at Davidson, Curry was named Southern Conference Freshman of the Year, averaging 21.5 points per game.
Curry would only get better over the next two years at Davidson. The world knew about Curry after his fantastic performance in the NCAA Tournament in his sophomore season. He finished the season averaging 25.9 points per game and was named to the Associated Press' All-America Second Team. Davidson would get Curry back for one more year, and he did not disappoint.
As a junior, Curry finished the season averaging 28.6 points, 5.6 assists, and 2.5 steals per game. He was the NCAA scoring leader and was a consensus first-team All-American.

Curry dominating in the NBA
Even going into the NBA, Curry got ridiculed for his size, and scouts did not think he would have much success in the league. Once again, Curry proved the doubters wrong. Curry will go down as one of the top shooters the game has ever witnessed.
He doesn't let his size stop him from attacking the rim or backing down from any challenge. The two-time NBA MVP can beat you in so many ways. He changed the culture of 3-point shooting in the NBA. No matter where he's at on the court, as a defender, you always have to have a hand up in his face.
Curry is an example that no matter how you look, if you put the work in, you can be successful in anything you set your mind to.