The Most Expensive Pair of Michael Jordan's Sneakers Ever Sold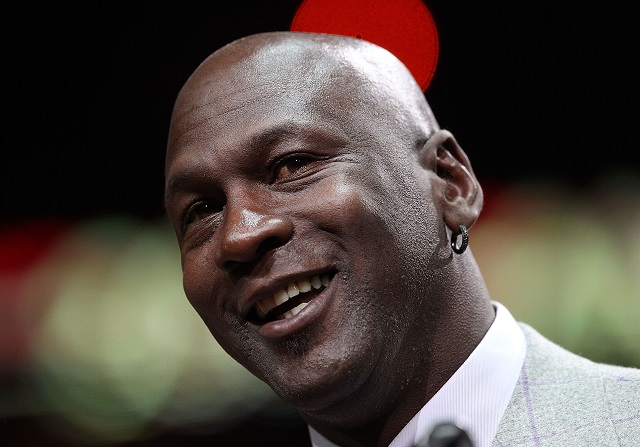 For a generation of sports fans, Michael Jordan is the ultimate, and anything tangible that bears his jersey number, his image, or his insignia elicits a reaction typically reserved for saints and other sorts of living deity types. You can call it the byproduct of an incredibly effective marketing campaign, or the last gasp of unimpeachable celebrity, before the Internet destroyed any real semblance of privacy for famous people. But whatever the case may be, the fact remains — Michael Jordan is very important to a large crossection of humanity, and as such, His Airness's things tend to sell for a lot of money.
How much money? Well, the most expensive Jordan-related item ever sold was a court. As in, the hardwood floor of the Delta Center, where Jordan played his last game as a professional (we're not counting his comeback with the Wizards, for reasons that should be obvious) sold for a cool $1 million. That's cool and all, although we can't really imagine how to display an entire basketball court, but Jordan's footwear has consistently brought out the big spenders.
Aside from jerseys, game-worn sneakers are arguably the most iconic piece of an NBA legacy. In terms of sports equipment, they're the only essential element that a basketball player requires. You can play basketball shirts against skins, but you can't play it barefoot. And, because MJ is the greatest player of all time for a generation of hoops fans, autographed Jordan sneakers are like the Shroud of Turin, except with more proof of direct contact with the holy. Most recently, a pair of Converses that the GOAT wore at UNC fetched an auction price of $33,000. But how does that compare to the other pairs that have gone on sale?
It doesn't even come close. The most expensive pair of Jordan's game-worn sneakers to ever go on sale were the Flu Game Nikes, which made waves last year when they sold for over $104,000 at auction. The Flu Game, which will be 18 years old by the end of this season's NBA playoffs, was Game 5 of the 1997 NBA Finals, when Jordan battled through an ailment (there's a popular conspiracy that it was a hangover — we don't buy it. We can't buy it) to drop 38 points on Utah in a 90-88 victory. It was, for anyone that missed it, the exact opposite of LeBron's Cramp Game from last year's Finals.
Jordan did all of this in those shoes. And when we say all of this, we mean all of this:

In those sneakers. As for future Jordan kicks — his Converse shoes from the 1984 Olympics are set to hit the auction block later this year.