The NBA's 12 All-Time Top Scorers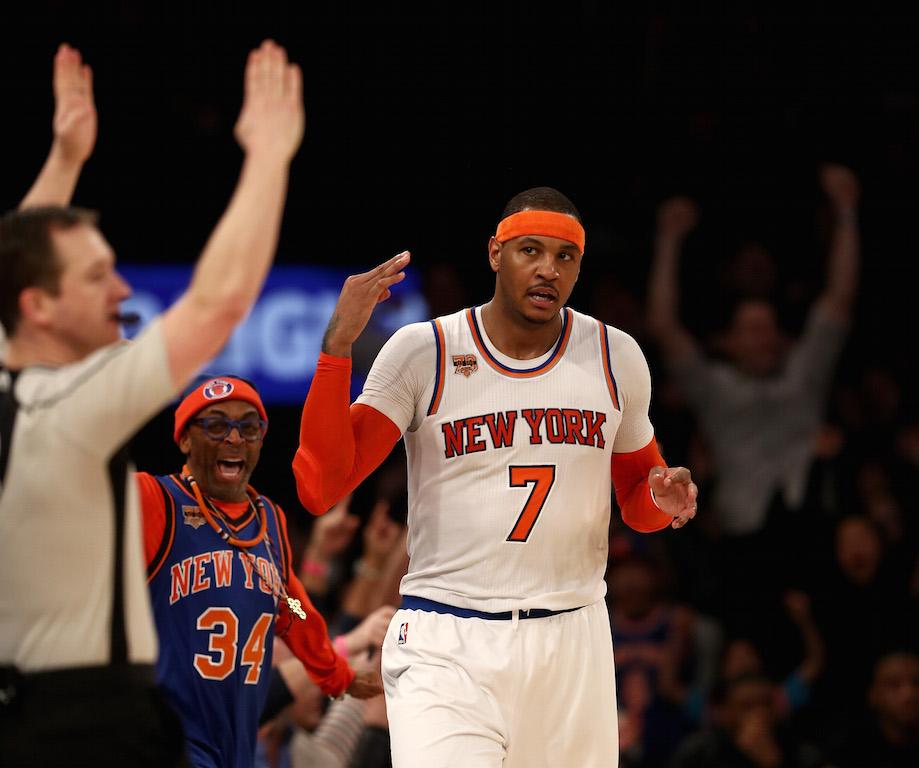 The New York Knicks are terrible. We're not trying to crap on an entire fanbase; we're just trying to honest. Sure, the organization hasn't had to suffer through an unbearable championship drought like some other franchises, but that doesn't make the current climate surrounding this team any easier to endure.
Not only has owner Jimmy Dolan, who has a well-documented history of ineptitude, managed to alienate fans even further by banning Charles Oakley from Madison Square Garden, but Phil Jackson has failed to put together a winning product on the floor. On the bright side, at least for now (and depending on who you ask), the Knicks have one thing going for them — Carmelo Anthony continues to drop buckets.
Say what you will about Melo, but the guy knows how to put the ball in the basketball. In fact, he recently moved into No. 25 on the all-time scoring list, passing Hall of Famer Charles Barkley. In honor of this impressive accomplishment, we take this moment to see how Anthony stacks up against the other all-time scorers in NBA history. Full disclosure: You will definitely recognize the top 12 players on the list.
12. Oscar Robertson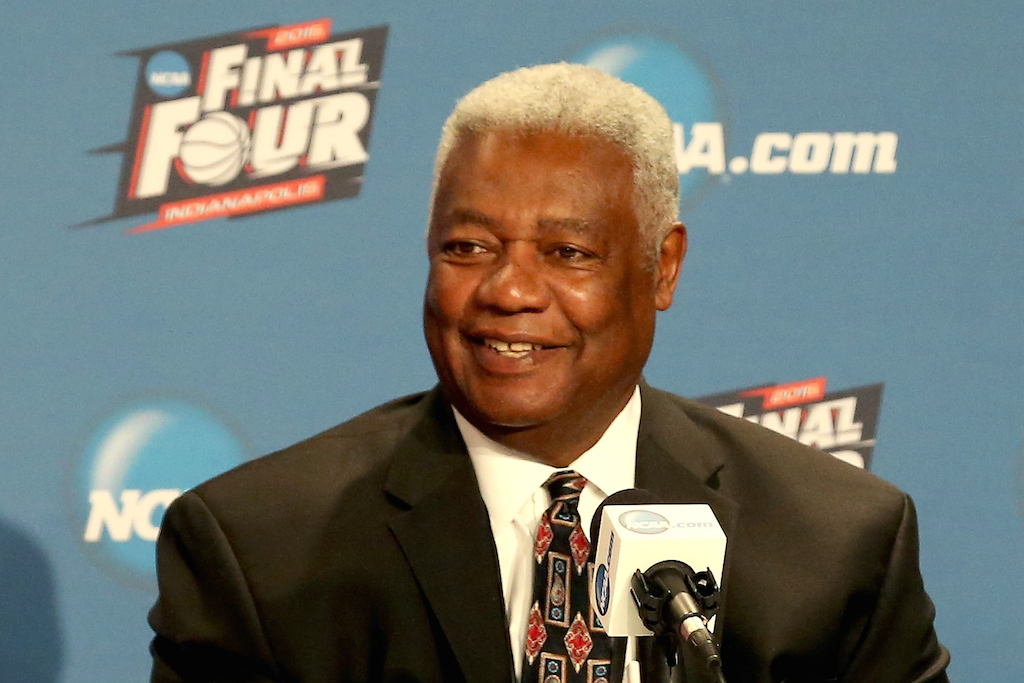 Career points: 26,710
The surliest scorer in league history, Oscar Robertson is in the most unenviable position for an NBA Legend; he's underrated because many fans and pundits believe that he's not as good as his numbers made him out to be. However, they can't denigrate him too much because, you know, he averaged a triple-double for an entire season. And came real, real close four more times. That's unheard of. It just doesn't happen.
Bill Simmons attempted to explain away Oscar's dominance in his book by saying, essentially, that if you took Dwyane Wade and dropped him on an NBA roster in 1961, he could also average a triple-double. That's not only arguable, but it also misses the point entirely. Oscar Robertson was a force of nature. Holding his athletic advantage against his record in 1961 would be exactly as wrong-headed as holding LeBron's athletic advantage against him in 2016.
Oscar's biggest problem is that he played for a franchise that doesn't exist anymore, so there's no one to retire his jersey or champion his legacy. And, before YouTube, it was next to impossible to actually see footage of him playing. That also hurts. Luckily, we have access to it now. And it's awesome.
11. Hakeem Olajuwon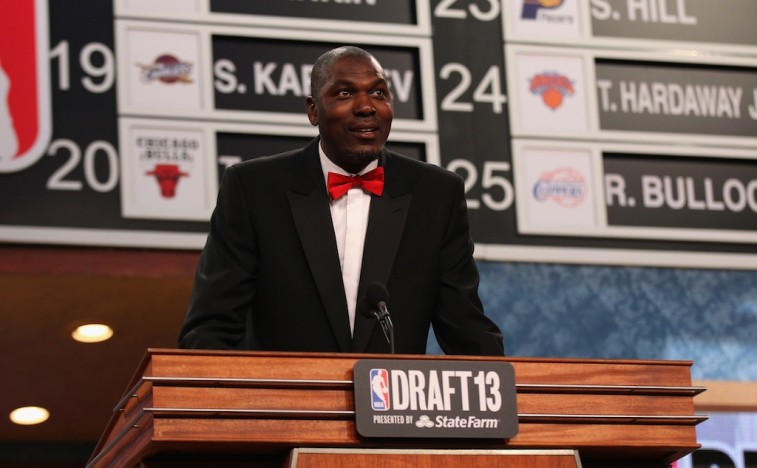 Career points: 26,946
One of the most skilled post players to ever step on a basketball court, Hakeem Olajuwon was nearly impossible to stop, according to everyone who tried. A latecomer to the sport who didn't even play basketball until he was 15, The Dream grew up a soccer goalie, and his superb footwork translated gorgeously to the NBA, trained well at the University of Houston, where Olajuwon was a charter member of Phi Slama Jama.
After being drafted ahead of fellow 1984 NBA Draft luminaries like Michael Jordan and Charles Barkley, Olajuwon stayed in Texas, being picked No. 1 overall by the Houston Rockets. The Dream was an immediate impact, averaging over 20 points and 11 rebounds in his rookie season (although rookie of the year went to Jordan, not a bad player himself).
The best example of how awesome Hakeem was, though, came in 1995, when the San Antonio Spurs and the Houston Rockets squared off in the playoffs.  San Antonio's David Robinson was awarded the regular-season MVP. Hakeem, rightly, felt that he was a better player. And he proved it, totally embarrassing Robinson in the game following the MVP award ceremony. It is impossible to watch this without feeling bad for The Admiral.
10. Elvin Hayes

Career points: 27,313
We could forgive you for asking, "Who's Elvin Hayes?" Hayes, a 6-foot-9 center — who played for the San Diego Rockets (now based out of Houston) and the Baltimore/Capital/Washington Bullets (three names, one franchise, now known as the Washington Wizards) — came into the league in 1969, when no one paid a whole lot of attention to the NBA. Entering the league with Lew Alcindor, who later changed his name to something a lot more famous, Hayes managed to lead the league in scoring (once), rebounds (twice), minutes per game (twice) and games played (twice).
The model of durable consistency, Hayes missed exactly nine games in his sixteen-season career. Nine. The dude did not not play, if you'll pardon the double negative. And his career average of 21 and 12.5 speak to the quality of his longevity — he wasn't cruising on auto pilot on the bench. In fact, the only season he played fewer than 28 minutes a game was his last, in 1983–84, when he was 38. Italicized for emphasis.
That's who Elvin Hayes is. A twelve-time All-Star and an NBA champion (with the Bullets in '78). If you want to know what he looked like doing it, check out the above video. Trust us, you won't be disappointed.
9. Moses Malone

Career points: 27,409
"Fo', Fo', Fo'," and rebounding. Those are the two things that come to mind first with the name Moses Malone. He's not really known as a scorer, despite the fact that he's where he is on the all-time list. But lying beneath his six-time Rebound Leader status is 11 years of 20 plus points per game, including one season (1981–82) where he finished with over 31.
Moses, who played for nine different teams over an astonishing 20 years (1974–94) was a force of nature. A three-time MVP who won a championship with the Philadelphia 76ers in 1983, Malone is the all-time NBA leader in offensive rebounds with 6,731. That's more than 2,000 boards ahead of second-place Robert Parish, who had 4,598. To put that in perspective, Moses finished his career with almost double the number of offensive rebounds that Tim Duncan has.
The first minute of the above video — a career retrospective — features a pair of NBA players extolling the exhaustion of playing against Moses Malone. Only Bill Walton sounds happy about it, and that's because Bill Walton's always happy when he's recalling things.
8. Shaquille O'Neal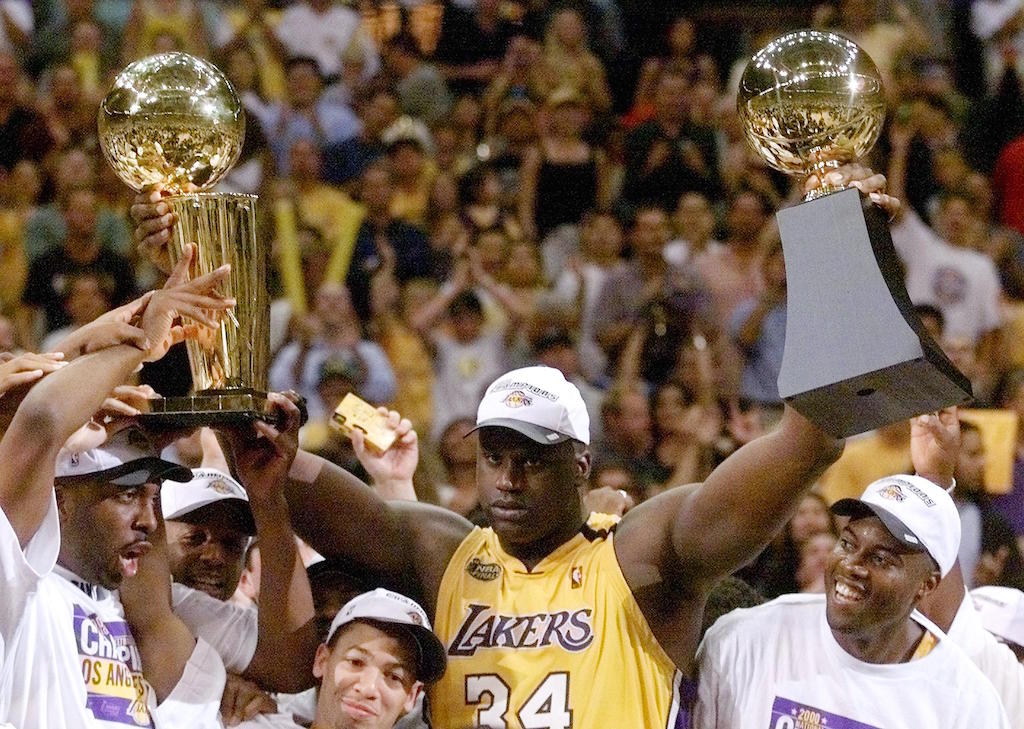 Career points: 28,596

There's no other word to use when you talk about Shaquille O'Neal. It always comes up. It's as inevitable as death, taxes, and allegations that the refs fix the games. Shaq was dominant.
Officially listed at 7-foot-1, 325 pounds, O'Neal was huge. In a group of athletes who are head-and-shoulders above the rest of us anyway, Shaq always made everyone else look small. Everyone has seen the old Sports Illustrated that had a full-sized copy of Shaq's foot-long hand, and if you haven't, just know that his hands are way, way bigger than yours. There's an entire section of the popular website Reddit dedicated to Shaq holding things.
Finishing his career with "only" 28.5 thousand points, Shaq won four championship rings in his eighteen-year career. He could've probably had more. But, eh, that's Shaq. No one ever accused him of being the best, just the most dominant. See for yourself:
7. LeBron James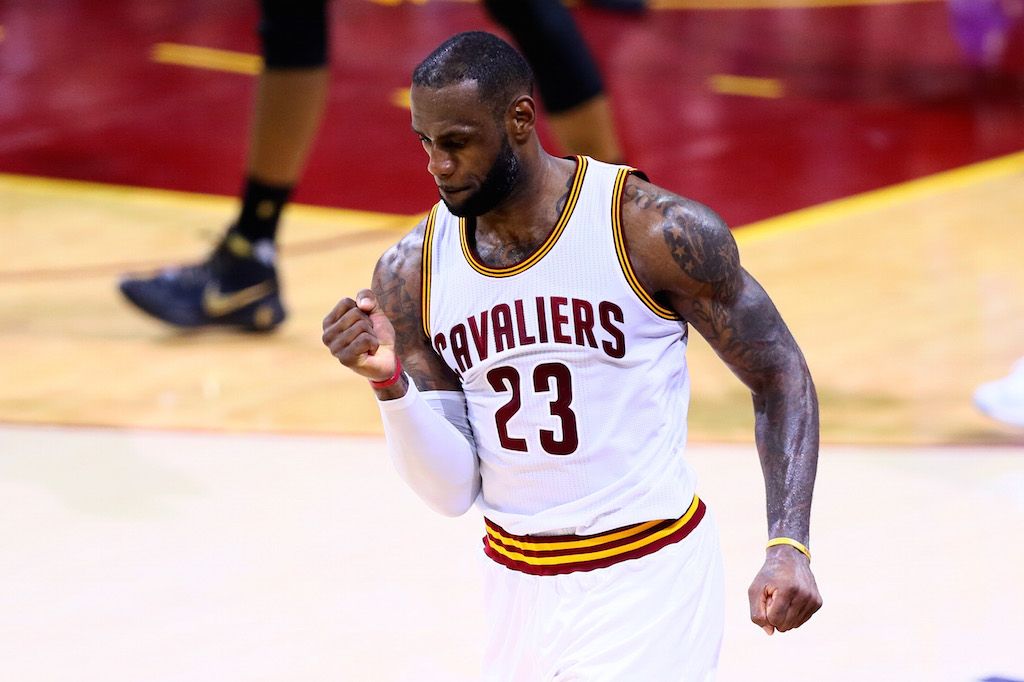 Career points: 28,599 (and counting)
It's not about whether or not LeBron James is already among the greatest players in NBA history (he is); it's about how high on the list he'll climb before he finally calls it a career. While the term "scorer" isn't the first descriptor that comes to mind when we think about James, based on the numbers, he obviously knows how to put the ball in the bucket.
For his career, the King has averaged 27.1 points per game and is already No. 7 on the all-time scoring list. As James continues his quest to chase that uncatchable ghost of NBA past, we look forward to seeing where he eventually lands on this particular list.
6. Dirk Nowitzki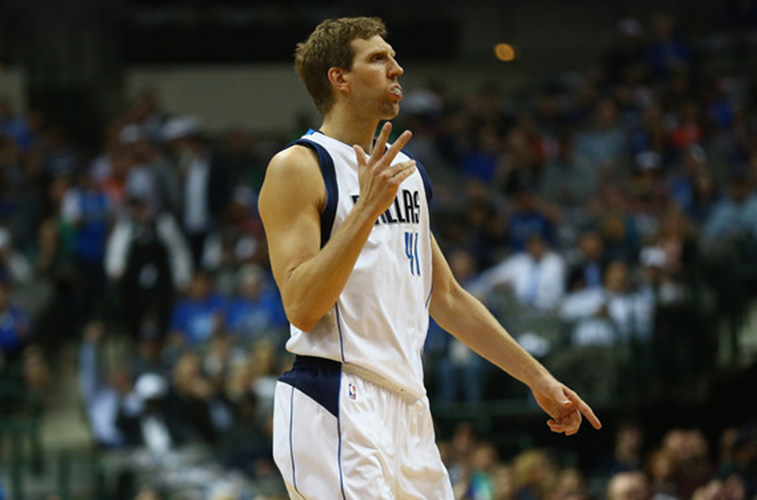 Career points: 30,181 (and counting)
We remember how happy Dirk Nowitzki was when he shot his way into the top 10 on the NBA's all-time scoring list. This is how he described it to NBA.com:
Amazing, amazing. I mean top 10 is unreal. It's been a crazy ride. Passing Big O, who obviously averaged triple-doubles numerous seasons, is unbelievable. It feels surreal still. All night I wasn't really trying to think about it, I was trying to concentrate on the next shot. I knew how many points I needed, but I wasn't really trying to think about it. I was trying to think about the next shot and how I could get open.
Well, it's safe to say that since that moment, he continues to get open and knock down that next shot. He currently sits at No. 6 on the all-time scoring list, becoming the latest member of the prestigious 30,000-point club. You go, Dirk.
5. Wilt Chamberlain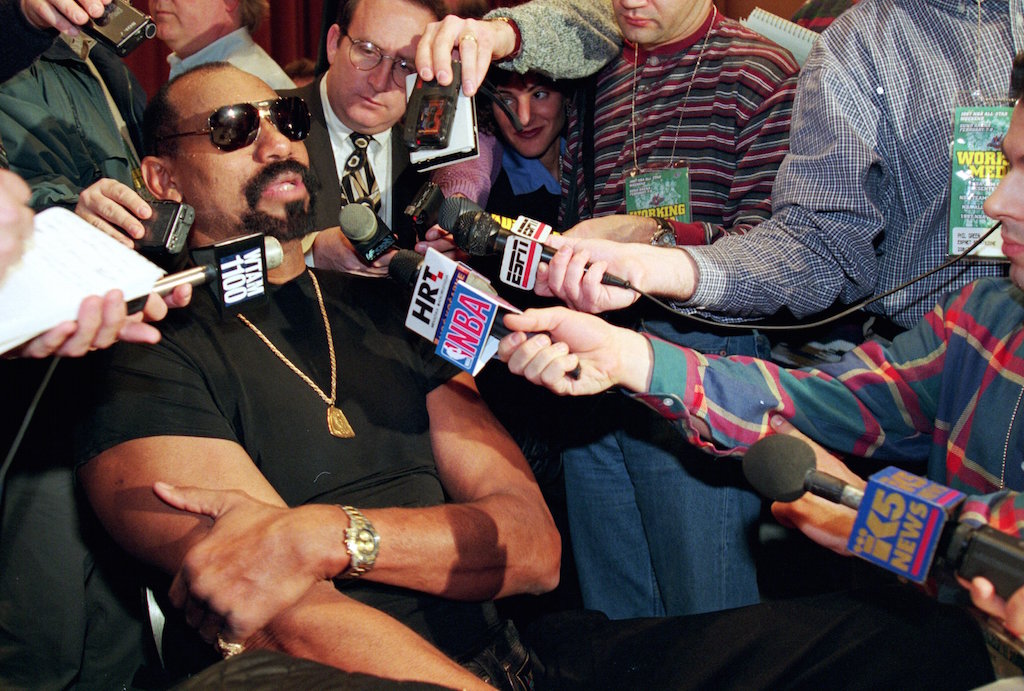 Career points: 31,419 

Speaking of once-in-forever centers, Wilt Chamberlain suffers a little bit from the same syndrome that plagued Oscar Robertson: He has one thing in his legacy that is utterly, completely, one-million-percent untouchable (the 100-point game), and so his other career achievements get overshadowed because of it. Bill Russell explained it best to NBA.com.
One time he called me up and he was so mad. I said, "What's the matter, man?" He said Sports Illustrated did a story and they asked the question: "Was Dennis Rodman the best rebounder ever?" Wilt was beside himself. He said, "I averaged more in a half than he did in a whole damned game and they're gonna tell a story that he was the best?"

Well, Wilt and I are the only two guys that had over 20,000 rebounds and nobody else is even close. So I said, "Yeah, Wilt. It's obvious you were the best rebounder ever." He says, "Well, I disagree with you." I asked how he could, and Wilt said, "In the playoffs, you averaged 24.9 a game and I was 24.5, and that's where the toughest rebounds are, because you're always playing against the better teams. That makes you the best rebounder." So you know what we decided between the two of us? Was Dennis Rodman the best rebounder ever? Man, that ain't worthy of discussion. And we had a great laugh.
Chamberlain holds the records for most points scored in a single season, most points scored in a game, and most points scored in a half, as well as the top three spots for points per game over a season. He collected the most rebounds in NBA history, as well as leading the league in career rebounds per game (22.9).
4. Michael Jordan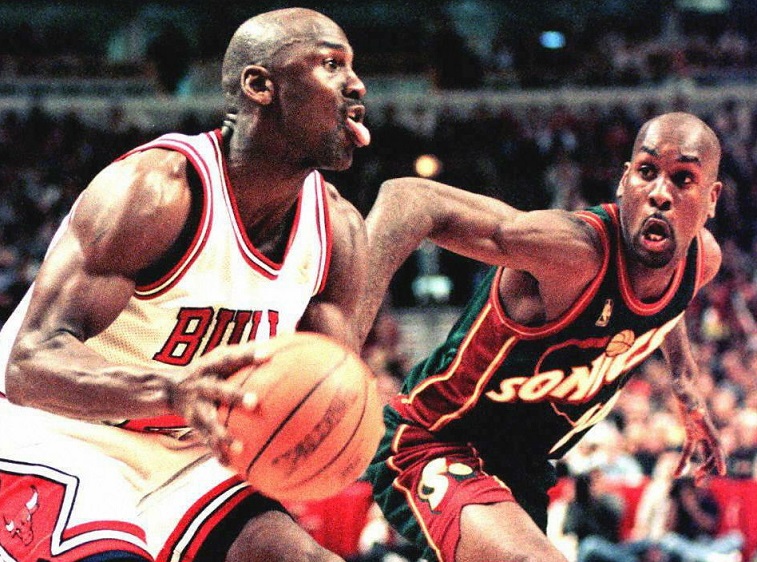 Career points: 32,292 

Michael Jordan the basketball player was the best. It's hardly worthy of a discussion really. 10-time Scoring Champion, 6-time NBA Champion, 5-time MVP, 14-time All-Star and 21 combined appearances on the All-NBA and All-Defense teams. It's inarguable. Still, many have tried, half-heartedly. To be fair, there's a strong argument to be made for Bill Russell, but they're probably 1A and 1B.
3. Kobe Bryant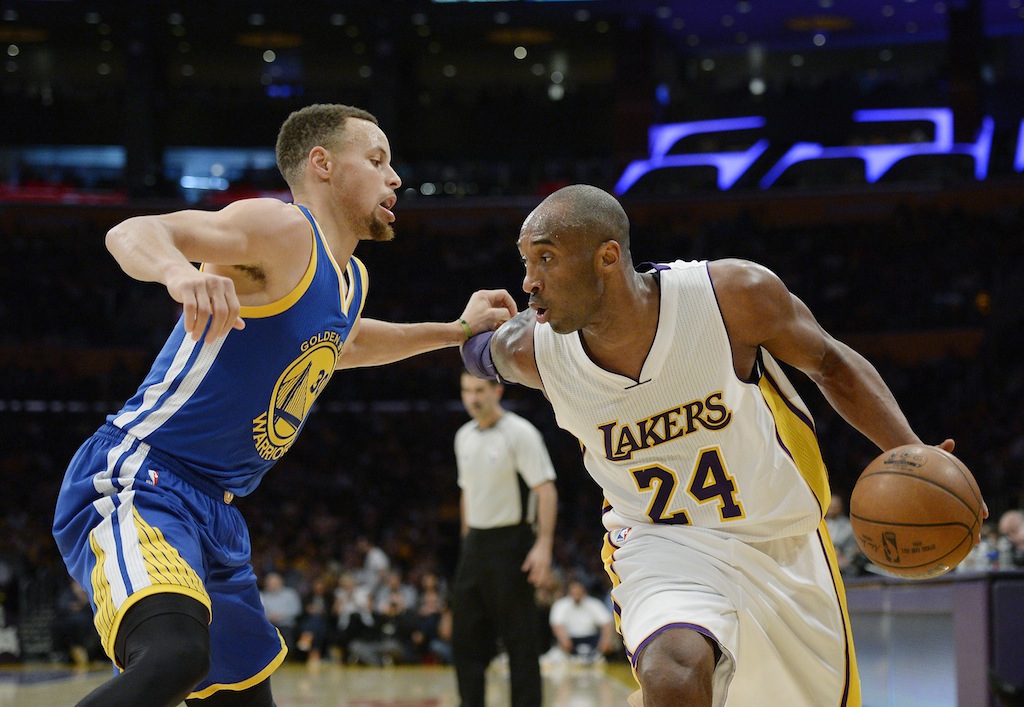 Career points: 33,643
Prior to his retirement, Kobe carried more weight than everyone in the modern NBA — even if he's arguably never lived up to the "next MJ" hype train that he was saddled with as he entered his prime, he's clearly the next best thing. In fact, he's such an icon that we've even managed to forgive him for giving himself his own nickname. And that's a big deal for us.
Bryant played his entire career in Forum purple and gold, came straight out of high school to play for the Lakers after growing up in Italy, where his dad, a sometime NBA player, played professionally. Averaging an impressive 25 points per game for his career, Kobe has made a ton of baskets during his time with the Association. You might've figured that. Is it any wonder the city of Los Angeles is giving him his own day? We think not.
2. Karl Malone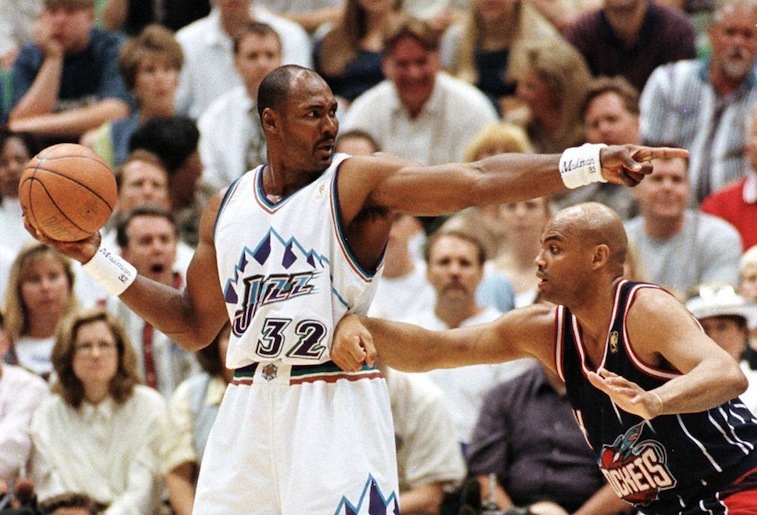 Career points: 36,928 

Alone on this list, Karl Malone is intimidating. All these guys are physically intimidating to the average bear — the shortest guy on here is 6-foot-5 — and Shaq's the biggest, but even the Shaqtus didn't have Malone's elbows. Look at those things.
You know how fans are constantly decrying the fact that the NBA is "soft" nowadays? Malone's elbows gave Isiah Thomas's face forty stitches. They laid His Airness out so hard he had to leave the floor. Any time anyone went up against the Jazz you could see whoever had to guard John Stockton take a whole bunch of deep breaths, steeling themselves for approximately 1,500 Stockton/Malone pick and rolls.
A pair of players and play that has yet to be paralleled. It's no accident that Malone's No. 2 on the all-time scorer's list and his partner in crime is the NBA's all-time assist leader. Over Malone's eighteen seasons with the Jazz — all of them with Stockton, who had been drafted a year earlier — he averaged 25.4 points and never scored less than 1,200 a season. Ever. 18 seasons of this:
1. Kareem Abdul-Jabbar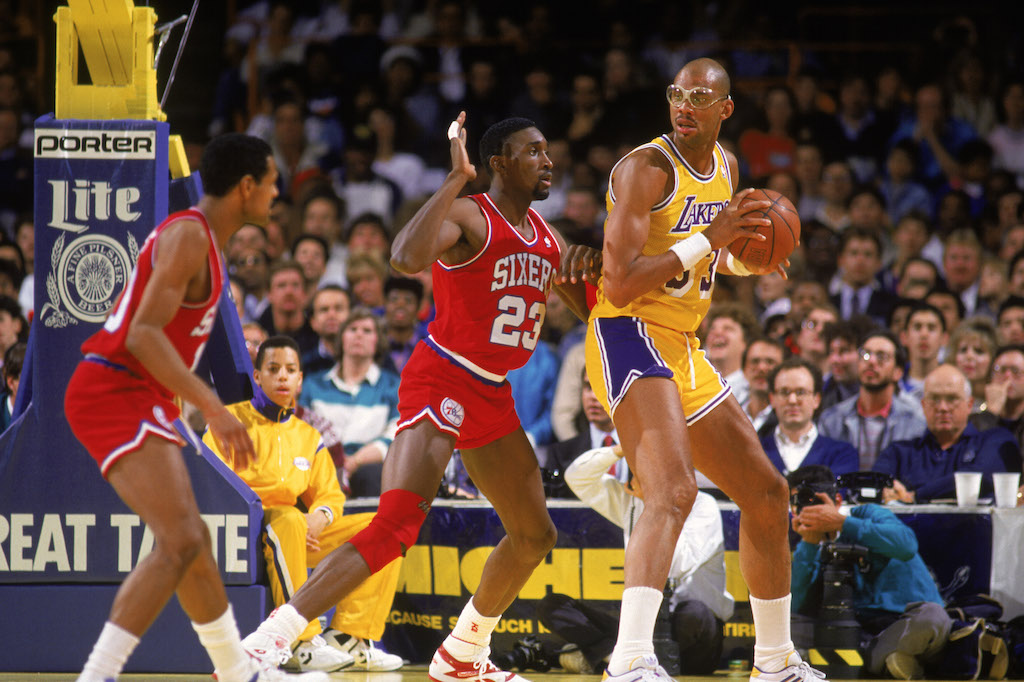 Career points: 38,387 

The former Lew Alcindor. Kareem had a 20-year NBA career, and absolutely made the most of it. Winning a ring with the Big O and Milwaukee back in the early '70s, then migrating to Los Angeles to pick up five more championships and about a zillion more points.
Kareem, who averaged 24.6 points per game over his entire career, was so great for so long that he picked up an NBA Finals MVP in 70–71, then grabbed another one in 1985. Plus, he had a great cameo in Airplane! and had an unblockable shot (the skyhook). In the end, Kareem was the total package.
Matt Reevy also contributed to this piece.
Statistics courtesy of Basketball-Reference and ESPN.