The New York Giants Could and Should Explore a Franchise-Altering Trade That Would Force a Painful Admission
Six weeks into the 2021 NFL Season, and it does not appear the New York Giants are trending in the right direction. They're 1-5 and sit in last place in the NFC East. With the Dallas Cowboys beginning to run away with the division as well, the odds of New York clawing their way back into the division race like they did last season are slim to none.
The Giants are once again a bad football team. This time, significant changes should occur because of it.
The New York Giants need to become sellers at the trade deadline
Since the Giants first drafted quarterback Daniel Jones in 2019, they've operated under the belief that they should be a team competing for the playoffs year in and year out. They've swung big trade deadline day acquisitions like landing defensive lineman Leonard Williams in 2019 and handed out massive free-agent contracts like the $72 million one they just gave wide receiver Kenny Golladay this past offseason.
The Giants front office, spearheaded by controversial general manager Dave Gettleman, has promised positive results with all of these aggressive roster moves. Instead, the Giants continue pedaling in the wrong direction. They won four games in 2019, six in 2020, and are currently on pace to win 3-4 games in 2021.
Jones has shown minimal progression at QB (87.7 passer rating as a rookie compared to an 83.1 passer rating in 2021), and the roster itself continues to stack up poorly to a team like the Cowboys.
With all of that in mind, the time for the Giants to finally embrace another rebuilding era is upon them, and it starts at this year's trade deadline. As painful a pill as it is to swallow, the Giants need to begin selling off players for future draft capital.
RB Saquon Barkley is being suggested as a trade chip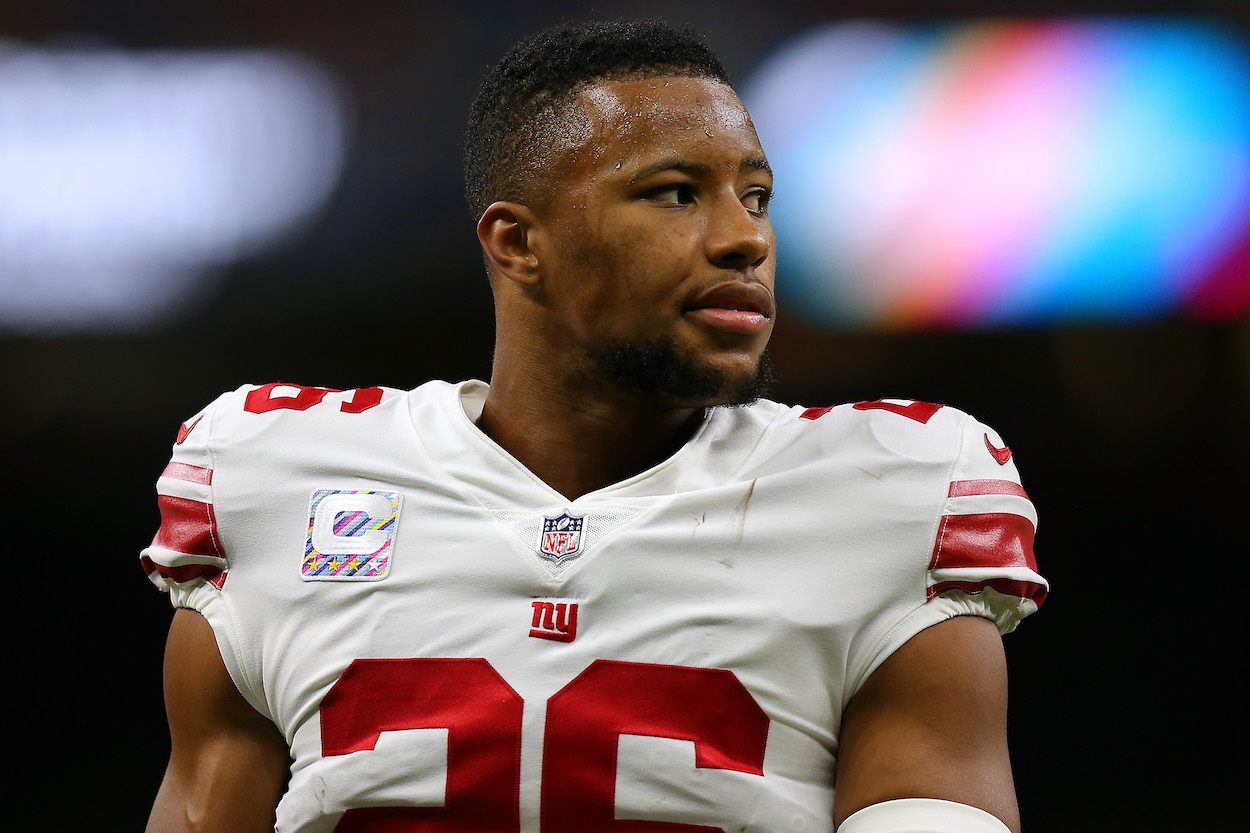 A soft rebuild for the Giants would include trading talented but not intensely crucial role players. Namely, players like WR Sterling Sheppard, Evan Engram, Kyle Rudolph, and Logan Ryan make up this list. However, a far more aggressive (and necessary) rebuild would see the Giants auction off some of their more valuable players.
Such a direction would undoubtedly plummet the Giants into another offseason or two of harsh rebuilding, but it would set their next GM (assuming Gettleman is fired at the end of the year) up for long-term success.
The name being mentioned as a possible blue-chip trade asset in New York? Running back Saquon Barkley.
The No. 2 overall pick in 2018, Barkley has long been considered a crucial piece to the Giants' offense. However, between injuries and an overall lack of physical win-loss success, his talent is quickly being squandered away in new York.
In a recent story for NJ.com, Giants beat reporter Zack Rosenblatt name-dropped Barkley in particular when discussing possible trades. This is a real outcome that people in the loop are talking about.
The Giants should seriously consider this move
As bold as trading away Barkley sounds from the outside looking in, the Giants should consider pulling the trigger.
The Giants haven't had a winning season since 2016, and they haven't won a playoff game since 2011. The time for patience is over. They need to start acting aggressively if they want things to change soon.
The need for an aggressive-style-rebuild withstanding, Barkley's injury issues are starting to catch up to him as well. He's missed 18 total games since being drafted, including 14 in 2020. The Giants would be wise to avoid handing Barkley a hefty contract extension with injury concerns quickly piling up.
Moving Barkley at the upcoming trade deadline would send the New York media and fan base into a frenzy. However, it's a genuine possibility that the team needs to consider. The Giants have one win through six games this season. Significant action needs to occur for things to get better down the road.
All stats courtesy of Pro Football Reference.
RELATED: Jerry Jones Just Revealed a Haunting Reality About Dak Prescott's Current Health Status: 'I Would Be Probably a Little Concerned, a Little Concerned if We Were Playing This Week'