The New York Knicks Could Soon Add a New $3.1 Million Underrated Big Man
The New York Knicks have been a laughingstock for nearly 20 years. Every year there always seems to be rumors about them landing big-time players, even going back to 2010 when LeBron James ultimately went to the Miami Heat. They seem to strike out almost every single time, though, especially in recent years. However, since the team hired former player agent Leon Rose earlier this year, there has been some optimism that the Knicks could land some big names soon. One name that they could be interested in, though, isn't quite a big name but is pretty underrated and could complement another star nicely. That player is big man Christian Wood.
Christian Wood became an underrated big man on the Detroit Pistons
In college at UNLV, Christian Wood had a breakout season in 2014-15. He ultimately averaged 15.7 points per game, 10 rebounds, and 2.7 blocks that year, which led to him entering the NBA the next season.
Wood ultimately spent time in the NBA and the G-League each of the next few seasons. He only played in 17 games for the Philadelphia 76ers in 2015-16 and only averaged 3.6 points per game. In the G-League, though, he averaged 17.3 points per game, 9.4 rebounds, and 1.1 blocks in 32 games.
He continued to get significant playing time in the G-League in 2016-17 and 2017-18 and continued to show his unreal potential. He averaged 19.6 points per game, 10.1 rebounds, and 2.6 blocks in 18 games in 2016-17. Wood then averaged 23.3 points per game, 10.4 rebounds, and 1.8 blocks in 2017-18.
After a strong Summer League in 2018, Wood then signed a two-year contract with the Milwaukee Bucks worth $3.15 million, per Spotrac.
Wood, however, continued to play in the G-League in 2018-19, and he still dominated, averaging 29.3 points per game, 14.1 rebounds, and 2.2 blocks. He played in 13 games for the Bucks that year but ultimately got waived. Wood then played in eight games for the New Orleans Pelicans and was excellent. In those eight games, he averaged 16.9 points per game, 7.9 rebounds, and 1.3 blocks.
Despite playing well, the Pelicans waived Wood, which led to him going to the Detroit Pistons. Wood then finally got a chance in the NBA in 2019-20 with the Pistons, and he proved that he belongs in the league. He averaged 13.1 points per game and 6.3 rebounds in 62 games.
The New York Knicks reportedly have their eyes on big names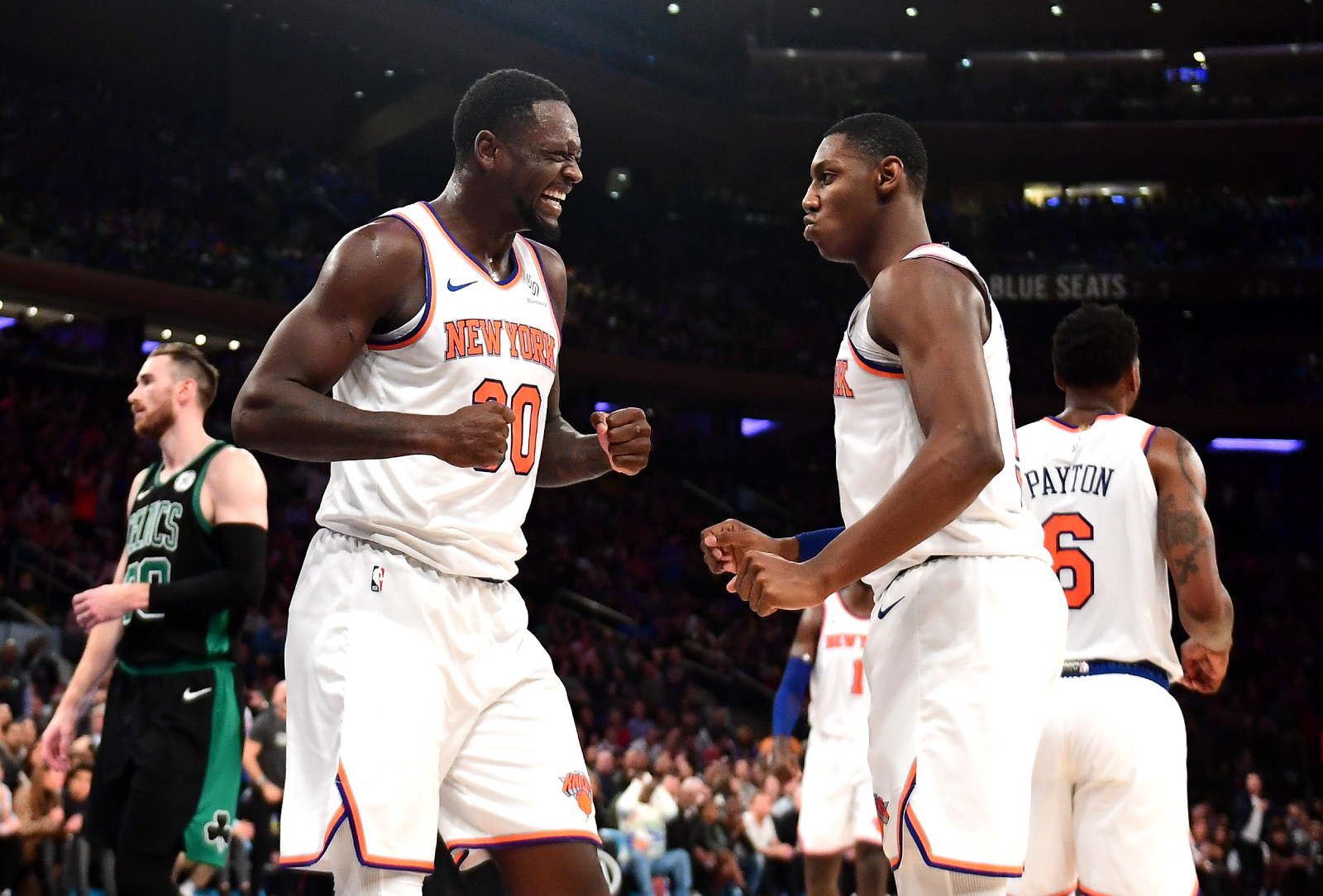 The Knicks almost always have their eyes on some big-name players, but they almost always strikeout.
In the summer of 2019, many Knicks fans thought that the team could add Kevin Durant and Kyrie Irving. Those two stars ended up going to the Knicks' neighbor, though, the Brooklyn Nets. 
This offseason, there have been rumors of New York having an interest in trading for a couple of big-time guards. Some of the names that the Knicks have been linked to are Chris Paul, Russell Westbrook, and Victor Oladipo.
The Knicks could certainly use some help at guard. Their best players last season were Julius Randle and the young guy, RJ Barrett. Anyone with some playoff experience that knows what it takes to win could be crucial for New York, too.
The New York Knicks are believed to have an interest in Christian Wood
Wood — who is an unrestricted free agent after 2019-20 was the final year of his $3.1 million contract — proved that he belongs in the NBA last season. However, he really proved it once the Pistons traded Andre Drummond and made him a starter. According to Yahoo Sports, after the Drummond trade, Wood averaged 23 points and 10 rebounds, and he shot 40% from 3-point range.
Because of his stellar yet underrated play, Ian Begley of SNY reports that it is believed that Wood is on the Knicks' radar, per Yahoo Sports.
Begley reports that there is a chance that New York could have just two big men on its roster heading into free agency in Randle and Mitchell Robinson. So, adding Wood could be perfect for New York.
New York Knicks fans have hopes of their team acquiring big names this offseason. Christian Wood isn't exactly that, but he could become an absolute star in New York, and could ultimately complement a star guard nicely.
Stats courtesy of Basketball Reference