The New York Mets' Failure to Pay Zack Wheeler Was a Crippling Mistake
Following a dominant performance on August 8, Zack Wheeler has established himself as the frontrunner for the NL Cy Young Award. The hard-throwing Philadelphia Phillies right-hander is 10-6 with a 2.42 ERA and leads Major League baseball in complete games, complete-game shutouts, innings pitched, and strikeouts.
Combine that with an MLB-best fWAR (FanGraphs' wins above replacement metric) of 5.6, and Wheeler looks like the best NL pitcher by a significant margin.
The Phillies have been thoroughly pleased with Wheeler since signing him. He recorded a 2.92 ERA during the shortened season of 2020 and is one of the main reasons the team currently finds itself in first place in the NL East. Alongside Bryce Harper and the MVP-caliber season he's having at the plate, Wheeler is doing his best to carry the Phillies into the postseason for the first time since 2011.
However, it wasn't long ago that Wheeler was pitching for the Phillies' biggest rival, the New York Mets.
The New York Mets' decision to let Zack Wheeler walk is one of the biggest blunders in franchise history
Rewind to the 2020 offseason, and the Mets were facing a decision.
Wheeler was a free agent coming off back-to-back sub-3.00 ERA seasons and was in the market to land a hefty contract extension. Starting pitching will forever be at a premium in baseball, so it wasn't challenging to envision Wheeler receiving a $100+ million contract.
Even with aces like Gerrit Cole, Stephen Strasburg, and Madison Bumgarner all free agents as well, the expectation was that Wheeler would still receive a significant payday from a team looking to bolster their rotation. 
While the Mets already had their respective ace in Jacob deGrom, there was no reason not to extend Wheeler a contract offer during free agency. He was a homegrown talent for New York and had stacked together two strong seasons following some early injury issues.
The Mets' refusal to even offer Wheeler a contract makes the blunder look that much worse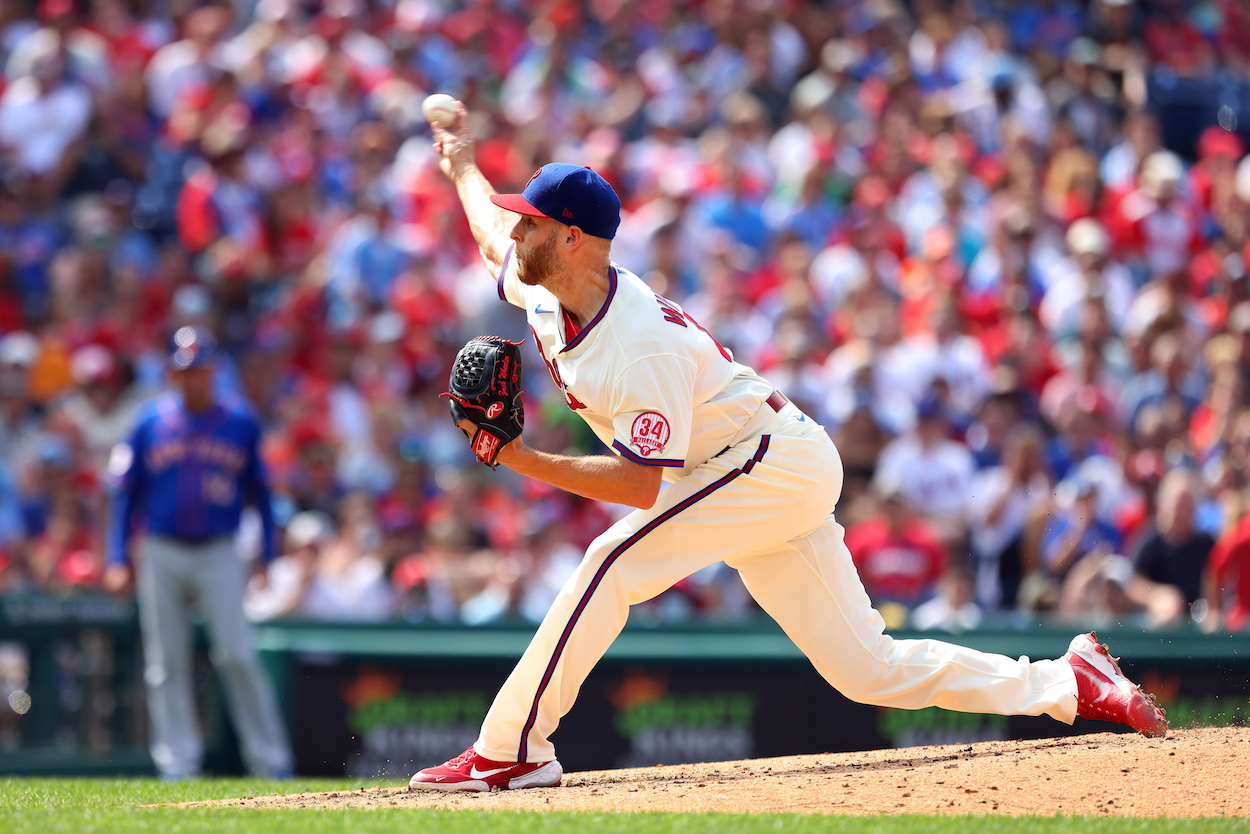 To the surprise of baseball fans everywhere, the Mets didn't even attempt to bring back Wheeler.
Upon receiving a five-year, $118 million offer from the Phillies in free agency, Wheeler circled back to the Mets to see if they would match (or beat) the offer. According to Wheeler himself, the Mets barely gave him a response.
"It was basically just crickets," Wheeler told New York Post reporter Greg Joyce.
The Phillies' newfound ace continues to haunt the Mets 
With Wheeler now firmly entrenched in the Cy Young discussion, the Mets should be kicking themselves for how they handled the whole ordeal. Losing a good player in free agency is one thing, but losing one to a rival organization while failing to make a counteroffer is another.
It turned out to be an embarrassing look for the Mets organization, a blunder that resulted in then general manager Brodie Van Wagenen losing his job.
There's still plenty of time for the Mets to climb back into the playoff race this year, but it's hard not to imagine just how dominant they would be if they still had Wheeler in their rotation. A one-two pitching punch of deGrom and Wheeler quite literally would be the best in baseball.
Instead, the Mets are going to have to deal with Wheeler tossing gems for the Phillies.
All stats courtesy of Baseball Reference and FanGraphs.
RELATED: Bryce Harper Plays the Role of Villain Better Than Anyone in MLB