The NFL Disrespected Johnny Unitas With Its Hall of Fame Display
It is an honor to be included on the list of the greatest quarterbacks of all time. It's a short, short list with a select few names at the top: Manning, Marino, Montana, and Brady. But for years, one name has been at the top of everyone's GOAT list, a man whose career was an integral part of NFL history. That name is Johnny Unitas.
While history may remember Unitas as the greatest leader the game has ever seen, there was bad blood between him and the NFL Hall of Fame right up until his death in 2002. 
Johnny Unitas' early career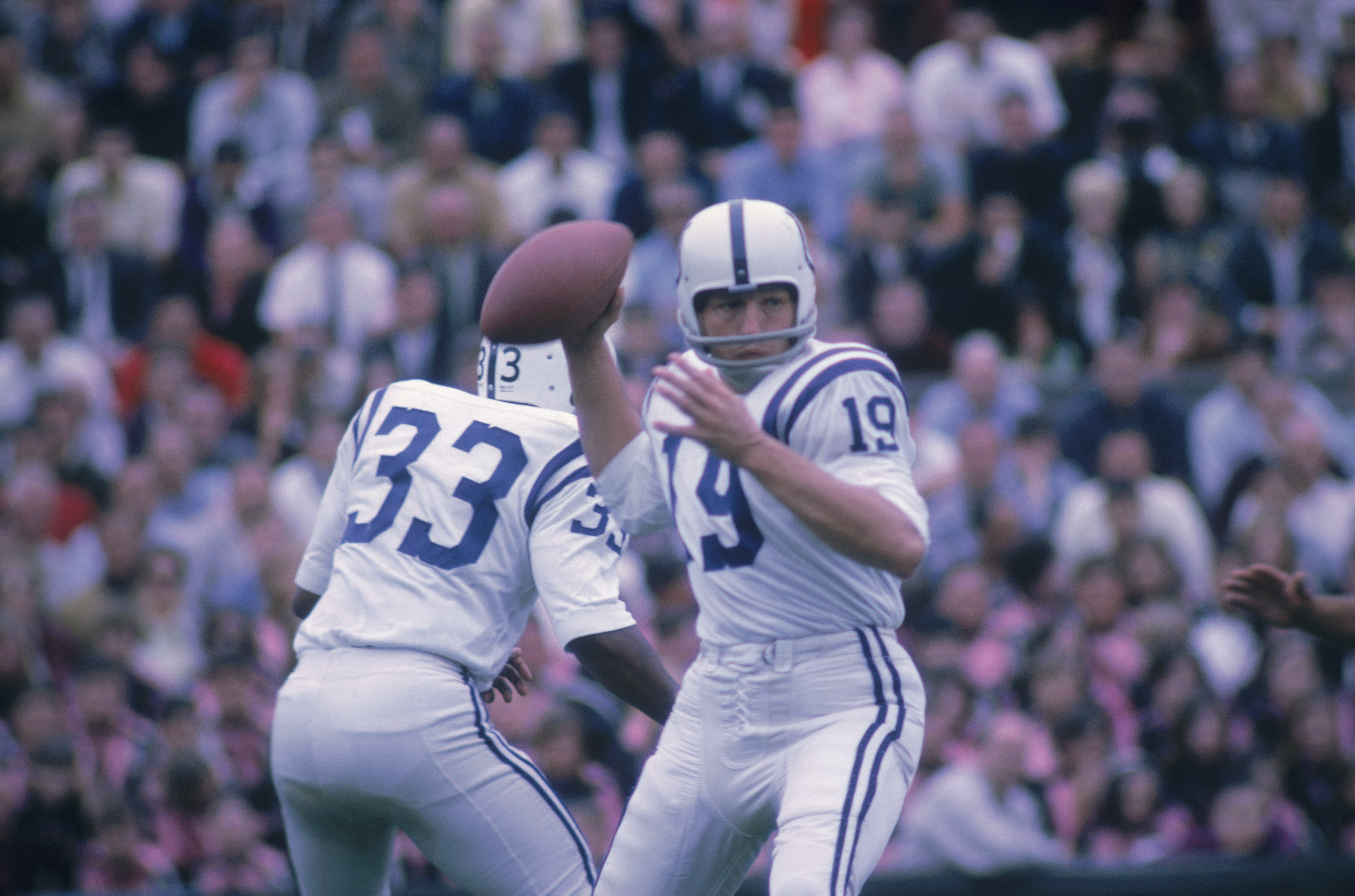 Unitas came out of an era in history where football wasn't the big business that it is today. Unitas also came from humble beginnings, according to the Encylopedia Britannica. His father died when he was only five years old, leaving his mother to take care of the family by herself.
A young Unitas dreamed of playing for Notre Dame, but unfortunately, it was not to be. Instead, he wound up playing for the University of Louisville. Unitas' college career was consistent, if unremarkable.
In those days, Louisville didn't put any importance on their football program, and as a result, the Cardinals played ironman football. Unitas played quarterback on offense, and safety on defense. And while he had decent numbers overall, the team was unable to do any better than a break-even season with Unitas at the helm. 
His college efforts got him drafted into the NFL nonetheless. The Pittsburgh Steelers took Unitas in the ninth round of the 1955 draft. Unitas' early career is the story of many false starts before he eventually moved onto future brilliance.
The Steelers had three quarterback spots and four players. Unitas was ultimately cut from the team. He spent the next year working construction jobs to help support his young family. But in 1956, he'd get a second chance at professional football. 
Johnny Unitas has a brilliant NFL career
RELATED: Patrick Mahomes Made Stunning Sacrifice to Help Chiefs Teammate Secure $85 Million
In 1956, Unitas returned to the NFL, this time with the Colts. Only they weren't the Indianapolis Colts that modern day fans know; back then, the team was located in Baltimore.
Although he had a rough start his first year, Unitas would end up making waves throughout the NFL. He ended up finishing the 1956 season with 2,500 passing yards, and as a result, he won the Jim Thorpe Player of the Year Award. This was the birth of Unitas' nickname, "the Golden Arm."
Unitas would go on to play for an incredible 18 seasons, 17 of which were with the Baltimore Colts. His final season was played in 1973 with the San Diego Chargers.
Over his venerated career, Unitas managed more than 40,000 passing yards, 290 touchdowns, 10 Pro Bowls, three Championships, and one Super Bowl win. Unitas' performance set the modern-day standard for legendary quarterbacks. 
A matter of disrespect
RELATED: Johnny Unitas Was Forced to File for Bankruptcy After an Awful Investment
In 1979, he was elected into the Hall of Fame for his exploits. But there's something that's never sat well with Johnny Unitas. In 1984, the Baltimore Colts became the Indianapolis Colts. From then on, everything in the Hall of Fame reflected past players as Indianapolis Colts, rather than Baltimore Colts.
To Unitas, that was unforgivable, according to The Baltimore Sun. The legendary quarterback felt that the city of Indianapolis had hijacked his legacy for their own promotional gain.
Despite platitudes from the NFL and the Hall of Fame, Unitas never made his peace with that fact. He mentioned it and publicly railed against it every time it was brought up.
According to The Baltimore Sun,
"I have nothing to do with Indianapolis and resent any reference to have ever been a part of a city where I never played a game…"
That's Unitas, in his own words, bitter about Indianapolis right up until the end.
All stats courtesy of Pro Football Reference