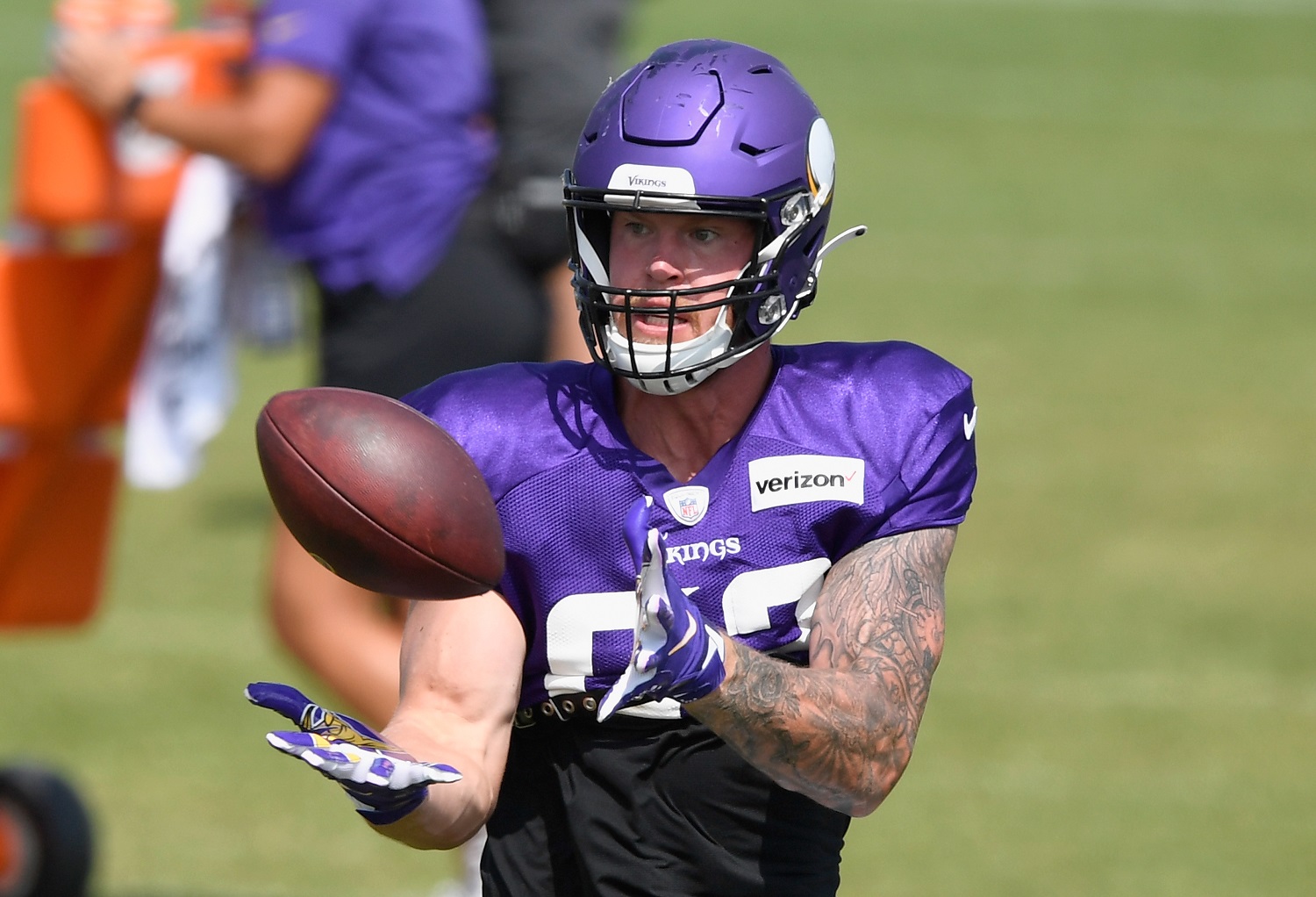 The NFL Draft Humbled Kyle Rudolph for 1 Day and Made Him a Pass-Catching Machine for a Decade
Kyle Rudolph overcame a crushing draft-night embarrassment to become one of the top tight ends in Minnesota Vikings history.
Don't count on Kyle Rudolph remaining unemployed for very long. The two-time Pro Bowl pick became a salary-cap casualty of the Minnesota Vikings this week but still has plenty to offer a team in need of a veteran tight end.
The irony of the Vikings remaining well-stocked at tight end – Irv Smith Jr. and Tyler Conklin can play the position for a combined $2.6 million this fall—as he gets squeezed out probably isn't lost on Rudolph.
Kyle Rudolph has had a productive decade
The Minnesota Vikings selected Kyle Rudolph 43rd overall out of Notre Dame in the 2011 NFL draft. He arrived in the Twin Cities after making 90 catches in three college seasons. Having opted to skip his senior year in South Bend, Rudolph was only 21 years old at the time of his NFL debut. He barely missed a beat.
Rudolph made eight starts as a rookie and finished with 26 receptions. Ramping up from there was an easy adjustment. Rudolph made 53 catches in 2012 to go to the Pro Bowl for the first time. Injuries cut his next two seasons in half, but Rudolph averaged 63 receptions and six touchdowns per year from 2015-18.
Rudolph totaled 67 catches in 28 games the past two seasons as the Vikings moved to a more run-focused attack and increased the roles of youngsters Irv Smith Jr. (2019 draft pick) and Tyler Conklin (2018).
Draft day was a hard lesson for Kyle Rudolph – for a day
Kyle Rudolph penned a column on The Players' Tribune website this week to thank Minnesota Vikings fans and reminisce about his decade as a starting tight end with the team. The weekend of the 2011 NFL draft left Rudolph with a moment that has shaped his career.
Rudolph confessed to being a cocky 21-year-old. Being projected as the top tight end in the class added to that confidence. Rudolph lined up a viewing party with family and friends to celebrate his inevitable first-round selection.
And then a not-so-funny thing happened. Nobody took the Notre Dame standout in the first round.
"Party over, dream over," Rudolph wrote. "I was pretty devastated."
After going 0-for-32 in the first round, something odd happened with the 11th pick of the second round: The Vikings, a team Rudolph figured had no interest, picked him. As Rudolph recalled, Minnesota already had three experienced tight ends on its roster.
"I didn't just get drafted by some team who 'had a need at tight end,'" he wrote. "I didn't just get drafted as, like, the nameless, faceless 'No. 1 tight end on the board.' I got drafted by a team that was all set in terms of need … but then drafted me anyway."
As Rudolph phrased it, the Vikings believed in him.
It'll be someone else's turn now with the Vikings
The Minnesota Vikings have released Kyle Rudolph after 10 seasons in the NFL, but he intends to keep playing. The MVP of the 2013 Pro Bowl ranks fifth in Vikings history in catches (453) and touchdown receptions (48), and he'll start at zero with his next team.
Though he'll be looking at smaller contracts from this point forward, Spotrac.com calculates that Rudolph has already made just over $50 million for his career.
Where he lands remains to be seen. At 27 years old, Hunter Henry will be one of the free agents leading the high end of the market when bidding starts later this month. Rudolph will be in the group of slightly older veterans like Jared Cook and Tyler Eifert in a position for one more medium-sized payday.
All stats courtesy of Pro Football Reference.