The NFL Must Make an Example out of Myles Garrett After Heinous Assault
There have been plenty of awful, violent plays to take place on an NFL football field over the years. What Myles Garrett did to Mason Rudolph on Thursday Night Football in the closing moments of the Cleveland Browns' 21-7 win over the Pittsburgh Steelers might be the worst of them all. If the league is serious about protecting its players, especially from concussions, Garrett needs to receive a historic suspension for this attack.
Myles Garrett assaulted Mason Rudolph with his own helmet
There are no two ways about it. This was assault.
With eight seconds left in the game, Mason Rudolph completed a short pass on 3rd-and-29 from his own 17-yard-line to Trey Edmunds. Myles Garrett drove Rudolph to the ground with a dirty late hit well after he had thrown the ball. In retaliation, Mason Rudolph grabbed at Myles Garrett's helmet.
In response to this, Myles Garrett stood up and pulled Mason Rudolph up off of the field by his facemask. He ripped Rudolph's helmet off, and as two Pittsburgh Steelers came in to try to break the confrontation up, Garrett violently swung the helmet down at Mason Rudolph, hitting him in the head with it.
The average NFL helmet weighs roughly 4-6 pounds. Garrett swung this heavy item as a weapon, with extreme force, down on the exposed head of Mason Rudolph. Myles Garrett could have caused a serious head injury or legitimately killed him. This isn't an overstatement.
This was substantially worse than what Vontaze Burfict did
Vontaze Burfict was completely deserving of the season-long suspension he received for his horrific hit on Indianapolis Colts' Tight End Jack Doyle. Burfict lined Doyle up and purposefully threw himself into the defenseless wide receiver to create a dangerous helmet-to-helmet collision.
What Myles Garrett did does not suddenly make Burfict's hit any less inexcusable. But by comparison, these incidents aren't close. In both cases, a helmet is being used with great force in the attack. But when Vontaze Burfict hit Jack Doyle, he was hitting a player wearing a football helmet.
According to a report by The Star, "a good football helmet can withstand the force of a 35-pound weight dropped on it from eight feet high". While wearing a helmet does not make a football player impervious to injury, it does severely reduce the impact of the blow that the player taking the hit receives.
Mason Rudolph was not wearing a helmet. He had no protection at all against a heavy object striking him directly in the skull.
Roger Goddell must take serious action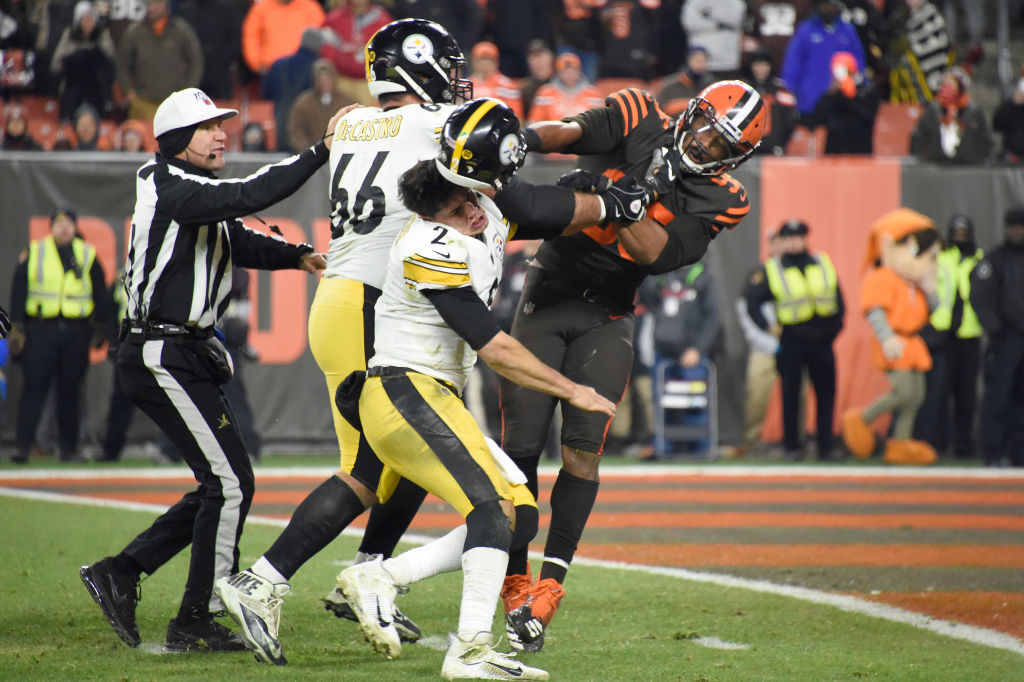 Just over a month ago in a Week 5 game against the Baltimore Ravens, Mason Rudolph was knocked out cold when he took a helmet-to-helmet hit from Earl Thomas. He was knocked out of the game with a concussion and forced to miss Pittsburgh's next game against the Los Angeles Chargers as well.
A few weeks later, this same player's unprotected skull was attacked with a helmet by another player. Fortunately, Mason Rudolph appears to be okay. He's lucky, as are Myles Garrett and the NFL, because this situation could have been a whole lot uglier.
A suspension for the remainder of the regular season isn't enough. That's six regular-season games. Vontaze Burfict's 12 games must serve as the absolute minimum punishment that Garrett receives. Yes, Burfict's checkered past was weighed into that suspension length; but the crime he committed was a dirty football play.
What Myles Garrett just did wasn't a football play. Repeated again, this was assault.