The NFL Needs to Suspend DeSean Jackson Immediately After Anti-Semitic Instagram Posts
Oft-controversial Eagles receiver DeSean Jackson may have just created his biggest problem yet.
Jackson recently shared several problematic messages on Instagram, including anti-Semitic comments that he attributed to Adolf Hitler.
The NFL has spent weeks promoting diversity and inclusiveness. If the Philadelphia Eagles don't take action and punish Jackson, then the league needs to step in on its own.
DeSean Jackson has been a productive player
DeSean Jackson is one of the most productive players in Eagles history. He ranks in the top-10 of most receiving categories and his 6,276 receiving yards are fourth all-time among Eagles players.
Jackson ranks eighth in catches (365) and ninth in receiving touchdowns (34). The three-time Pro Bowler also returned four punts for touchdowns in an Eagles uniform.
Jackson has 598 receptions for 10,420 yards and 55 touchdowns entering the 2020 season. He had nine catches, 159 receiving yards, and two touchdowns in three games last year.
Jackson posted anti-Semitic messages on Instagram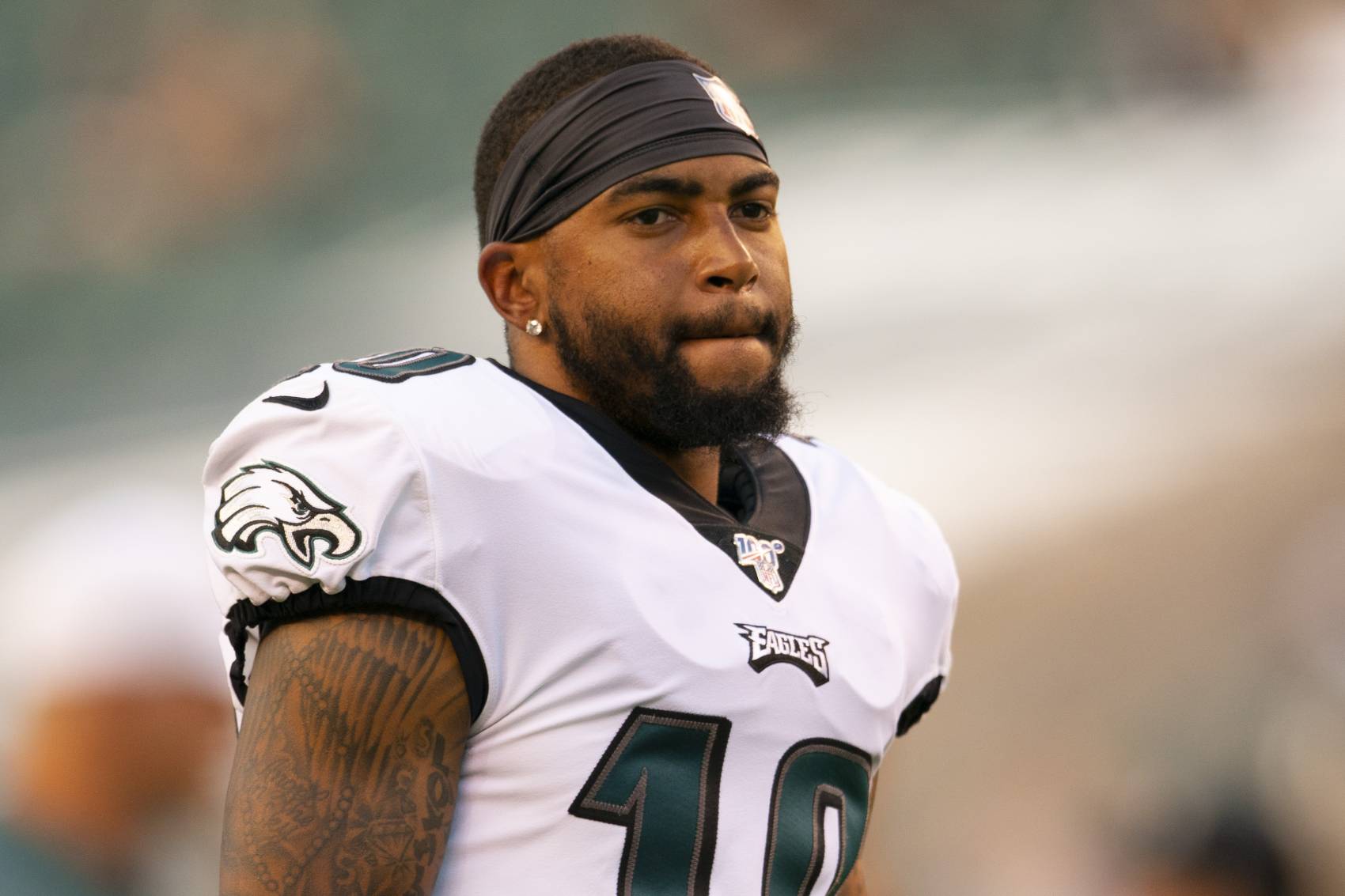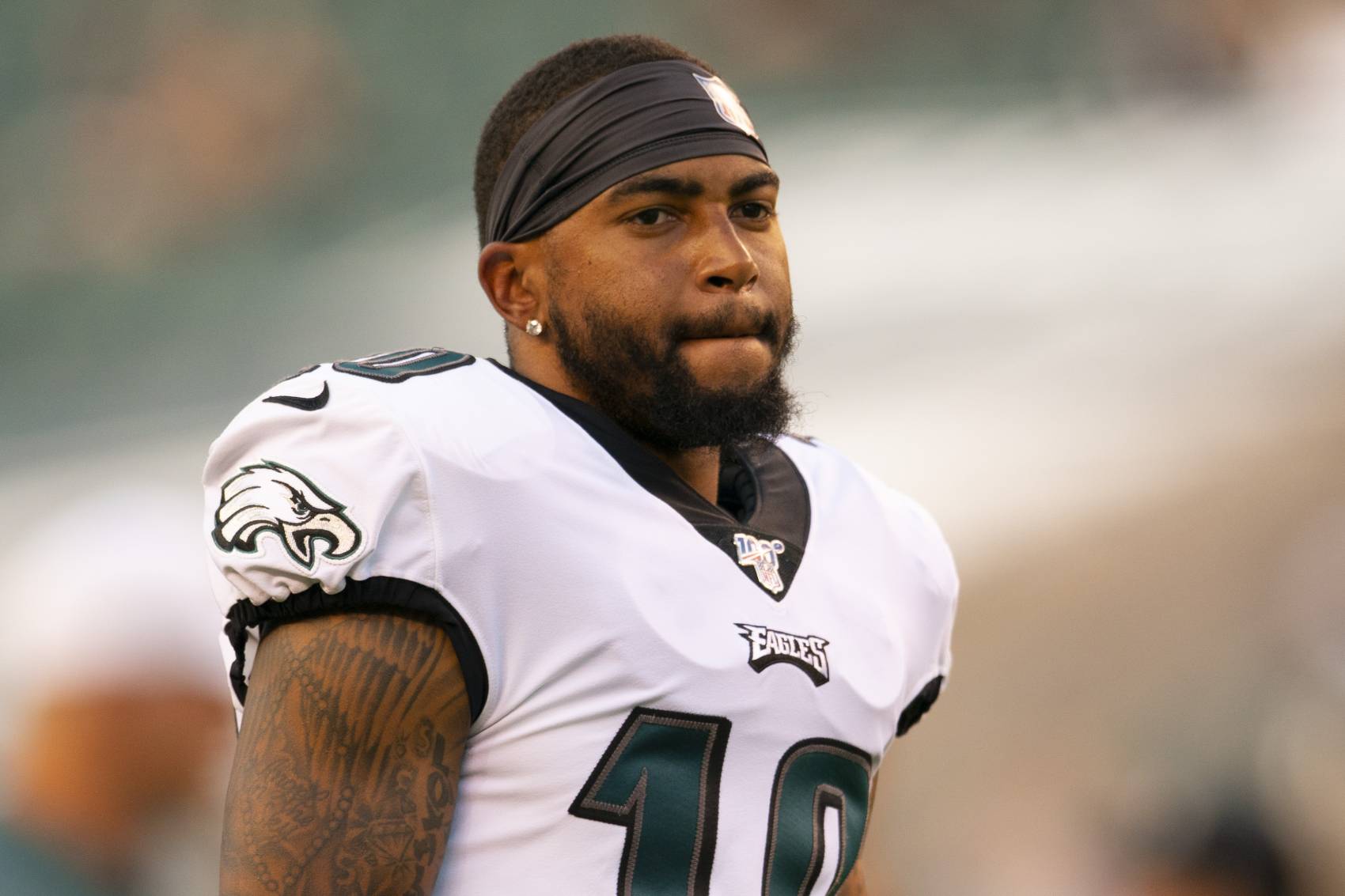 DeSean Jackson has 1.4 million Instagram followers. All of them received a nasty surprise with Jackson's recent posts.
Jackson posted an image of a quote attributed to Adolf Hitler. The quote addresses "white Jews" and Hitler saying Jewish people would "blackmail [and] extort America."
The quote does not actually come from Hitler, according to Snopes.
Jackson later wrote, "Anyone who feels I have hate towards the Jewish community took my post the wrong way. I have no hatred in my heart towards no one."
The Eagles called Jackson's comments "offensive, harmful, and absolutely appalling" in a statement.
"We are disappointed and we reiterated to DeSean the importance of not only apologizing, but also using his platform to take action to promote unity, equality, and respect," the team wrote.
Jackson apologized in an Instagram video he posted Tuesday, July 7.
"My post was definitely not intended for anybody of any race to feel any type of way, especially the Jewish community. When I posted what I posted I definitely didn't mean it to the extent that you guys took it."
Jackson also added he knows "Hitler is a bad person."
This isn't Jackson's first controversy
DeSean Jackson has been in the news for reasons besides his on-field play before.
The Eagles reportedly released him in 2014 because he had gang connections.
Tampa police found an abandoned Chevy Silverado registered in Jackson's name in December 2017. The car contained two .38 caliber bullets — which are legal in Florida — and 6.3 grams of marijuana.
The pot would have been considered a misdemeanor. Jackson was not driving the car but he "passed along a name to the police," according to Sports Illustrated.
The NFL needs to suspend DeSean Jackson immediately
NFL commissioner Roger Goodell has spent 2020 promoting inclusiveness and diversity. He has addressed everything from the league's lack of minority head coaches to police brutality.
If Goodell is serious, the NFL needs to suspend DeSean Jackson immediately and indefinitely for his comments. Jackson's comments aren't only politically incorrect. They're troubling and offensive.
Former Eagles executive Joe Banner tweeted the team needs to take Jackson's posts seriously.
"If a white player said anything about AA's [African-Americans] as outrageous as what Desean Jackson said about Jews tonight there would at least be a serious conversation about cutting him and a need for a team meeting to discuss. Which would be totally appropriate. Absolutely indefensible.
Jackson admitted he posted the comments. The "I was hacked" excuse that has saved other players won't save him, nor is this an incident of an old tweet from 2011 being brought to the limelight again.
The NFL needs to make it clear that offensive comments of any kind won't be tolerated. If the Eagles don't suspend or cut Jackson, the league needs to step in and punish him for conduct reasons.
The NFL's bottom lines, so to speak, is preserving the league's reputation and making money.
Allowing a player who posted anti-Semitic messages on Instagram to go without punishment goes against everything the NFL is trying to accomplish.