The NFL Once Suspended Terrelle Pryor for His Behavior at Ohio State
Terrelle Pryor was considered a Heisman Trophy frontrunner entering his senior season in 2011. But when the NCAA suspended Pryor, Ohio State's star quarterback, for profiting off his likeness, he left school early and signed with the Oakland Raiders.
By all means, Terrelle Pryor should have been excused from punishment when he left Ohio State for the NFL. So why did the NFL suspend Pryor to start his professional football career?
Terrelle Pryor was a star quarterback at Ohio State
Before the likes of Cardale Jones and Justin Fields took over the college football world in an Ohio State uniform, there was Terrelle Pryor. And when Pryor suited up on Saturdays, opposing defenses rightly shuddered in their shoes.
A vaunted high school recruit, Pryor completed 60.9% of his passes for 6,177 yards, 57 touchdowns and 26 touchdowns in 39 games at Ohio State. He also totaled 2,164 yards and 17 touchdowns on 436 career carries.
Terrelle Pryor led Ohio State to a Rose Bowl win in 2010 and a Sugar Bowl victory in 2011. The 6-foot-4 dual-threat quarterback had a bright senior year ahead of him …until the NCAA intervened.
Pryor's college career ended when he violated rules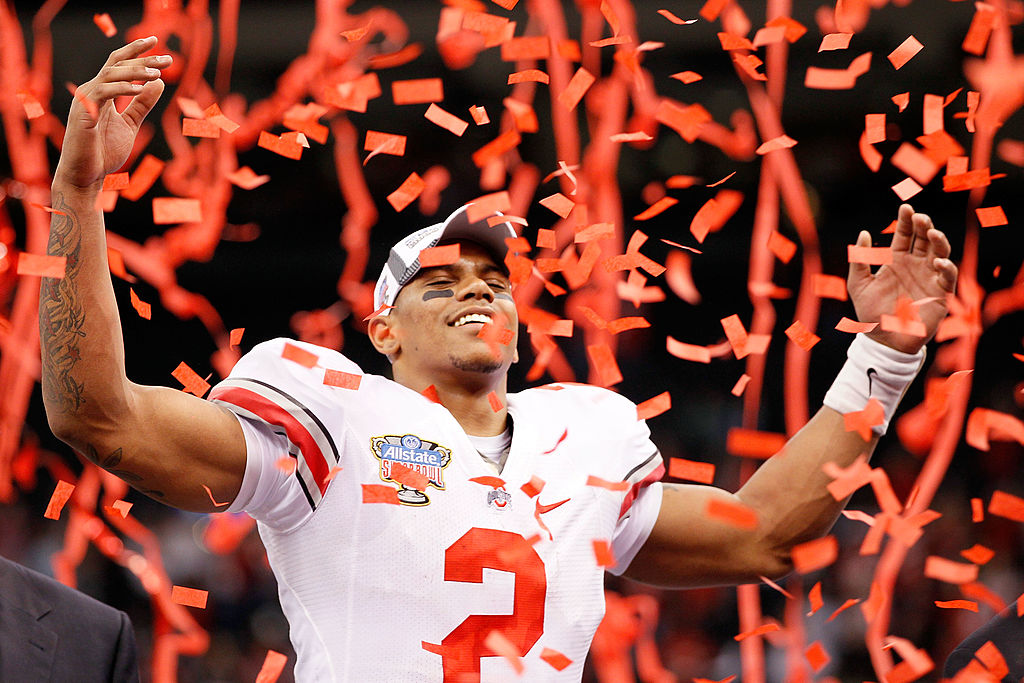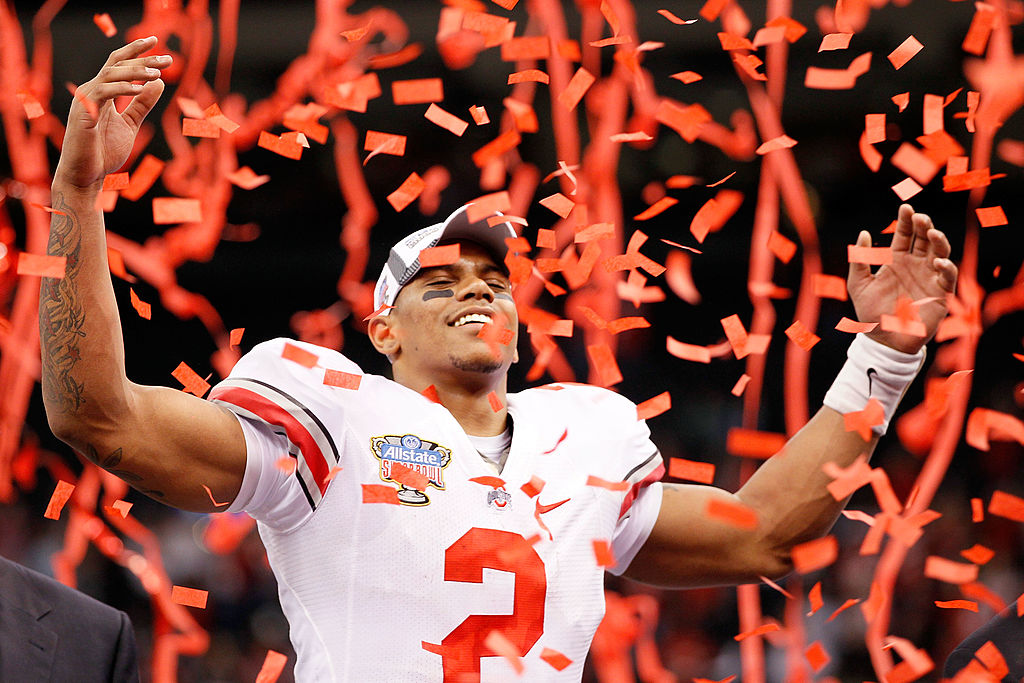 Before recent developments, the NCAA was very strict on its player likeness rules. Student-athletes could not profit off their likeness, even if schools had billboards featuring those same players or players with similar appearances appeared in video games.
In December 2010, Terrelle Pryor and four Buckeyes teammates earned five-game suspensions for selling championship rings, jerseys, and awards. The group also received improper benefits from a local tattoo parlor.
The scandal, as well as later developments alleging Pryor drove a Nissan 350Z to team practices, cost Ohio State coach Jim Tressel his job. Rather than serve the suspension, Pryor left Ohio State in June 2011 and began preparing for the NFL.
Ideally, Pryor hoped to enter the NFL supplemental draft and join a team for the 2011 season. Although that choice should have allowed Pryor to escape any punishment, the NFL still imposed its will on the young quarterback.
The NFL punished Pryor for his college actions
At first, the NFL prevented Terrelle Pryor from entering its supplemental draft, a draft held each summer where teams give up future draft picks to select players.
NFL commissioner Roger Goodell eventually changed his mind, but there was a compromise. As part of the NFL conditionally allowing Pryor to enter the 2011 supplemental draft, he needed to serve a five-game suspension.
Goodell issued the punishment because he felt Pryor used the illegal conduct at Ohio State to sooner pursue a "lucrative" professional career.
Additionally, Goodell said Pryor admitted to violating the NCAA's conduct rules, according to ESPN.
"Taken as a whole, I found that this conduct was tantamount to a deliberate manipulation of our eligibility rules in a way that distorts the underlying principles and calls into question the integrity of those rules."
Terrelle Pryor served the suspension and debuted in October 2011 as a receiver. He split time between quarterback and receiver in 2012 before he earned the Raiders' starting quarterback job in 2013.
Terrelle Pryor went 3-6 in nine starts and threw seven touchdowns to 11 interceptions, although he famously had a 93-yard run that season.
Pryor later became a full-time receiver and caught 77 passes for 1,007 yards and four touchdowns for the Cleveland Browns in 2016. He has bounced around several teams since then and didn't play last year.
All things considered, Terrelle Pryor has had an extremely productive NFL career. It is strange, though, to think the NFL punished him for something he did in college — and something relatively harmless, at that.