The NFL's 10 Highest-Paid Defensive Players in 2014
Cuba Gooding Jr. said it best all those years ago: "Show me the money!"
And in a sport where the average career lasts less than four years, every last dollar is important to National Football League players. So who makes the most?
Not surprisingly, five of the top six base salaries among 2014 NFL players belong to quarterbacks (led by Jay Cutler, pictured above on the left). The stars on the offensive side of the ball have the big names, the gaudy stat lines, and the eye-dropping dollar figures. But what about defensive players? The guys that sack that star quarterback, tackle that speedy receiver, or hit that All-Pro running back? Where do their salaries fit in?
We went to spotrac.com to hunt down the 10 highest-paid defensive players in the NFL this season (ranked according to base salary dollar amounts). Of course, while bonus money isn't included, we've thrown in a tiny bonus for you, the reader: The final list ended up with 12 names instead of 10, because there's a three-way tie for 10th place on the money list. And that's where we begin our countdown…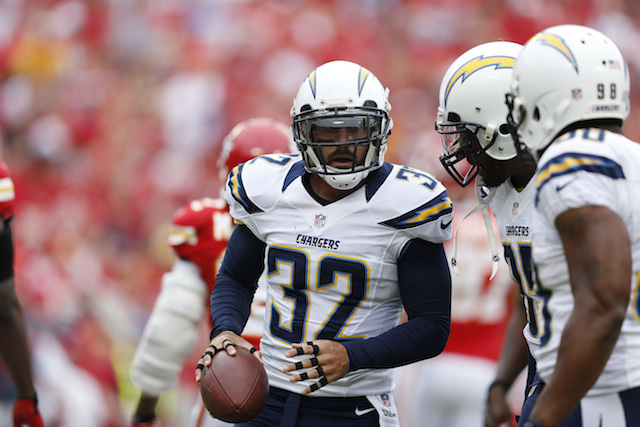 10. Brandon Carr, Johnathan Joseph, Eric Weddle (tie)
Cowboys cornerback Brandon Carr, Texans corner Johnathan Joseph, and Chargers safety Eric Weddle (pictured above) are each slated to make $7.5 million in base salary in 2014. In all, there are 30 players in the league making more than this group, but, as stated previously, the majority of those men compete on the offensive side of the ball. Weddle is coming off his second Pro Bowl season and is tied for the Chargers' tackle lead, while Joseph leads the Texans in tackles so far this year.
9. Eric Berry
The ninth highest-paid defensive player in the NFL this year is Kansas City Chiefs safety Eric Berry. The Tennessee product is making just over $8.4 million in base salary in 2014. Berry has three career interception returns for touchdowns, including two in 2013. Now, the three-time Pro Bowler just needs to get healthy — he's battling a sprained ankle that kept him out of Kansas City's most recent game.
8. Haloti Ngata
Ravens veteran defensive lineman Haloti Ngata has played his entire career in Baltimore since the team selected him in the first round of the 2006 NFL Draft. In 2014, he will make a base salary of $8.5 million for the season. Ngata has been named to the Pro Bowl five years in a row and boasts career totals of 23.5 sacks and 422 tackles.
7. Jason Worilds
Steelers linebacker Jason Worilds enters his fifth year in Pittsburgh on a one-year contract that will pay him at least $9.75 million in 2014 base salary after the team used a transition tag on him. Worilds racked up eight sacks a year ago despite only starting 11 games in 2013, and is playing for a long-term deal. Worilds owns 19 sacks in his career, and a few more of them in 2014 could land the former Virginia Tech standout a big payday.
6. James Laurinaitis
Only 20 players in the league are making $10 million or more in base salary this year, and three of them are St. Louis Rams. (Of course, just two of the three are healthy, with quarterback Sam Bradford once again sidelined due to a torn ACL.) James Laurinaitis, a sixth-year linebacker, is the lowest-paid of the trio of Rams stars, making right at $10 million after 12 career sacks and nine interceptions. That means he's getting about $200,000 less than…
5. Chris Long
Chris Long, the second overall pick in the 2008 draft, will be paid $10.2 million in base salary during his seventh season in St. Louis. The defensive end and son of former NFL great Howie Long already has more than 50 sacks in his career, but won't be adding to his total anytime soon: He underwent ankle surgery earlier this month.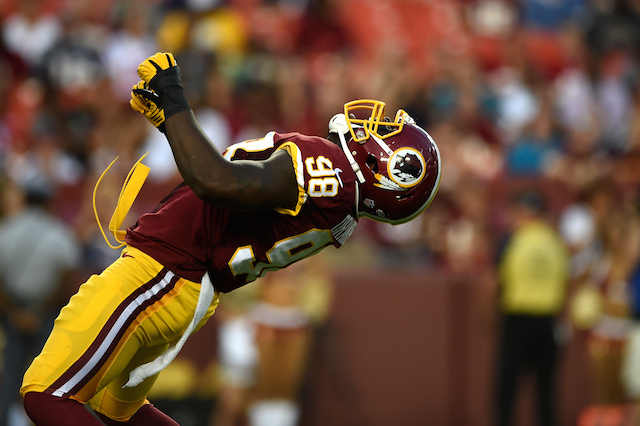 4. Brian Orakpo
Linebacker Brian Orakpo has been a key part of the Washington defense since the Redskins drafted him 13th overall in 2009. Orakpo has 40 sacks in his career and leads a unit that piled up 10 in a single game earlier this season. Orakpo, who is currently battling a dislocated finger but plans to keep playing, will make almost $11.5 million in 2014 due to the franchise tag.
3. Ndamukong Suh
Two defensive linemen taken with back-to-back picks early in the first round of the 2010 draft make up the next two entries on our list. Lions star Ndamukong Suh was the second overall pick (behind Sam Bradford) and made an immediate impact with 10 sacks in his rookie season. He's up to 28.5 in his career, but has been one of the more controversial players in the league during his time with Detroit. Suh will make over $12.5 million in base salary this season.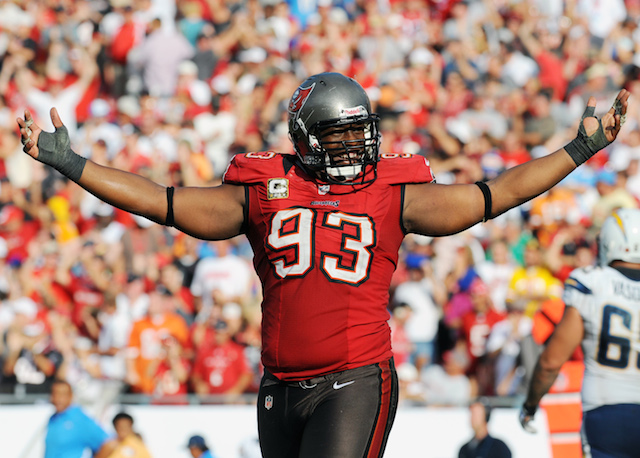 2. Gerald McCoy
The very next pick in the 2010 draft was Oklahoma's Gerald McCoy, who headed to Tampa Bay. Now in his fifth year as a professional, McCoy is both the unquestioned leader of the Buccaneers' defense and the team's highest-paid player: He'll pull in more than $12.7 million in base salary this season after a career-best 9.5 sacks a year ago. McCoy broke his hand in Week 2 but is hoping to get back on the field for the Bucs as soon as this weekend.
1. Greg Hardy
The highest-paid defensive player in the NFL this season is Greg Hardy, even though he's not currently playing. Hardy was placed on the exempt list last week and hasn't taken the field for a game since Carolina's 2014 opener,due to an ongoing domestic violence case. Hardy, who still gets paid even though he's not active, has a base salary of just over $13.1 million in 2014.