The NFL's 5 Most Imbalanced Offenses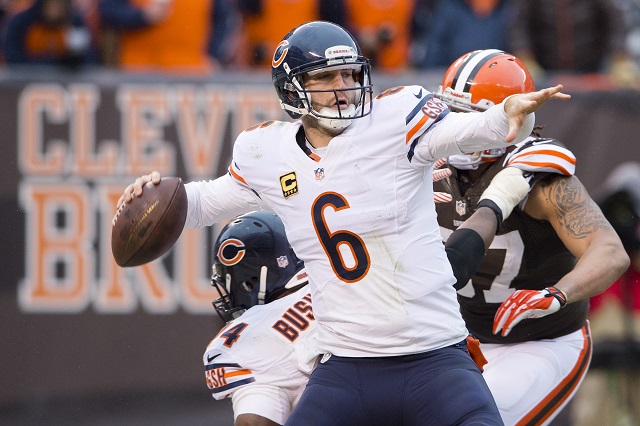 If there's one overused football trope it's the constant reminder that the NFL is a quarterback-driven, passing league. On one level, it's stating the obvious – that you're rewarded more on the scoreboard and in the standings for having an offense that passes the ball well and a solid guy under center doing the throwing. On another, it ignores things like the fact that Seattle ranked 32nd and 31st in percentage of offense plays where they passed the ball in 2013 and 2014, respectively, and nobody's been better than them in terms of actual on-field results in that same span.
Sorting just through the 2014 statistics, we find that only two (Indianapolis and Detroit) of the top ten teams in passing play percentage made it to the postseason – and thanks to an infamous call, only one of those managed to win a playoff game. Going back a little further, none of the past 12 Super Bowl champions has even ranked in the top five for this percentage, which is really just a breakdown of a team's volume of pass plays.
There's probably an analytic dissertation (or two) to be written about this phenomenon, but the long and short is that passes in football aren't like three-point shots in basketball – which is to say, there's a definite point of diminishing returns for throwing too much at the expense of other types of offensive plays. (Raw numbers of attempts, however — which equates to an overall greater number of offensive plays run — remain a much better indicator of how effective an offensive unit is).
So if you find your team on this list by the 2015 season's end, there's a good chance things did not go so well. The 2014 top five combined for a .300 winning percentage. 
5: New Orleans Saints (62.92%)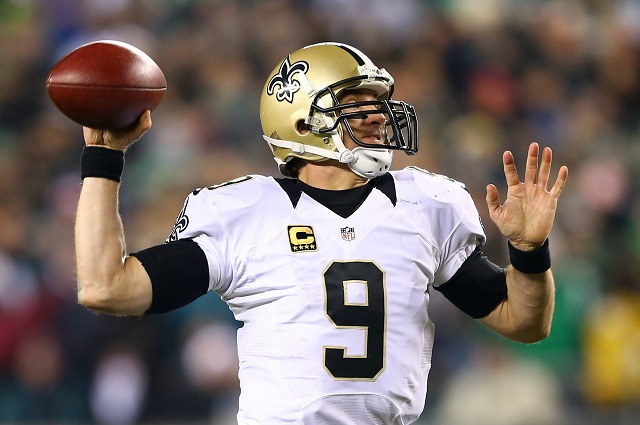 This isn't too surprising, considering that their signal caller is Drew Brees. With no more Jimmy Graham, however, and veteran Marques Colston arguably the best receiver left on this roster, the Saints are going to be in a whole lot of trouble if they find themselves having to throw the football nearly 63% of the time again.
While rushing has long been a weakness during the Sean Payton era – and things don't look particularly promising in that department, even with the addition of G Max Unger from Seattle, the Saints need to at least try to get back to the balance they were able to strike in their Super Bowl title season of 2009, for instance, where they threw the ball just 55.16% of the time.
4: Jacksonville Jaguars (63.50%)
You've already got our assessment of the 2015 Jags (and if you haven't read it yet, you should), but showing up so highly on this list should've been grounds enough for coach Gus Bradley's dismissal. Let's not beat around the bush here: Jacksonville was going to be awful last season whether or not Blake Bortles got forced into action. That he was pressed into field duty before the team would have wanted should have only cemented that.
The fact that Bortles was out there helplessly throwing the football so often when the team was behind by about 30 on the scoreboard probably didn't do anything for his development. At the risk of sounding like a defeatist, there were likely several better uses of his arm and the team's talented young core of receivers than to have him repeatedly throw deep passes downfield to them in doomed comeback attempts.  
3: Atlanta Falcons (64.06%)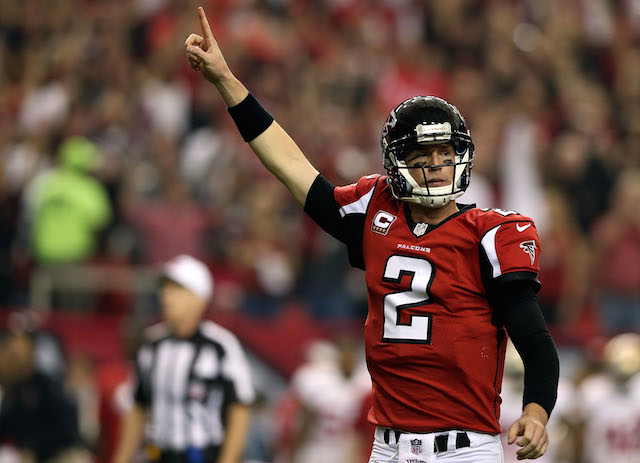 Like the Saints, it should come as no surprise that the Falcons felt confident throwing the ball so often with one of the NFL's elite QBs, Matt Ryan, at the helm. Injuries to former lead back Steven Jackson notwithstanding, the team has long had its issues with balancing out its rushing and passing and in 2013 and 2014, they crossed into that dangerous top five from which teams tend to not make it out.
The success of the 2015 Atlanta Falcons seems like a decent proposition on paper, but a large part of their resurgence is going to depend upon their ability to get their percentage of passing plays down near, or below, 60%.
2: Chicago Bears (64.68%)
The Bears of the past two seasons have been an anomaly, at least when couched within the context of their own history. They hired pass-happy head coach Marc Trestman, while inexplicably ignoring the presence of Matt Forte on their roster, where he is still officially listed as a "running back."
Forte's pass catching abilities aside, the Bears are the one team on this list that at least featured a legitimate stud runner that they more or less kept in the stable in favor of tossing the ball all over creation. The hiring of John Fox likely promises a return to a more recognizable form of Bears football, complete with physical downhill running, but if you ever wanted to make a very persuasive argument against the importance of "arm talent" when talking about quarterbacks, Cutler should be Exhibit A.
[Note: Upon seeing the Bears on this list, Jay Cutler shrugged indifferently.]
1: Oakland Raiders (66.10%)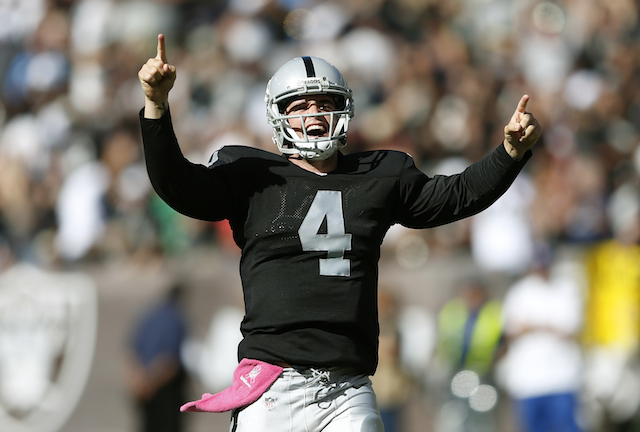 The Raiders have been on virtually every undesirable list of statistics, advanced or otherwise, for over a decade now. In spite of the way things have generally gone awry for Oakland in the 21st Century, hope springs eternal because they finally have a quarterback on their roster that they have a reason to believe in with Derek Carr.
One thing is certain: the young QB is plenty tough, composed and is, by all accounts, a great locker room guy, but if the Raiders are going to avoid looking like a Carr accident on the field this season, they are going to have to throw the ball quite a bit less than two-thirds of the time.
Statistics provided by ESPN and Teamrankings.com
Connect with Tamer on Twitter @iamtamerabouras