The NFL's 7 Best Running Backs After Week 1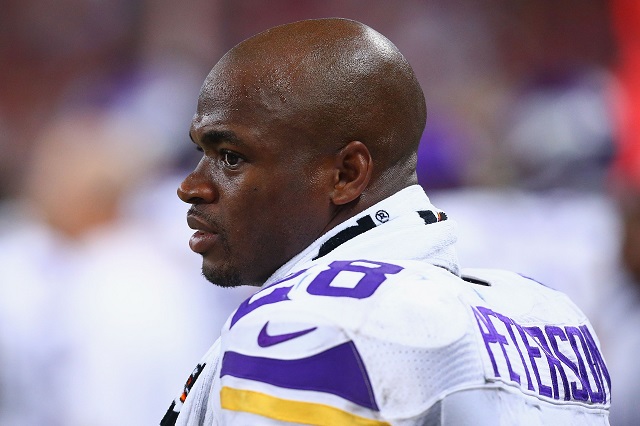 The death of the running back is a theme that gets bandied about every few years — commentators point toward the rule changes that emphasize the aerial game, the increased protections afforded to quarterbacks and receivers, as well as an NFL that is trying to make the game more exciting for the people who aren't born into a pool of the league's Kool-Aide via increased scoring. The thinking is, presumably, that more touchdowns are more exciting, which can go either way, since it's the quest for points that's the most alluring part about football anyway.
And, really, there's nothing more impressive in the NFL than a really great game from a running back. One man, holding an oddly shaped piece of leather, is trying to run from one end of the field to the other while 11 other guys try to stop him. There's no passing, and beyond the handoff, it's the most singular display of individual skill in the offensive half of the game because it's entirely up to the back to get things done. Here are the seven running backs who did exactly that. This list does not feature Adrian "All Day" Peterson this week, or LeSean McCoy, or Arian Foster — although that's certainly not for lack of trying. Better luck next week, guys. All data is courtesy of Pro Football Reference.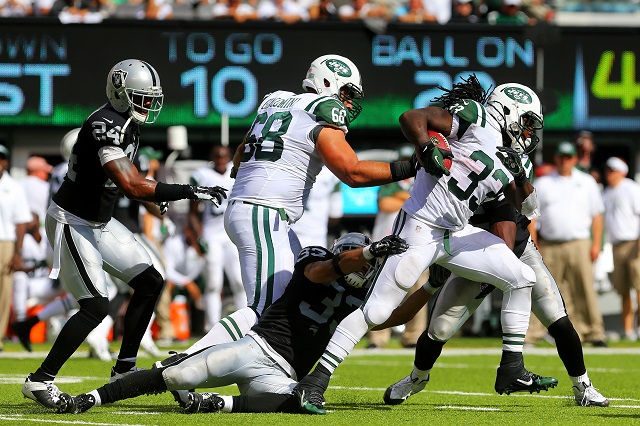 7. Chris Ivory, New York Jets
The Jets running back saved himself, and his team, with a 71-yard touchdown run. There's always danger when it comes to a stat line like Ivory's: 102 yards on 10 carries is impressive (10-plus yards an attempt averages out to a first down with every touch — something any NFL team would pay astonishing amounts of money for), but when you factor out the big run and his sole score, Ivory's numbers drop down to a much more pedestrian 3.4 YPC. That said, we're giving him the nod here because his score proved to be the difference maker, stretching the Jets' fourth-quarter lead to 12.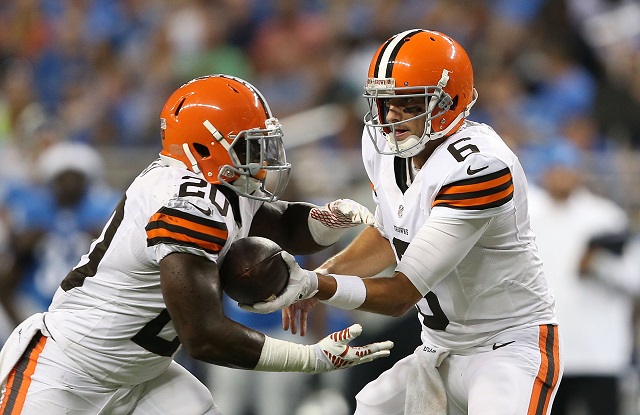 6. Terrance West, Cleveland Browns
Which is why we're giving Terrance West a bump over Ivory, even though the Browns would ultimately lose their game to the Steelers. West, whose 29-yard run was the longest, managed 100 yards on 16 carries for an impressive 6.25 YPC. Despite their best efforts, the Browns couldn't sustain their furious second-half comeback on Sunday, when they managed to close a 24-point deficit in large part to Isaiah Crowell, who only had five carries but managed to pull in a pair of touchdowns.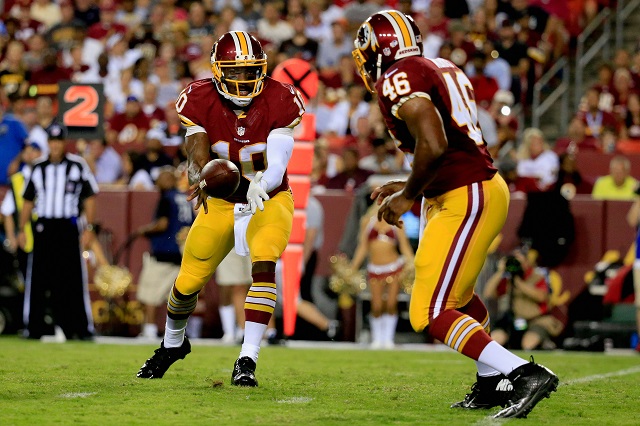 5. Alfred Morris, Washington Redskins
Similarly to West, Morris was able to carve over 90 yards out of a renewed Houston defense in just 14 carries, although he fumbled on the 1-yard line and had to watch Darrel Young snag the Redskins' sole score on one of those 1-yard touchdown rushes that have frustrated fantasy players for eons. Or at least since the advent of fantasy.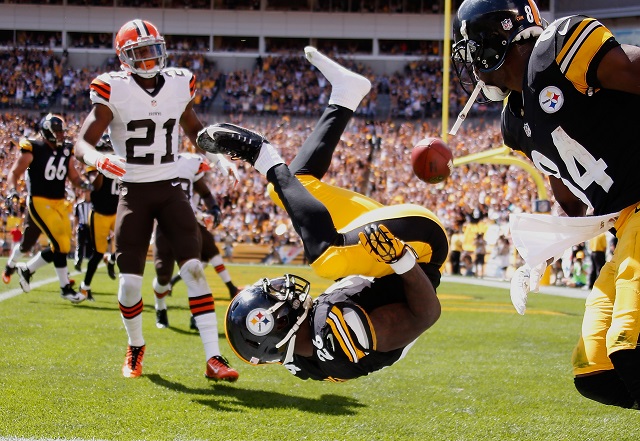 4. Le'Veon Ball, Pittsburgh Steelers
On the winning side of the Pittsburgh-Cleveland game, Le'Veon Ball had a hell of a time, averaging over 5 YPC on 20 carries for 109 yards, capping off his day with a 38-yard rush that put the Steelers up 21 points over the Browns before halftime. You could ding him for that, we suppose, since the Yellow and Black came out with nothing more than complacency to start the second half, but they ultimately won, so Ball gets a pass.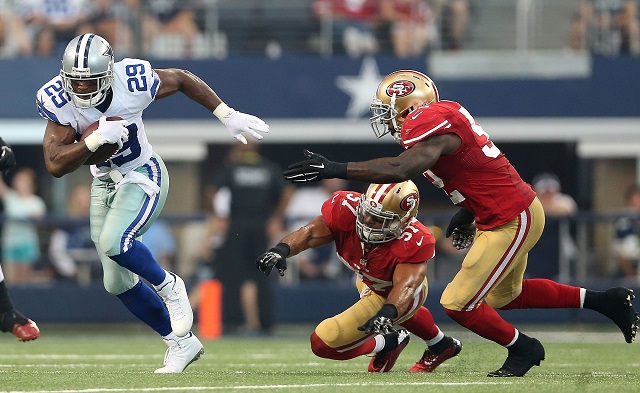 3. DeMarco Murray, Dallas Cowboys
One of the few bright spots in a Cowboys stadium that was dominated by Niners fans, DeMarco Murray put up 118 yards on 22 rushes with one score; he pulled in three catches, too. That's good. He's going to have to rely on that level of play a lot if Bad Tony Romo — three interceptions to one TD pass — continues to show up in the house that Jerry built.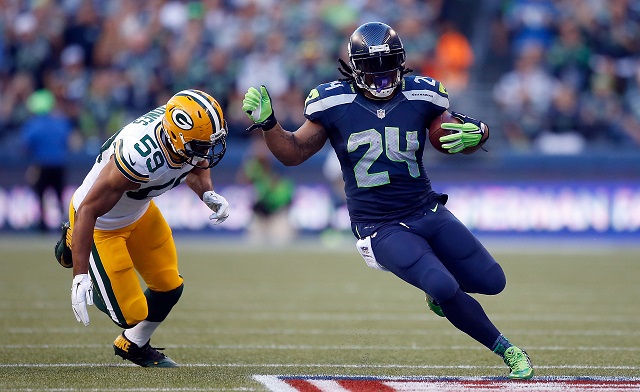 2. Marshawn Lynch, Seattle Seahawks
Forget the contract disputes and the not-so-quiet whispers of Beast Mode losing a step: With two touchdowns, 110 yards, and 5.5 yards per carry, Lynch showed that he's still a big part of the Seattle offense, stepping up and saving what was a decidedly pedestrian day from the endorsement wet dream that is Russell Wilson.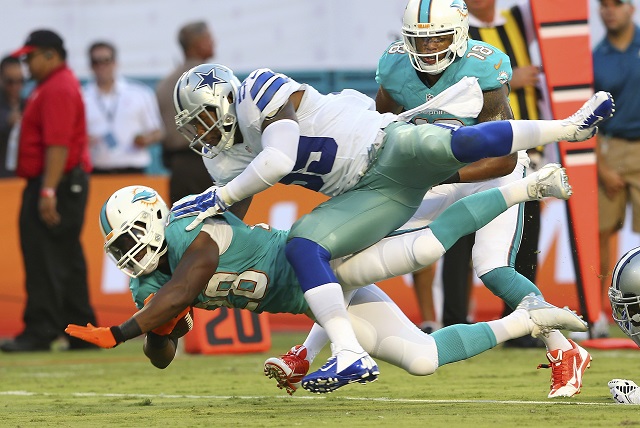 1. Knowshon Moreno, Miami Dolphins
No one expects Knowshon Moreno to top these kinds of lists. After the Dolphins spent the entire offseason garnering the wrong kind of press, this signing — Moreno was with the Broncos last season — went under the radar. No longer: Knowshon topped the league in rushing yardage last week and put the game away for Miami, who started the year off with a victory over the reigning AFC East champs, the New England Patriots.