NFL: The Top 5 Deep Wide Receivers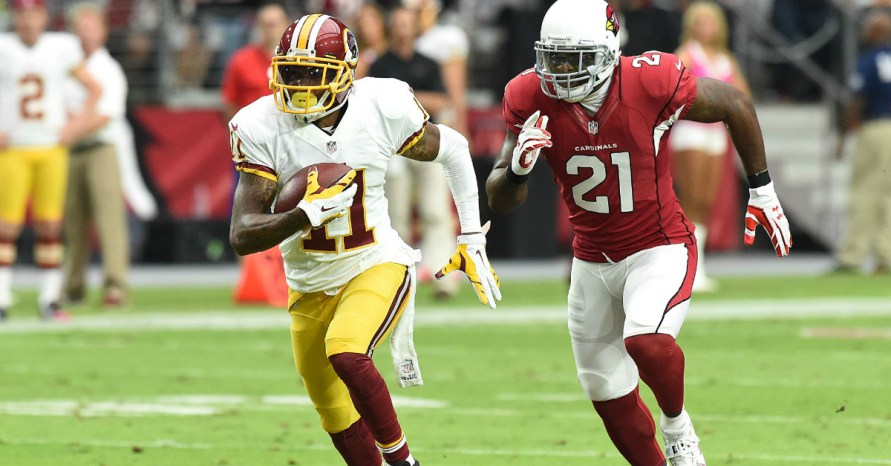 You might have heard recently that the NFL has become a passing league? There are any number of ways to demonstrate this shift, from increased passing yardage per game, to the higher percentage of each team's plays that are passing attempts, to the points per game scoring totals which have been trending upward.
For our money, however, one simple stat should put everything into perspective: Of the eight 5,000+ passing yard seasons for quarterbacks, seven have come since 2008. In that same time span, 13 of the top 14 passing yardage seasons have been authored and Dan Marino's one-time record-setting 1984 campaign, where he threw for 5,084 yards, now ranks just sixth on the all-time single season list.
By any objective measure, the NFL has taken a page or two from its higher scoring, pass happy cousins in the Arena Football League, and while this has caused many pundits to stress ad nauseum "the importance of having an elite quarterback," it can't hurt to have top flight wide receivers who can run clean routes and absolutely burn it down the sidelines.
While the increased volume of pass attempts has actually coincided with more intermediate routes and fewer shots downfield that come in classic vertical schemes, that doesn't mean it hurts to have guys who can sprint 20 yards or more in a couple of seconds, create separation, and give your offense an opportunity to cover a big chunk of the field in a brief period of time.
Based upon their average yards per catch (YPC) from last season, here are the NFL's top five deep threats (Hint: only the leader is someone you'd expect).
5. Malcom Floyd (16.5 YPC)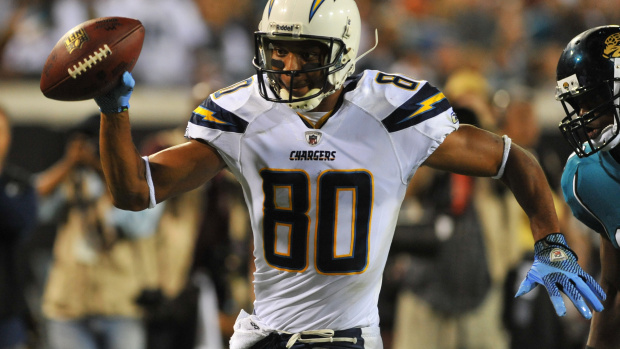 In a year when Keenan Allen struggled to stay healthy, the tall, lanky man from Wyoming quietly led the Chargers with a career-high tying 856 receiving yards while serving as the primary downfield threat for Philip Rivers. Floyd hauled in 52 receptions on career-best 92 targets and had 13 catches of 20 yards or more, good for second on the team.
Last season saw Floyd catch 6 touchdowns, tying a personal best, and also net the longest reception of his career to date, a 59 yarder against Baltimore in Week 13. What was something of a small surprise was the fact that his yards per catch number was actually one of the lowest totals of his career.
Still, coming into his 10th season this year at age 33, Floyd will be counted on to carry an even bigger load thanks to Eddie Royal's departure and Antonio Gates's four-game suspension to start the year. Might be best to channel Air Coryell and open things up. What say you, Boltman?  
4. Terrance Williams (16.8 YPC)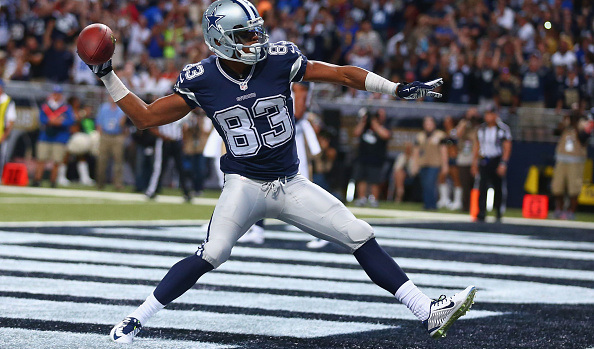 His teammates are Dez Bryant, Tony Romo, Jason Witten, and last year, DeMarco Murray. And that's just on offense. Even Cole Beasley might get more shine thrown his way on one of the Cowboys' innumerable Sunday Night Football appearances if he happens to make a few grabs. And yet none of those guys can say they made this catch.
Okay, so it may not have been the game-winner, but it was probably the single play that let everyone watching know it was going to be the Cowboys' day up in Seattle. And that victory set the tone for a season in which the perpetually 8-8 'Boys all of the sudden became a force to be reckoned with.
On the season, Williams caught 37 of 64 targets for 621 yards and recorded a career-high 8 touchdowns. In a year where virtually everything went Dallas's way for once, Williams and his downfield receptions were a key component to their renaissance. And any chance they have of replicating that success and avenging their playoff disappointment will surely include him. 
3. Taylor Gabriel (17.3 YPC)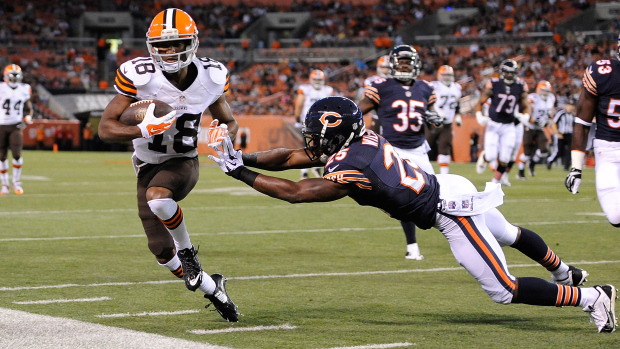 Nope, that isn't an error . That's actually a member of the Cleveland Browns here at third on this list. In a tumultuous year that saw Josh Gordon mostly struggle to get and stay on the field, Johnny Manziel look more and more like a bust, and the team implode and lose its last five games – all while the GM was illegally texting the coaches on the sidelines — Gabriel's rookie campaign was a bright spot that should be an encouraging sign moving forward.
A diminutive receiver, Gabriel collected 621 yards just like Williams, but in 36 receptions. He was targeted 71 times, had a 70 yard catch, and if there was anything about his numbers that was underwhelming, it was the fact that in all of those long catches he only managed to grab a single touchdown. You'd have to believe that number will go up this season, no matter who ends up under center. 
2. Michael Floyd (17.9 YPC)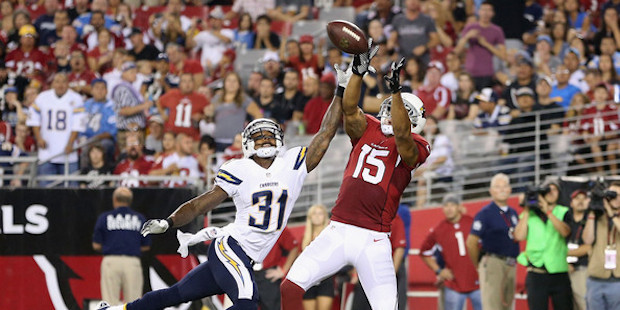 Okay, so maybe there were two picks on here that weren't surprising. Although Michael Floyd isn't, on his own, a household name, it's sort of a given that a team coached by Bruce Arians would have at least one receiver near the top of the league in yards per catch. Arians is the most vertically inclined coach this side of Norv Turner and orients his entire offense around pushing the ball downfield.
In Floyd, Arians has a tall target who managed to lead the team in receiving yards (841) as well as touchdowns (6) and yards per catch. He interestingly had only the third most targets (99) and receptions (47), trailing Larry Fitzgerald and John Brown, but being a bigger wideout than Brown and faster at this stage than Fitzgerald means he still definitely enters 2015 as the Cardinals' best option when they're looking to take a deep shot. 
1. DeSean Jackson (20.9 YPC)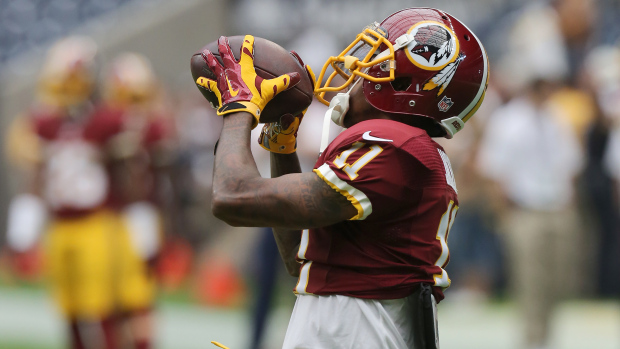 By far the most obvious member of the bunch, it should tell you everything you need to know that Jackson is not only the leader of this group, but comfortably clears the pack by a full 3 yards on average. If there are any Robert Griffin apologists left out there (aside from his father), DeSean Jackson's presence is a damning indictment upon the argument that he can return to form.
This team lines Jackson up opposite Pierre Garcon, who's the best overall receiver this team has had since Art Monk. With Jackson freed up to haul in 56 passes on 94 targets for a team leading 1,169 yards, 6 touchdowns, and of course that ridiculous yards per catch average, how is it that this team can only manage 18.8 points per game?
There really aren't any sympathetic figures in the Jay Gruden versus Robert Griffin III saga, but wasting the enormous numbers DeSean Jackson puts up seems like a clear argument in favor of Gruden's take on the state of things in the nation's capital.
Stats provided by ESPN, Pro-Football Reference, and TeamRankings.com
Connect with Tamer on Twitter @iamtamerabouras