The Noble Reason Why Knicks Legend Patrick Ewing Decided to Announce His Illness
For over two decades, Patrick Ewing was one of the greatest big men the NBA had ever seen. From his early days with Georgetown to his prime with the Knicks, Ewing's skills made him one of the NBA's marquee talents.
Now a coach at his alma mater, Ewing, is affecting the basketball court in a different way. Recently, however, he stepped outside the hardwood and revealed he had tested positive for COVID-19, and his reasons why make too much sense. 
Patrick Ewing's NBA career
Playing for John Lucas's legendary basketball program at Georgetown, Ewing went to the basketball powerhouse in 1981 as a role-playing big man. By the time he left, however, he was one of the most heavily sought-after draft prospects that the NBA had ever seen.
Going toe-to-toe with Michael Jordan and UNC, Ewing was as close to a surefire thing when it came to his NBA prospects. He was a Player of the Year, an NCAA Champion, and the first overall pick in the 1985 NBA Draft. 
When Ewing went to the New York Knicks in 1985, he was going to a team that was desperate for championship glory like they experienced over a decade earlier. His impact on the Knicks helped propel them almost immediately.
Ewing came into New York as a 23-year-old and quickly became the face of the franchise for the next decade. He was already an All-Star as a rookie, and while he never led the team to a ring, the team was in constant contention with him on the court. 
Ewing's Knicks went to war against Hakeem Olajuwon and the Houston Rockets in the 1994 NBA Finals thanks to Ewing's leadership on the court and the cast of incredible talent around him. By the late '90s, however, Ewing's body broke down. His last three years with the Knicks showed an aging big man who was a shell of his former self.
Even in the 1999 NBA Finals team, Ewing was injured and unable to make a difference. He capped off his 17-year career with brief stops in Seattle and Orlando before calling it quits. In 17 seasons, Ewing averaged 21 points and nearly 10 rebounds and retired as one of the best to ever do it. Then, he focused his career on coaching. 
Coach Ewing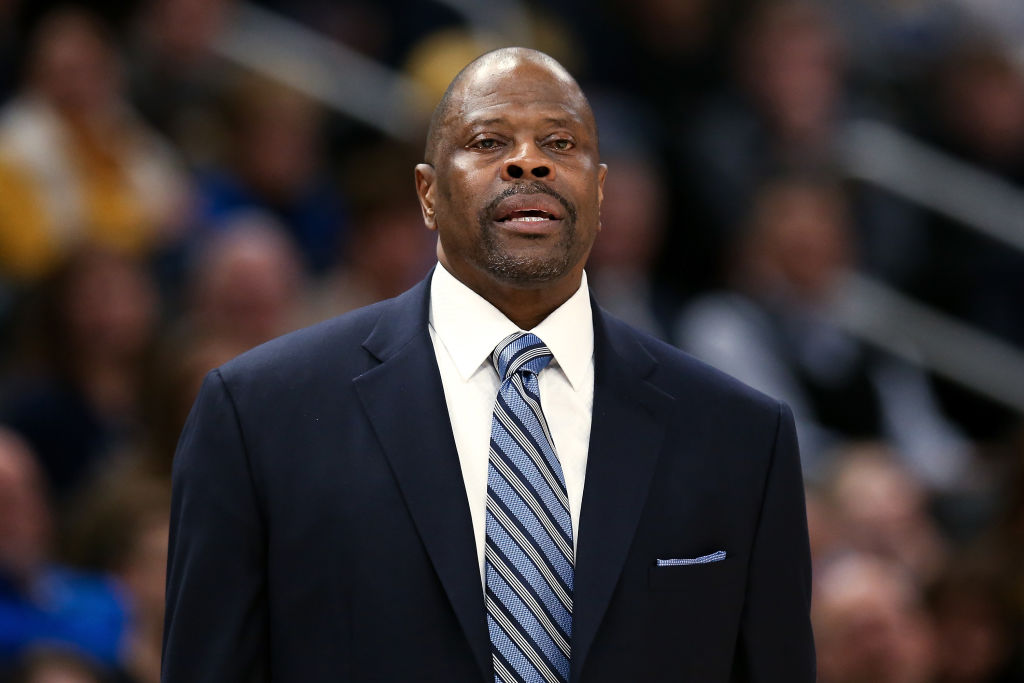 Ewing stepped immediately into the coaching ring after retiring at the end of the 2002 season. His first year as an assistant with the Washington Wizards — where former rival Michael Jordan was in his final season as a player — instilled a love of coaching.
Ewing traveled around the league over the next 15 years. He coached Yao Ming with the Rockets then helped Dwight Howard become a superstar big man in Orlando. He finished his NBA coaching career with a five-year stint as an assistant with the Charlotte Hornets
Despite a love of coaching and endless interview opportunities, Ewing couldn't secure a gig as head coach. In 2017, he was finally awarded the opportunity after Georgetown offered him a chance to coach his alma mater. He has been there ever since.
Georgetown is in a rebuild, but Ewing's in-your-face methodology and connections with players has made him a hit. Recently, however, Ewing learned there are bigger problems out there than wins and losses. He decided to share this with the world. 
COVID-19 Announcement
On May 22, 2020, Ewing announced he tested positive for coronavirus at the height of the pandemic, reports CBS Sports. He released a statement explaining exactly why he did it:
"I want to share that I have tested positive for COVID-19," Ewing said. "This virus is serious and should not be taken lightly. I want to encourage everyone to stay safe and take care of yourselves and your loved ones. Now more than ever, I want to thank the healthcare workers and everyone on the front lines. I'll be fine, and we will all get through this."
By telling the world about his condition, Ewing showed it wasn't just a myth; it could affect anyone. Ewing seemed to get through the diagnosis with stride and can focus on basketball. Still, by sharing this news, he put a face to the millions affected by it. That in itself is noble.