The Odell Beckham Jr. Sweepstakes Gets New Additions After Mike Florio Drops Bombshell That Would Shake Up the NFC
Let the Odell Beckham Jr. sweepstakes commence. After the Cleveland Browns parted ways with the disgruntled wide receiver, he should clear waivers and would likely have his choice of any team in the NFL.
After a troubled, unexpected tenure with Cleveland, the two sides agreed to part ways after failing to find a trade partner at the NFL trade deadline.
With the talent of Beckham as a huge calling card, several teams should have interest in him despite his recent track record of injuries. Mike Florio of Pro Football Talk dropped a massive truth bomb on Beckham's potential next employer on Sunday.
Odell Beckham Jr. will have plenty of suitors but prefers a contender
On Sunday morning, a report came out of Beckham's desire to play on a playoff contender.
On the surface, that makes sense. After all, Beckham wants to win. After playing for the New York Giants and then the past few years with the Browns, playing on a winning team might be a good change of pace.
Has Beckham regressed? Yes. But is there still talent remaining? Absolutely.
However, Beckham might not be able to be too picky right now. First, he has to clear waivers. What happens after that remains to be seen, although Florio did mention three teams — all in the NFC — that are reported favorites for the former LSU star.
Mike Florio truth bomb on Beckham's landing spot
Well, Florio's reported favorites are the San Francisco 49ers, New Orleans Saints, and Seattle Seahawks.
On the surface, this is surprising. Why?
Beckham apparently wants to play for a contender. As we stand right now, neither the 49ers or the Seahawks are contenders. The Saints, who just lost Jameis Winston to a season-ending injury and received unfortunate news on Michael Thomas, desperately need some offensive help.
On the other hand, the Seahawks will be getting Russell Wilson back any week and are just one game out of the NFC Wild Card spot. The last two spots for the NFC playoffs are shaky, at best.
The 49ers, to be frank, make no sense if Beckham does indeed want to join a contender. Kyle Shanahan's team is fresh off a loss to a depleted Arizona Cardinals team. But, somehow, they are 3-5 and right with the Seahawks for the bottom of the NFC West.
Out of these three teams, the Saints have the most pressing need for a wide receiver and have the most likely path to a playoff spot, even with the injuries to Winston and Thomas.
The sweepstakes for the former Browns receiver will end soon enough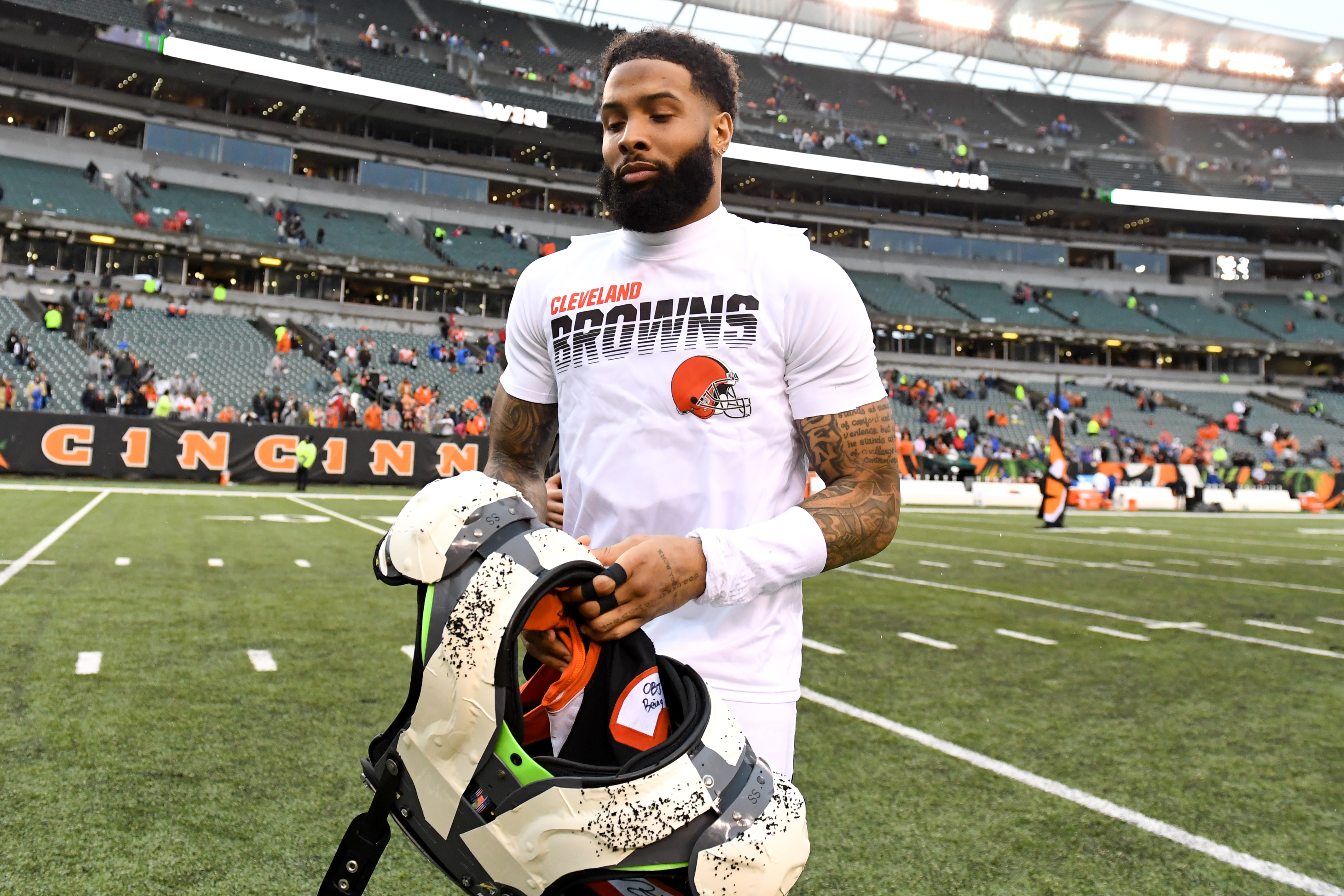 In what has been an absurd week in the NFL, the constant story of Beckham has somehow been at the forefront. The Browns failed to find a suitable trade partner, then sent him home from practice, and then proceeded to release him.
The writing had been on the wall for some time, although nobody expected it to be quite like this. Minnesota Vikings star receiver Justin Jefferson even chimed in by rocking a sweatshirt pregame on Sunday that read "Free Odell".
Well, Odell might actually be a free agent — assuming he clears waivers. The expectation, according to Ian Rapoport of NFL Network, is that Beckham clears waivers.
Florio's latest report of his three favorites are rather interesting, especially with the two NFC West foes being thrown into the fold. Wilson and Beckham, not to mention DK Metcalf and Tyler Lockett, could set up Pete Carroll's team for a second-half surge and a trip to the playoffs.
At this rate, nobody knows what will happen, but that would certainly shake up the NFC playoff picture quite a bit.
Stats Courtesy of Pro Football Reference