The Only Player Better Than Jayson Tatum in High School Is on a Minimum Contract in the NBA
Jayson Tatum is a rising star in the NBA. With Kemba Walker sidelined, the Boston Celtics' young athlete is stepping into a bigger role. His shooting is on point, even when Celtics coach Brad Stevens doesn't come up with the best plays to match it. Tatum's one of the best players of his generation. However, he believes that one player brought more to the table than anyone else from his crop of high school phenoms.
Why Jayson Tatum thinks highly of Harry Giles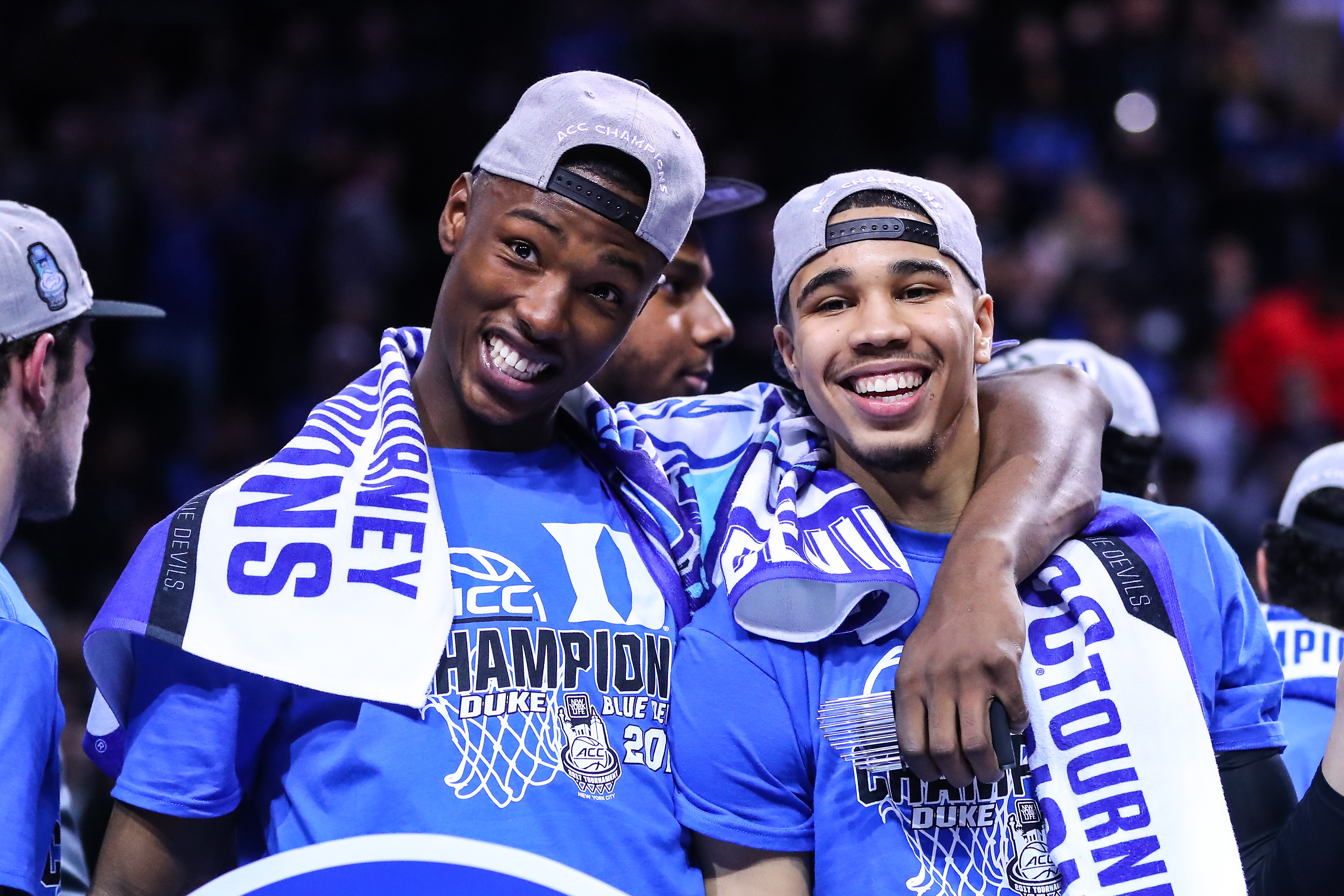 Giles was athletically gifted from the start, but his path to the NBA was wrought with difficulties. NBC Sports reports that he put up 12.5 points and 9.5 rebounds per game as a freshman at Wesleyan Christian Academy. Then his sophomore year was entirely dashed by a torn ACL.
His junior year didn't suffer from the extended break. He averaged a whopping 23.9 points, 12.5 rebounds, and two assists per game that year. That earned him ESPN's No. 1 pick for high school prospects from the class of 2016. Another ACL injury benched him for his senior year, however.
His next shot was with Duke, where he was immediately shelved for six weeks to recover from his surgery. Yet again he didn't skip a beat upon his return, which included a double-double against Georgia Tech. Worries over his injury history were the prime reason he went as low as 20th overall in the 2017 NBA draft.
Tatum, via Bleacher Report, made an appearance on The Bill Simmons Podcast back in 2018. Given how great Tatum was, and is, his praise for Giles carries weight. "Harry was the only player I would've said in high school, 'Yeah, he might be better than me,'" the Celtics star said. "Our senior year, he didn't play one game. And he was still ranked number one."
Injuries have dragged down Giles' NBA career so far
Giles dropped in the NBA draft out of fears that have, devastatingly, proved correct. A Bleacher Report profile on the Sacramento Kings' injury-addled would-be star points out that he missed his first year entirely. His eventual NBA debut in the 2018-19 season didn't match his previous returns from injuries in high school and college.
His ESPN stat sheet has him and averaging seven points on 51.2% shooting, with 3.8 rebounds across his 58 games played. He followed that up with a 48 game season, averaging 6.9 points and 4.1 rebounds per game. The one-time future of basketball-level prospect has been too harried by injuries to follow up on that promise — yet.
Giles likely has brighter days ahead in the NBA
The Kings likely regretted trading for Giles, essentially trading up for the 20th overall pick. His injuries went about as his critics expected them. Even then, they may have made a major mistake declining Giles' fourth-year contract option. The Trail Blazers, who technically drafted Giles back in 2017, leaped at the chance to get Giles back on board.
FanSided reports that last season, after the All-Star break, a healthy Giles looked like a player to hold onto. He averaged 8.8 points and 5.1 rebounds per game with little time on the court. But the Kings had already decided to move on from Giles, who had now become worth more than what they would've paid if they simply signed his extension.
Their loss could be the Blazers' gain. As a 22-year-old backup big man, he'll be a crucial late-game option to keep Portland's offensive press as relentless as possible. He likely hasn't hit his ceiling in terms of player development. With the right attention to his health, he could be a crucial piece in the Blazers' upcoming playoff prospects.