The Packers and Aaron Rodgers Continue to Battle With No End in Sight
While Green Bay Packers quarterback Aaron Rodgers is having a relaxing summer, his team is having to come to terms that the future Hall of Fame quarterback may have played his last game in a Packers uniform.
Rodgers has made it no secret that he no longer wants to play for the Pack and wants out of Green Bay. The Packers, on the other hand, have made it clear thus far that Rodgers will not get his way.
Rodgers' problem with the organization seems to come from issues Rodgers is having not with his coaches or other players, but team officials that he deems, at least in his eyes, are not doing things the right way. Since the Packers drafted former Utah State quarterback Jordan Love last year, the relationship between the organization and its star player has been on a downward spiral.
Aaron Rodgers nor the Green Bay Packers giving in
It doesn't appear that either side is willing to compromise or give in just yet.
"He (Rodgers) is still dug in and has not changed his stance on anything," said Green Bay Packers reporter Rob Demovsky recently on ESPN's Get Up.
A lot of people behind the scenes think that Rodgers will not return to the Packers and is prepared to sit if he has to. So what does this mean for the Packers? It means either giving into Rodgers and his demands or keeping the quarterback on the roster and groom backup Love.
Love was brought to the team with the thought that Rodgers would prepare him to take his place. But what seems to be the sticking point is no one in the organization informed him that the plan was to take Love in the draft last year. This situation may remind a few of when Rodgers was drafted to take Hall of Famer Brett Favre's place, which did not sit well with him either.
It seems as if both sides are at a standstill when it comes to what comes next for the organization and it appears at the moment, that Rodgers nor the Packers have any intention of changing their minds or compromising, which is not good news for Packer fans, who seem to be torn on which side they should be on.
Can Jordan Love be the next great Packers quarterback?
Some feel Jordan Love is being put in an impossible situation by having to follow in the footsteps of No. 12.
Drafting Love may have been an insult to Rodgers' great legacy especially after all he has done for the organization. But the Packers didn't think drafting Love was a big deal and seem to be coming to the realization that he may be the starting quarterback this season.
"I think Jordan came in with the right mindset,"  said Packers head coach Matt LaFleur via USA Today. "I think (quarterbacks coach Luke Getsy and offensive coordinator Nathaniel Hackett) have done a great job getting him prepared and ultimately it's going to be how do you take the classroom to individual and individual to team drills and then getting the opportunity to go out there in the preseason and show what he can do."
Matt LaFleur may believe in Love, but will that lead to execution on the field as well? It didn't last season when Rodgers was injured.
Aaron Rodgers is not worried
Meanwhile, Aaron Rodgers doesn't seem to have a care in the world about this situation. He seems to be content with staying at home this season.
Before the 2021 NFL Draft, there was talk that the current NFL MVP would be traded. It turned out to be just that — talk.
As for Rodgers, we've seen him all over the internet enjoying his summer. He sat out of mini-camp and was seen in Hawaii living it up seemingly preparing himself to sit out this season.
What's next for Aaron Rodgers, Jordan Love, and the Green Bay Packers?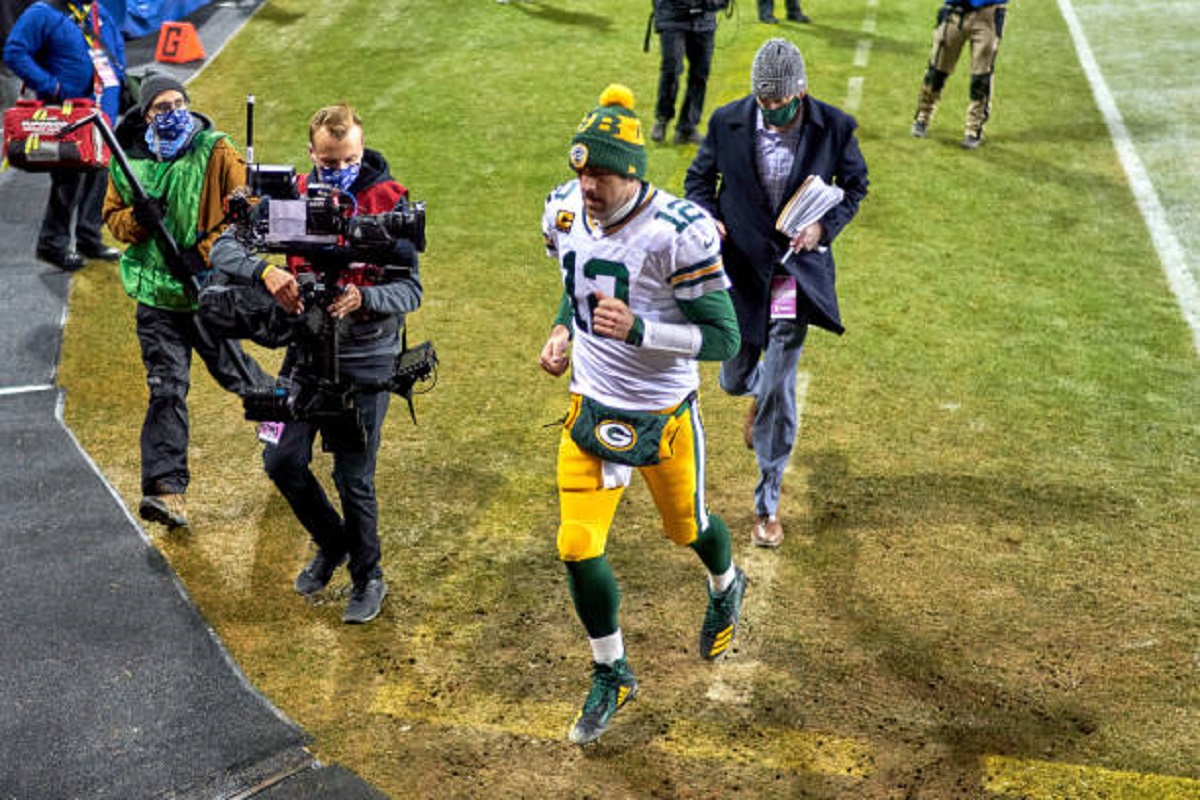 It seems the Packers are in a no-win situation. The best they can hope for is a successful season with Love under center, trade Rodgers, and get something of value in return. That would make the Packers happy, Love happy, and Rodgers happy.
The marriage between the two seems to be broken and doesn't look like it can be repaired.
But at this point, the Packers and their fans may have seen the last of Aaron Rodgers wearing the number 12  in Green Bay.