The Philadelphia Eagles Have the Perfect Backup Plan in Place Should Zach Ertz Miss Their Crucial Week 3 Showdown Against the Cowboys
The Philadelphia Eagles received some bad news following their Week 2 loss to the San Francisco 49ers.
While most of the fan base was busy moping around after what ended up being a lackluster home opener, it was revealed that one of the Eagles' top offensive weapons was being placed on the COVID-19 IL.
Zach Ertz, who is vaccinated, tested positive for the virus. According to the NFL's health and safety policies, Ertz can be lifted off the COVID-related IL should he test negative two times in a row. However, with a crucial Monday night matchup with the Dallas Cowboys looming in the near future, there is a real possibility Philadelphia is without their elite pass-catching TE during Week 3.
Losing Zach Ertz is a big blow for the Philadelphia Eagles
Thus far, new Eagles quarterback Jalen Hurts has yet to utilize Ertz's receiving talents fully. However, should the three-time Pro Bowler be ruled out for Monday's massive division showdown, it's still a big-time loss.
Ertz was widely regarded as a top-three tight end between 2017 and 2019, as he established a near-perfect connection with former Eagles QB Carson Wentz. Over the course of those three seasons, Ertz racked up 278 catches for 2,903 yards and 22 touchdowns.
Ertz also scored the game-winning TD during Super Bowl 52, which is pretty significant (obviously).
The all-time great Eagles tight end only has three receptions on four targets in 2021, but he still projects to be a big part of the team's offense moving forward. Many analysts and fans heavily criticized Hurts for not looking Ertz's way more often during the team's Week 2 loss to the 49ers.
Either way, Ertz potentially missing the Eagles' first game against Dallas is big. Philadelphia will also be without starting linemen Brandon Brooks and Brandon Graham (done for the year). They're really not in a position to deal with another key absence.
The Eagles are turning to a familiar face
With Ertz potentially out of commission for Week 3, the Eagles turn to a familiar face to fill the void.
Richard Rodgers — who was with Philly from 2018 to 2020 — was brought back to the Eagles' practice squad on September 21. Due to the NFL's current practice squad rules, the Eagles can elevate Rodgers on game day should they so desire.
This gives Philly a familiar face for their game against the Cowboys. Rodgers has been around the team and facility long enough to understand what his role is.
Surprisingly, Rodgers actually racked up 345 receiving yards last season. Granted, most of these yards came via Wentz's arm. However, he's undoubtedly shown the ability to be productive for the Eagles in a backup-focused role.
2021 is a make-or-break year for Ertz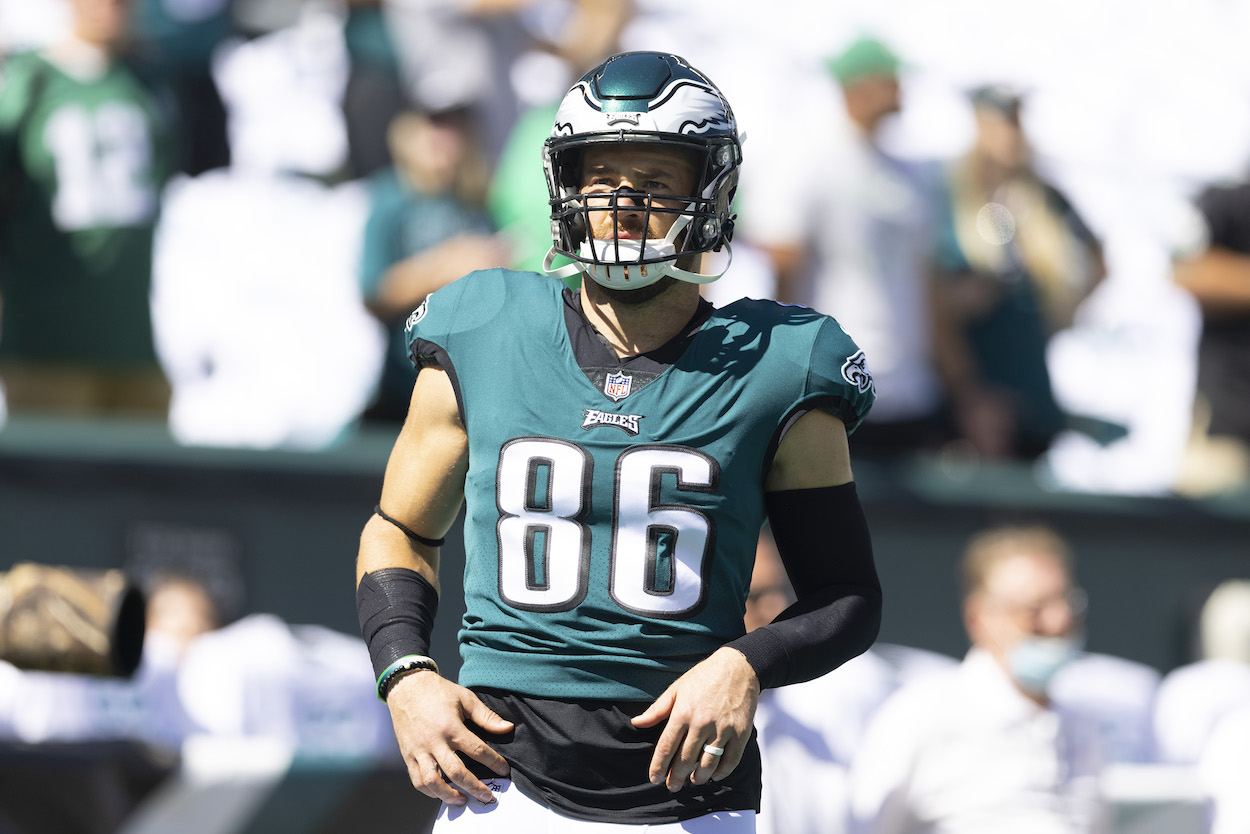 Ertz spent most of the offseason wondering where he would be playing in 2021. Many were under the impression that he would be traded before Week 1. Ertz himself delivered a heartfelt goodbye to the Eagles' fan base following their Week 17 loss in 2021.
However, Ertz was obviously not traded. It appears there's even a route to Ertz having his contract extended sometime soon. The Eagles recently discussed a trade with the Minnesota Vikings, which would have sent Dallas Goedert to Minnesota, a player who most viewed as Ertz's long-term replacement.
Before he can start to worry about a third contract with the Eagles, Ertz first needs to get healthy. In the meantime, expect to hear more about Rodgers and his role come Monday night.
All stats courtesy of Pro Football Reference.
RELATED: The Surprising Reason Jalen Hurts and DeVonta Smith Became Such Close Friends at Alabama Is Fantastic News for Eagles Fans