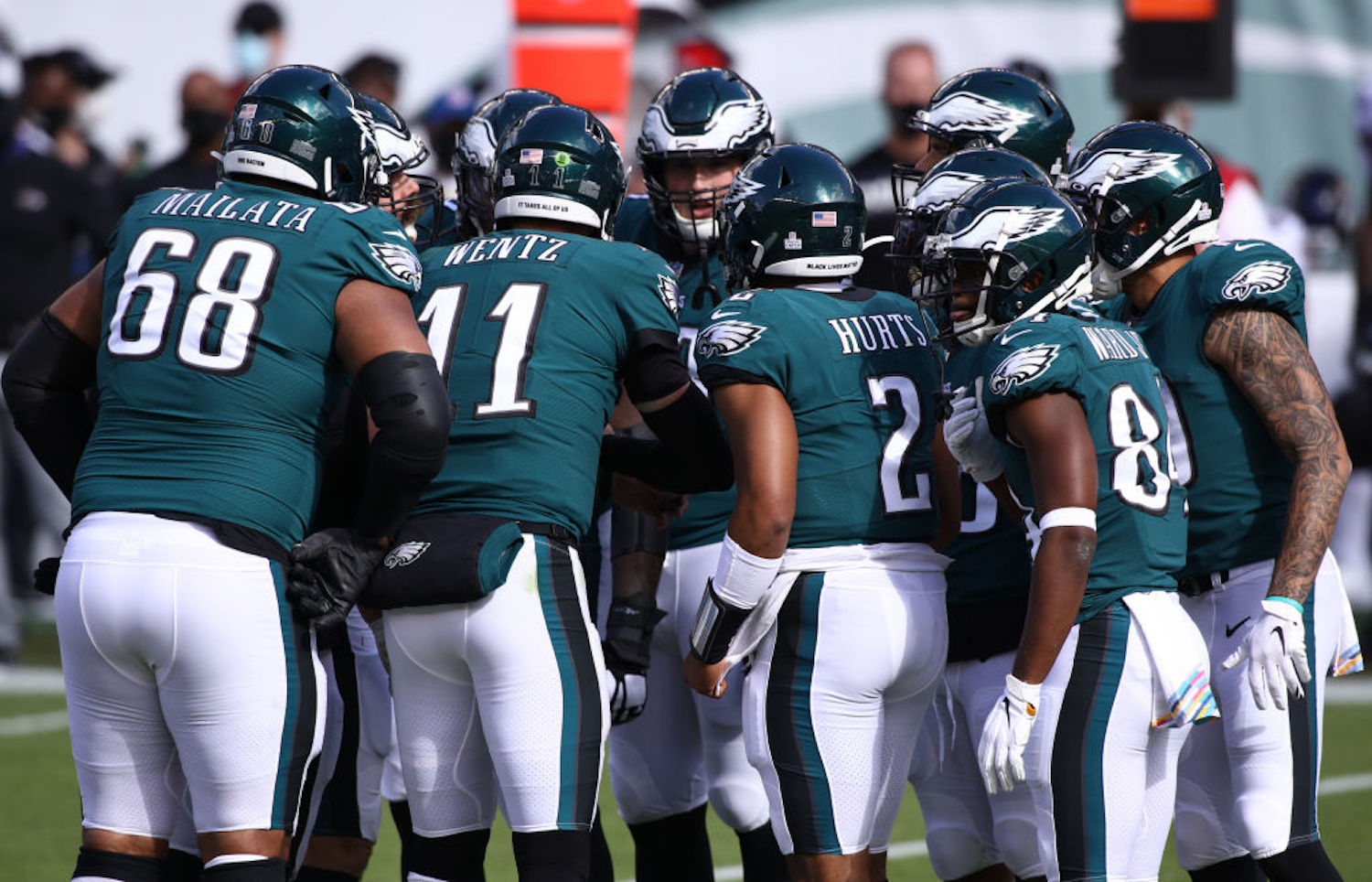 The Philadelphia Eagles Just Added 2 Crucial Pieces Back Into Their Offense
The Philadelphia Eagles have been crushed by injuries in 2020, but they just got two crucial pieces to their offense back on Monday.
The Philadelphia Eagles have been ravaged by injuries since the start of the 2020 season, but they finally received some good news regarding two of their offensive stars.
Veteran offensive tackle Jason Peters and rookie wide receiver Jalen Reagor both returned to practice Monday after missing a few games due to injury. After losing DeSean Jackson yet again, the news comes at the perfect time for Philly.
The Eagles have been devastated by injuries this season
Over the last few years, the Eagles have been one of the hardest-hit teams in the NFL in terms of injuries. It all started during the Super Bowl season when Carson Wentz tore his ACL and missed the entire playoffs.
Last year, Wentz led the Eagles to the postseason with Greg Ward and Boston Scott as his top offensive weapons. The narrative hasn't changed this season, either. In fact, it might be worse than ever.
The Eagles were without eight of their 11 offensive starters from Week 1 during last Thursday's game against the New York Giants. Wentz, Jackson, and center Jason Kelce were the only few that remained healthy from the starting lineup to start the year.
Even with the unfathomable number of injuries on the offense unit, the Eagles managed to escape with a win on TNF. But they need to get healthier if they want to make a run at the NFC East crown.
Philadelphia just got two crucial pieces back on offense
The Eagles are in dire need of a boost on offense, and it looks like they just might get one this week. On Monday, Jason Peters and Jalen Reagor returned to the practice field after missing four and five games, respectively.
Peters fills a huge hole on the offensive line that hasn't been filled since he left the game with an injury in Week 3. Wentz has been running for his life in recent weeks behind the makeshift offensive line comprised of career backups. Peters is one of the best to ever suit up in midnight green, and they'll need him to stay on the field going forward.
Reagor returns after a fractured thumb and has been catching passes without a cast for a few days now. He's ahead of schedule with his recovery and could be activated in time for Sunday's game against the Dallas Cowboys. Wentz has been throwing to Ward and little-known Travis Fulgham over the last few games, so he'll be rejoicing to get Reagor's speed back in the lineup.
Can the Eagles hold on to win the NFC East?
As it stands today, the Eagles are in first place in the NFC East at 2-4-1. Sad, yes, but first place is still first place. They've been treading water without most of their starting offense for weeks, but they might finally be getting healthy again.
With a competent offensive line and his speedy offensive weapons back in the fold, Wentz should be able to lead Philadelphia to a division title. Dallas, Washington, and New York haven't shown any signs of life so far this year, so six wins might just be enough to clinch a home playoff game.
If the offense finally gets healthy, Wentz will have no excuse not to lead this group to the postseason.