The Philadelphia Eagles Warned Fans Well Before the Game About Their Head-Scratching QB Decision
The historic Super Bowl run of the Philadelphia Eagles has officially ended. With head coach Doug Pederson fired, and a disgruntled Carson Wentz unlikely to stick around, a reboot is clearly on the way. And there's one moment where it all unraveled.
Most fans and commentators agree: Pederson made a baffling decision in pulling backup QB Jalen Hurts during what became the last game of their season. No one could've predicted just how terribly the decision ultimately panned out. But the Eagles organization, not just Pederson, seemed committed to the eyebrow-raising choice.
The moment Jalen Hurts lost his chance to helm the Eagles' offense
According to Alabama.com, Hurts had more than earned his starting spot against the Washington Football Team. He proved to be a dynamic playmaker capable of changing games with a single play.
It made him the undeniable starter over Wentz and third option Nate Sudfeld; to do anything less would be tantamount to losing on purpose for most fans.
He mounted an impressive comeback against the Arizona Cardinals, putting up 26 points in the losing effort. After going down by 16 points to start the game, Pederson credited Hurts with pushing the team to keep fighting.
That was the same energy Hurts brought to their slow start against Washington in their Wild Card matchup. Hurts was having trouble moving the ball from the moment the game started.
But, as ESPN reports, he had no trouble running it. He scored two rushing touchdowns in the first half, keeping Philly within a score to win the game. Nonetheless, Pederson decided the former Oklahoma Sooners superstar had to step aside early in the fourth quarter.
Nate Sudfeld was a baffling choice to replace Hurts
Sudfeld, as NBC Sports reports, had seen zero NFL action since Week 17 of the 2018 season. It was immediately strange to see Hurts benched for him, prompting the announcers on the live broadcast to question the wisdom of what unfolded before them. When he ultimately went 5-for-12 for just 31 passing yards, Pederson's fate was sealed. This would be a rough post-game presser.
So why did Pederson put Sudfeld in? His defenses so far have been flimsy, Sports Illustrated reports. "Nate has obviously been here for four years," the clearly stressed out coach explained. "I felt that he deserved an opportunity to get some snaps."
This is difficult to take seriously. It's worth considering alternative motives. Was this, despite Pederson's own words, actually an attempt to tank?
The Philadelphia Eagles organization hinted at the Sudfeld move prior to the game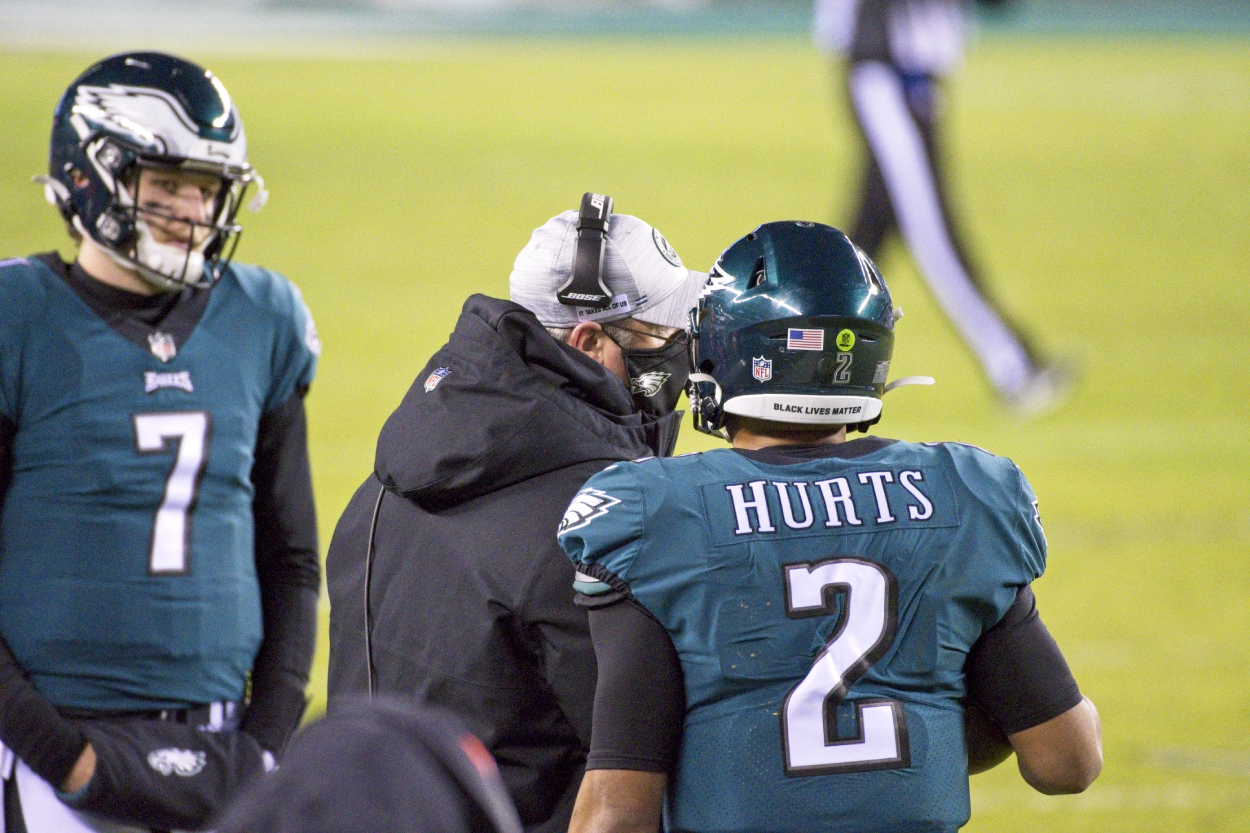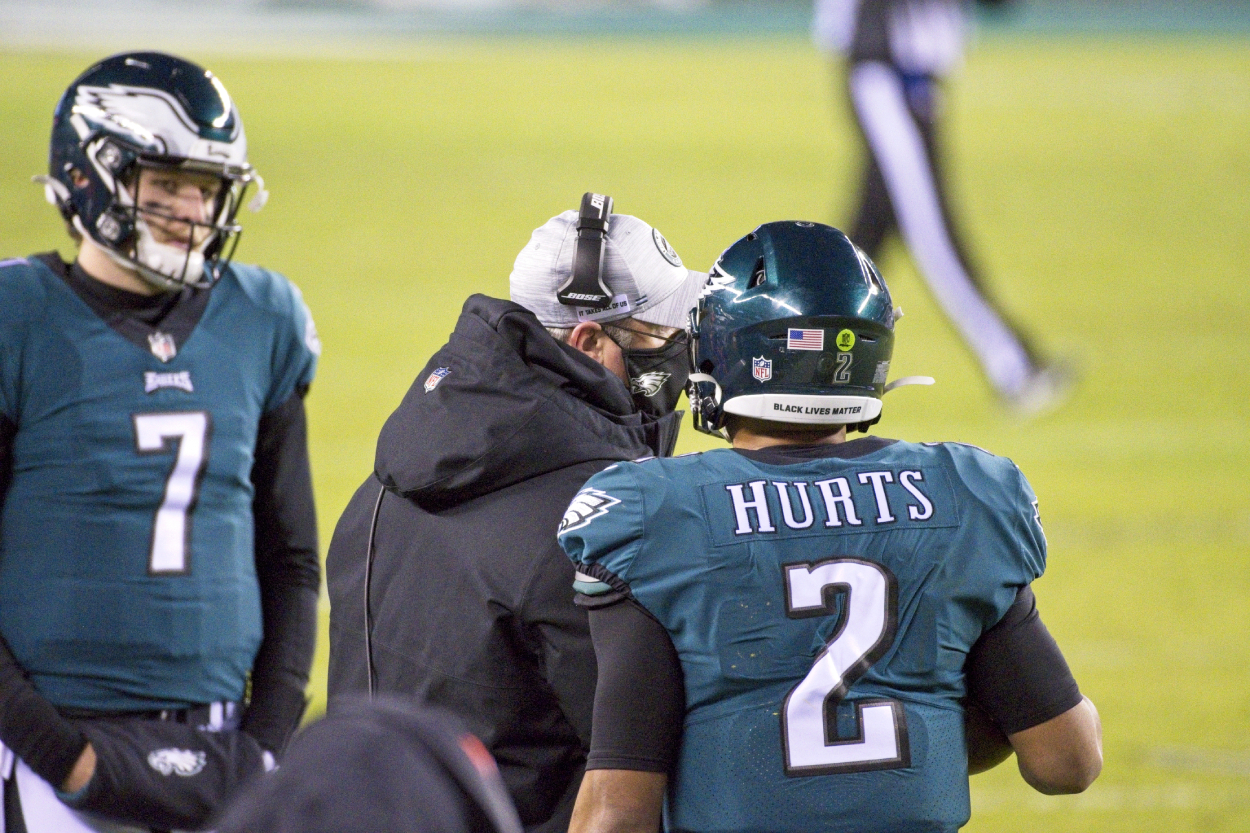 Pederson's decision was so baffling, it has led to widespread accusations of intentional tanking. FiveThirtyEight even assembled their reporters for a roundtable discussion on the topic. They didn't settle on a definitive answer, but do imply that if Hurts came out a bit stronger than he did, they might've avoided putting in Sudfeld.
Whatever the reasoning, it was likely decided well before the game was played. The Eagles' own official website reported that Sudfeld might take the ball for the second half well before the game.
Whether this prior warning means that all the criticism direct Pederson's way is misguided, it doesn't really matter now. He's since been sent packing, leaving fans of the Super Bowl winners of the not-so-distant past wondering how it all went so wrong.