The Phoenix Suns Uncovered the Gem of the Hardship Signings in Bismack Biyombo
Bismack Biyombo rewarded the Phoenix Suns' faith with strong play and is part of a strong center rotation for the defending Western Conference champs.
The returns to the NBA of Joe Johnson, Isaiah Thomas, and Lance Stephenson on hardship 10-day contracts were splashier than the Phoenix Suns' addition in similar circumstances. But there's an argument that no hardship addition has made a more significant impact than Bismack Biyombo has in the Valley of the Sun.
It wasn't a surprise that Biyombo was out of the NBA. Instead, the shock came in the knowledge he started 36 games last season. A lottery pick in 2011 from the Democratic Republic of the Congo via the competitive ACB league in Spain, Biyombo blocked shots, dunked, and picked up fouls. That was about it.
Then he arrived in Phoenix.
Bismack Biyombo is playing like he never has before
The Sacramento Kings drafted Biyombo seventh overall in 2011 and immediately shipped his rights to the then-Charlotte Bobcats. He was a raw but intriguing project, with a sturdy 6-foot-8, 255-pound frame and a massive 7-foot-6 wingspan.
He started 41 games as a rookie for the worst team in NBA history, the 7–59 Bobcats of 2011–12. After starting 65 games in his second season, Biyombo's minutes significantly dropped after Charlotte signed free agent big man Al Jefferson in 2013.
The Toronto Raptors signed Biyombo in 2015 after the renamed Hornets declined to extend a qualifying offer. The following summer, the Orlando Magic dramatically overpaid for his potential, inking him to a four-year, $68 million deal. In the summer of 2016, the salary cap increased by 32%, and the dollar bills flew.
A July 2018 trade sent Biyombo back to Charlotte. He signed a smaller, one-year deal to stay last season. But last summer, there were no takers, and he wasn't playing professional basketball for the first time in his adult life.
His fortunes changed on Jan. 1. The Phoenix Suns needed depth because of injuries and several players entering the health and safety protocols. Biyombo signed a 10-day contract and scored 27 points in his first two games. That led the Suns to offer the 29-year-old a deal without hesitation for the rest of the season.
They're glad they did.
The Phoenix Suns are thriving without Deandre Ayton
Deandre Ayton has missed 17 games this season. After a lack of center depth crushed the Phoenix Suns in the NBA Finals, general manager James Jones added free agent JaVale McGee. Bismack Biyombo joined the club as an emergency replacement and responded by playing his way into a full-time gig.
With Dario Šarić and Frank Kaminsky sidelined, 21-year-old Jalen Smith responded with solid play at times.
With Ayton on the floor against the Milwaukee Bucks in the Finals, the Suns were plus-2.9 points per 100 possessions. When he sat, Phoenix was a dreadful minus-16.5.
The new depth has helped. This season, the Suns are an NBA-best 36–9, including a sterling 14–3 without Ayton.
Biyombo has two double-doubles in his last three games, including matching his career-high with 21 points with 13 rebounds in the Suns' win over the Indiana Pacers on Jan. 22.
He's played eight games in Phoenix, averaging a career-high 10.1 points a night on 70.2% shooting (also the best of his career). In 20.1 minutes a game, he's getting 6.9 boards and 1.3 blocks (and a career-high 1.4 assists).
It's a case of player and system proving to be a nearly perfect fit.
Bismack Biyombo is playing like a guy who doesn't want to leave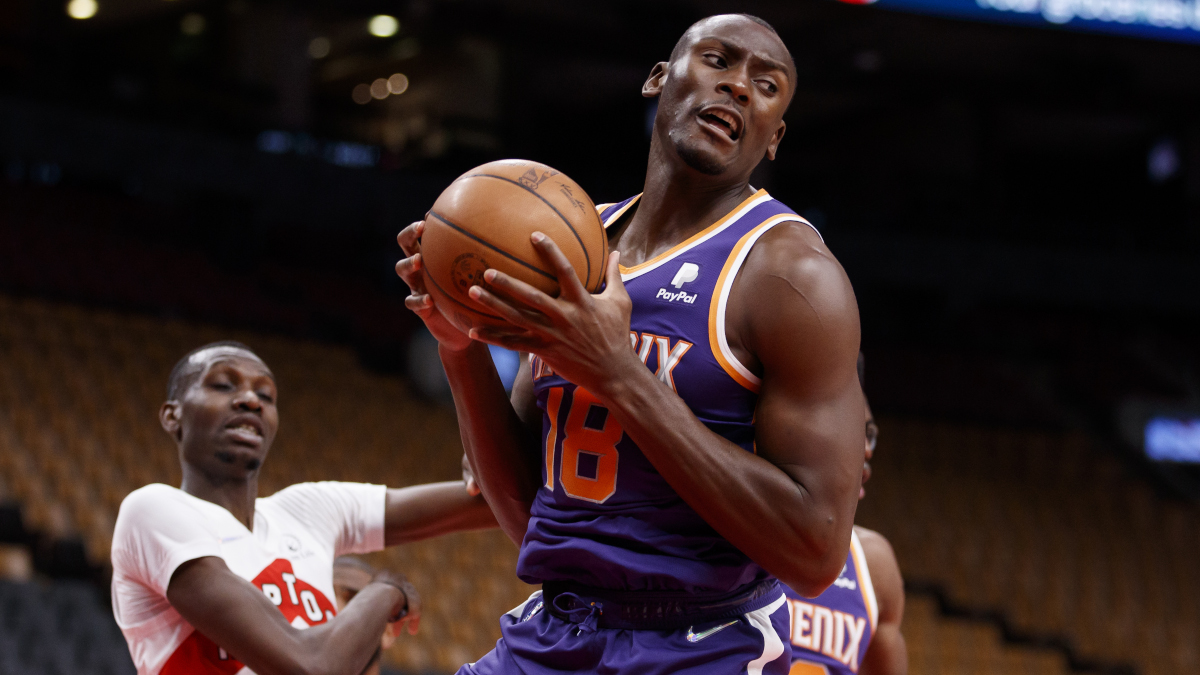 The Phoenix Suns were wise to lock up Bismack Biyombo as quickly as they did. In his return to the NBA, his play had already started to turn heads in front offices.
Future Hall of Fame point guard Chris Paul has a history of helping centers thrive with easy looks. DeAndre Jordan, Clint Capela, and Ayton are among the big men who had the best shooting percentages of their careers, with CP3 getting them the rock where they wanted it.
According to Duane Rankin of the Arizona Republic, Paul likes what he sees in Biyombo.
"Man, Biz is so sold," Paul said. "It's a shame he was out the league."
Around the same time he hit free agency last summer, the veteran center's father died. Thus, Biyombo wasn't in a rush to come back. He said the Suns had remained in contact with him since August. When the Suns needed help, they turned to Big Bismack.
"I'm just thankful to be in this situation like this where everybody understands their job, the goal we're trying to accomplish here," Biyombo said. "We go out there, and we go get it."
The Suns listed Ayton as doubtful for their Jan. 24 game against the Utah Jazz in Phoenix, the opener of a home-and-home set with last season's No. 1 seed in the Western Conference. That spells more opportunities for Biyombo.
The NBA slept on the Phoenix Suns last season. Then critics pointed to injuries on other teams as the reason they reached the Finals. They've responded with the best record in the NBA and a penchant for finding contributors out of thin air. Bismack Biyombo is just the latest example.
Statistics courtesy of Basketball Reference and NBA.com.
Like Sportscasting on Facebook. Follow us on Twitter @sportscasting19.