The Pittsburgh Steelers Are Looking Beyond Ben Roethlisberger With Their Newest Signing
There is a new #7 coming to Pittsburgh. Former Washington Football Team quarterback Dwayne Haskins has signed with the Pittsburgh Steelers. The acquisition of a new quarterback so soon after a disheartening playoff loss can only mean one thing. The Steelers are finally looking toward a future where Ben Roethlisberger will not be the one standing under center.
The Steelers have a question mark at quarterback
The Pittsburgh Steelers are one of many NFL teams with a giant question mark hanging over their heads regarding the game's most important position.
Incumbent starting quarterback Ben Roethlisberger is 38 years old. There is no telling whether he will play next season, let alone with the Steelers. "Big Ben", as he's called, saw his performance dip toward the end of the season as the Steelers lost four of their last five regular-season games. In the wild-card round, he set an NFL playoff record with 47 completions, but it wasn't enough to prevent a loss to the Browns.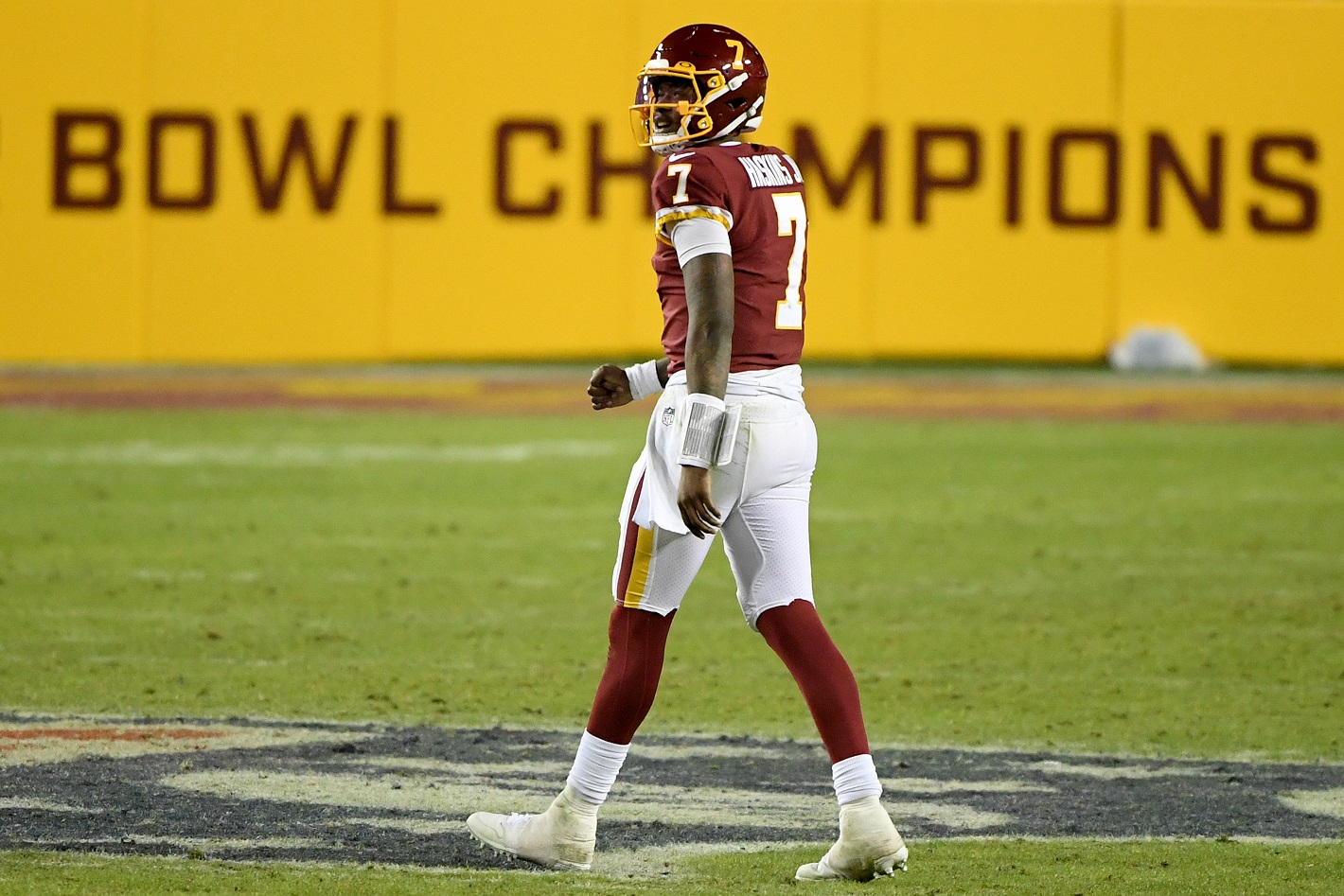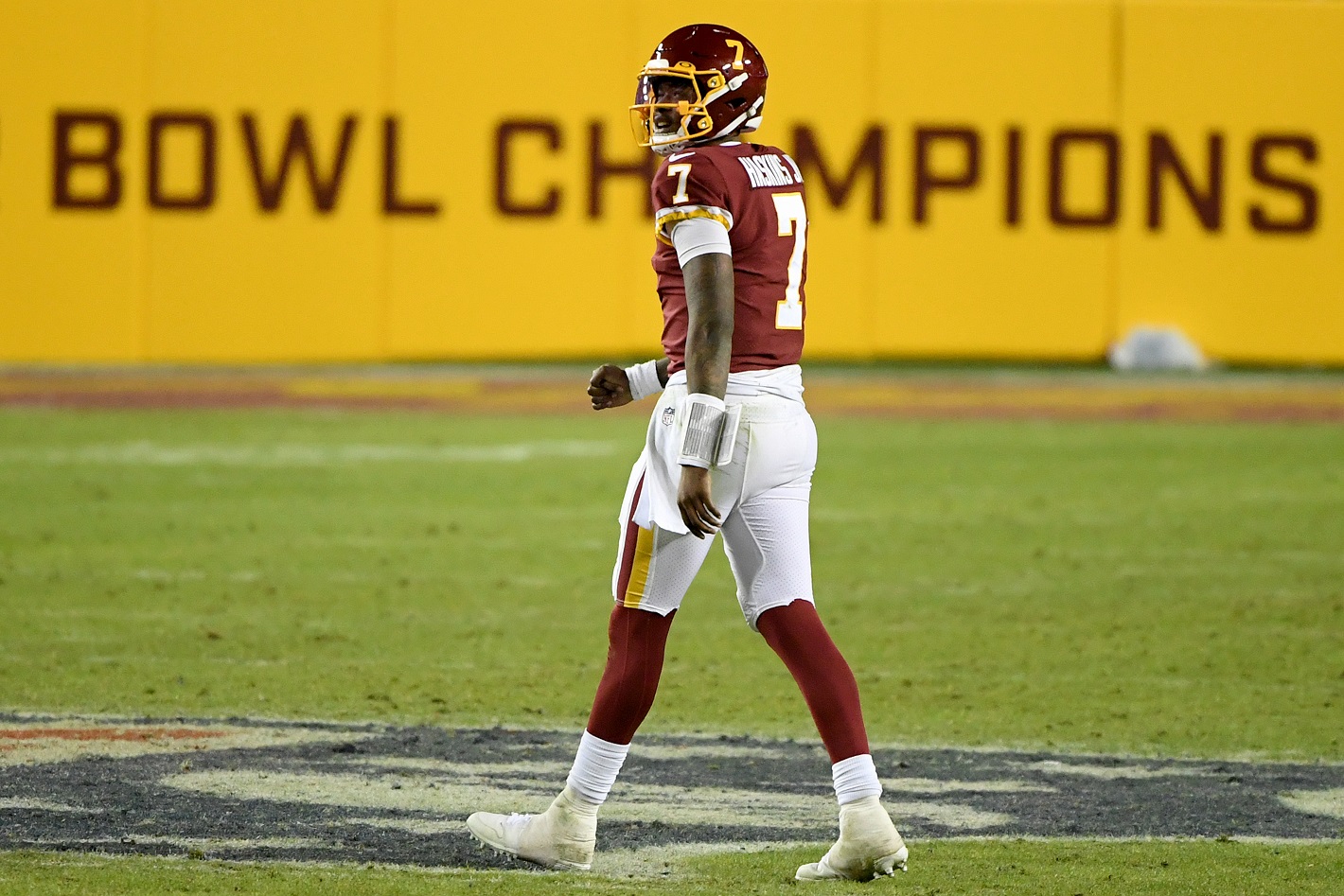 The timing of Haskins' signing is also telling. After the Browns fiasco, the Steelers are preparing to remake their coaching staff below Tomlin. They have already declined to renew the contracts of offensive coordinator Randy Fichtner and offensive line coach Shaun Sarrett. No replacement has been found for Fichtner yet, although former Browns head coach Hue Jackson is interviewing for the vacant position.
It's unclear whether Haskins would fit in as a future starter or backup. However, the fact that the Steelers even had this discussion shows that the team is already looking ahead to a future without Ben Roethlisberger.
Haskins' turbulent season in Washington
There are, of course, multiple reasons that Haskins was available in the first place.
Haskins came to the then-Washington Redskins as the 15th pick in the 2019 NFL Draft. While he showed flashes of brilliance at times, a number of missteps brought his character into question. In his first season, he infamously took a selfie with a fan as the seconds ticked off of his first career victory. This October, Haskins was fined for violating the NFL's COVID-19 protocols for inviting a family friend to the team's hotel room.
The final straw came after Washington's week 15 loss to the Seattle Seahawks. Hours after the game, photographs surfaced of Haskins dancing at his girlfriend's birthday party while not wearing a mask. After another poor showing the following week, head coach Ron Rivera cut the quarterback, and Haskins received widespread criticism from across sports media for his actions.
Luckily, he's only 23 years old and will get a chance to learn from his mistakes.
Other options?
Going with Haskins comes with a risk factor, considering his off-the-field antics. If Tomlin says the right things, Haskins could turn his career around. Unfortunately, if he deteriorated in one season under stern disciplinarian Ron Rivera, there's no telling how he'll perform under Mike Tomlin's looser leadership style.
Haskins probably won't be the Steelers' only quarterback option. His destiny could still be to serve as the backup to either Roethlisberger or whoever else is available. Quarterbacks such as Cam Newton, Dak Prescott, Mitchell Trubisky, Tyrod Taylor, and Andy Dalton are all in the free-agent pool.
While this is a long shot, the Steelers aren't quite out of the running for Deshaun Watson. The Texans quarterback has reached the point of no return with team management and has repeatedly angled for a trade out of Houston. The Dolphins have been named the most likely team if a trade does play out, but if Pittsburgh puts together a sweet enough deal, they could still land Watson.
Statistics courtesy of Pro-Football-Reference.