The Pro Football Hall of Fame Game Has Had a Wild and Wacky History
The Dallas Cowboys and Pittsburgh Steelers opened the 2021 NFL preseason in Canton, Ohio, at the annual Hall of Fame Game. The week before the contest, Pro Football Hall of Fame president David Baker expressed his hope to have a full crowd at Tom Benson Hall of Fame Stadium for the event. That would only have added to the strange history of the NFL's annual curtain-raiser.
Mother Nature frowns on Canton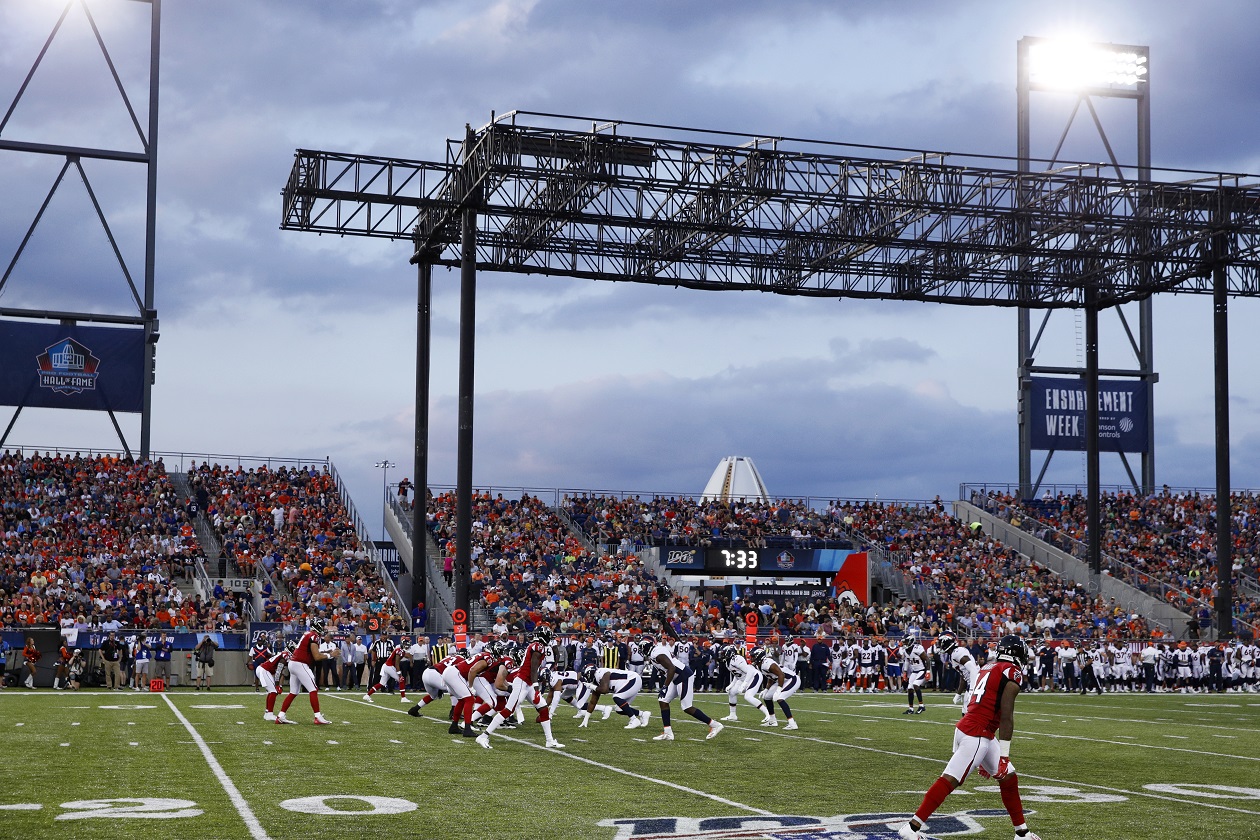 Two games were abandoned after kickoff due to a thunderstorm. By sheer coincidence, both of these involved the Green Bay Packers.
The first such instance occurred in 1980 when the Packers played the San Diego Chargers. A severe thunderstorm approached the stadium late in the game, causing it to be suspended with 5:29 remaining. By then, neither team had scored, so perhaps Mother Nature was sparing the fans from any more embarrassing football.
A repeat occurred in 2003, with the Packers playing the Kansas City Chiefs. This time, the game didn't even reach the fourth quarter before lightning flashed near the stadium; play ended with 5:49 remaining in the third quarter. Like the 1980 game, this was a defensive struggle. Unlike that game, Kansas City snuck three field goals through before the game was suspended.
The Hall of Fame Game has been canceled before
Twice, the Hall of Fame Game was the victim of a wave of cancellations.
The 2011 NFL lockout wiped out the game between the St. Louis Rams and Chicago Bears. Thankfully, it was the only game lost before the players and owners came to a new labor agreement.
In 2020, the game was canceled along with the entire preseason due to the COVID-19 pandemic. The Dallas Cowboys and the Pittsburgh Steelers were the scheduled matchup for that game. Since they did not get the chance to fulfill that fixture, they got to try again in 2021.
Paint, of all things, cancels an NFL Game
By far the most bizarre thing to happen at the Hall of Fame Game, if not any NFL game ever, took place in August 2016. That year was supposed to feature the Indianapolis Colts and (of course) the Green Bay Packers.
Hours before the game, players noticed something wrong with the field at Tom Benson Hall of Fame Stadium. The paint used for the midfield logo and end zones had congealed to the point where, according to CBS Sports, players' cleats could not penetrate it. This posed great risks to players' lower-body health.
Less than an hour before the game was supposed to kick off, the decision was made to call the game off. It was never rescheduled. Fans who purchased tickets supposedly received a full refund from the Pro Football Hall of Fame.