The Raiders Are Quietly Alluding to the Possibility of a Blockbuster QB Trade
The Las Vegas Raiders are entering offseason number one of their new Dave Ziegler and Josh McDaniels leadership duo. The two former New England Patriots are entering Vegas with many expectations and attention. During this year's NFL Scouting Combine, they began making it clear that a rebuild isn't in their interest.
Many experts and analysts had speculated the Raiders could be a franchise looking to tear things down and build it back up. However, according to McDaniels, that won't be the case.
Raiders HC Josh McDaniels shot down the idea of rebuilding in 2022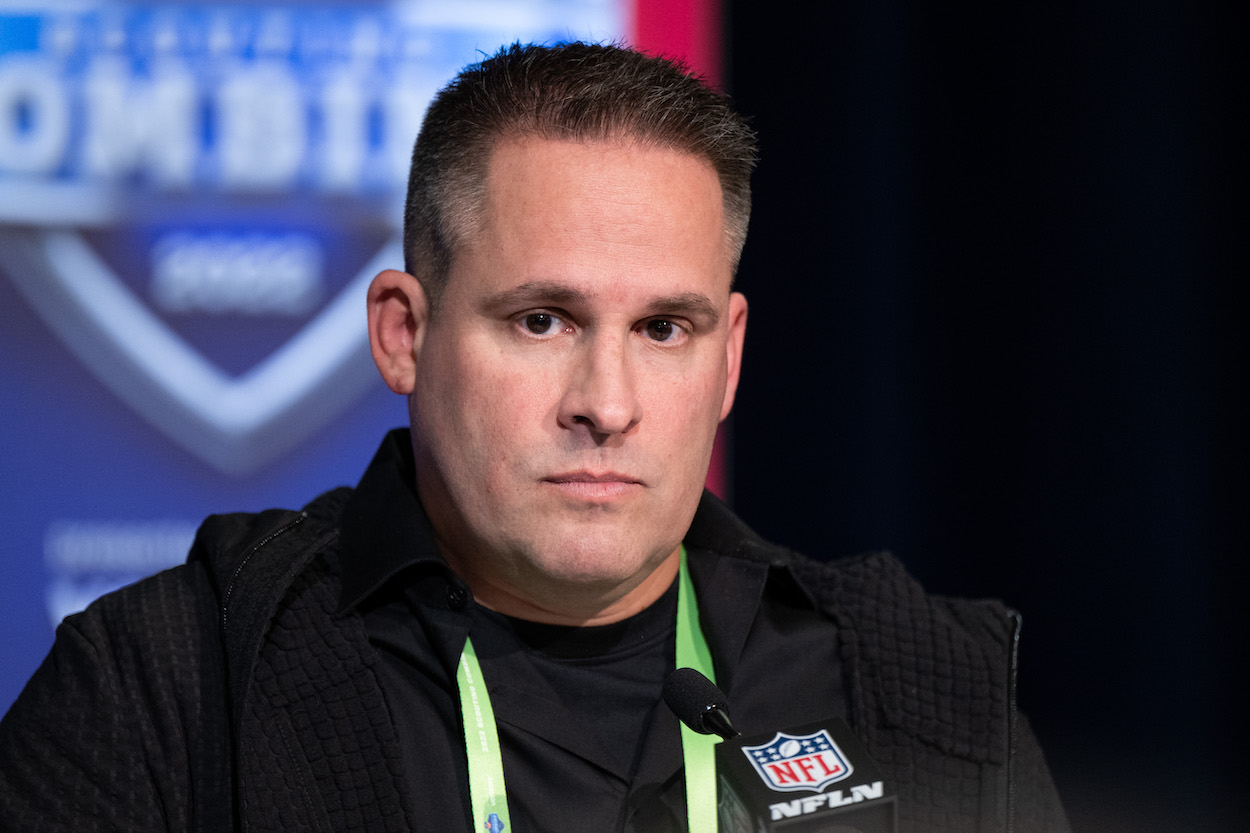 The Raiders made the postseason last year. However, their stay was short-lived. The Cincinnati Bengals bounced them in the Wild Card Round, proving to everyone Las Vegas needs significant upgrades to become actual contenders in the AFC.
The AFC is stacked with several elite quarterbacks and loaded rosters. No one would blame Ziegler and McDaniels if they felt like they had to spend the next calendar year accumulating draft capital before trying to contend.
However, according to McDaniels himself, this won't be the case in 2022. When asked about the direction of his new team, he stated the Raiders aren't looking to tank or rebuild.
"I don't think in today's NFL there's really any time to do rebuilding anyway," McDaniels said via Vincent Bonsignore of the Las Vegas Review-Journal. "This certainly isn't that type of situation for us."
Clearly, the Raiders' new leadership duo plans to win in 2022. However, the question is, how do they plan on doing that, given the state of the AFC?
Could this be a hint of the Raiders' plans at quarterback?
It doesn't take a rocket scientist to understand the NFL's direction these days. Front offices around the league are doing whatever it takes to land a franchise quarterback, and then figuring out the rest later.
As previously stated, the AFC is particularly loaded in this department. Patrick Mahomes, Josh Allen, Justin Herbert, Lamar Jackson, and Joe Burrow are all legitimate MVP candidates. Mac Jones, Trevor Lawrence, Tua Tagovailoa, and Zach Wilson are young arms heading in the right direction as well.
It's also worth mentioning that the Denver Broncos are consistently being named favorites to land Aaron Rodgers this offseason, should he request a trade. That'd be another MVP-caliber passer to worry about in the AFC West.
The Raiders starting quarterback — Derek Carr — is undoubtedly an above-average quarterback. However, he's in the final year of his contract, and it's worth wondering whether he's capable of battling it out on a week-to-week basis with some of the names mentioned above.
With that in mind, one must wonder if McDaniels' comments set the stage for something significant to happen in Las Vegas this offseason.
Las Vegas might be jumping into the QB trade market
With Rodgers, Russell Wilson, and Deshaun Watson potentially on the move this summer, it'd make perfect sense for the Raiders to get into the mix.
Carr is solid, but replacing him with one of these three instantly improves the Raiders' chances of contending in 2022.
If the goal is to skip the rebuild and immediately build a winner, the best plan of attack for the Raiders is to go get a superstar quarterback. It worked for the Tampa Bay Buccaneers in 2020, and it worked for the Los Angeles Rams in 2021.
Like Sportscasting on Facebook. Follow us on Twitter @sportscasting19.
RELATED: Russell Wilson Trade Rumors: The 1 Major Obstacle to a Blockbuster Move