The Raiders Officially Have 40 Million Reasons to Trade Derek Carr
The Las Vegas Raiders need to start shopping Derek Carr on the trade block following reports of him wanting $40 million per year.
Following the Las Vegas Raiders' first-round exit to the Cincinnati Bengals, a significant amount of change was expected to occur. The franchise was already in the market for a new head coach after Jon Gruden's messy midseason departure, and the firing of general manager Mike Mayock ended up not being that far behind.
Raiders owner Mark Davis cleaned house following the loss in Cincinnati, paving the way for a new era of Las Vegas football to commence. Davis promptly hired Dave Ziegler (GM) and Josh McDaniels (HC) to run his franchise — two long-time New England Patriots assistants looking to build something special of their own moving forward.
This new duo has several offseason questions that need answering. However, the most pressing task is identifying a plan of attack at the quarterback position.
The Raiders need to make a decision on QB Derek Carr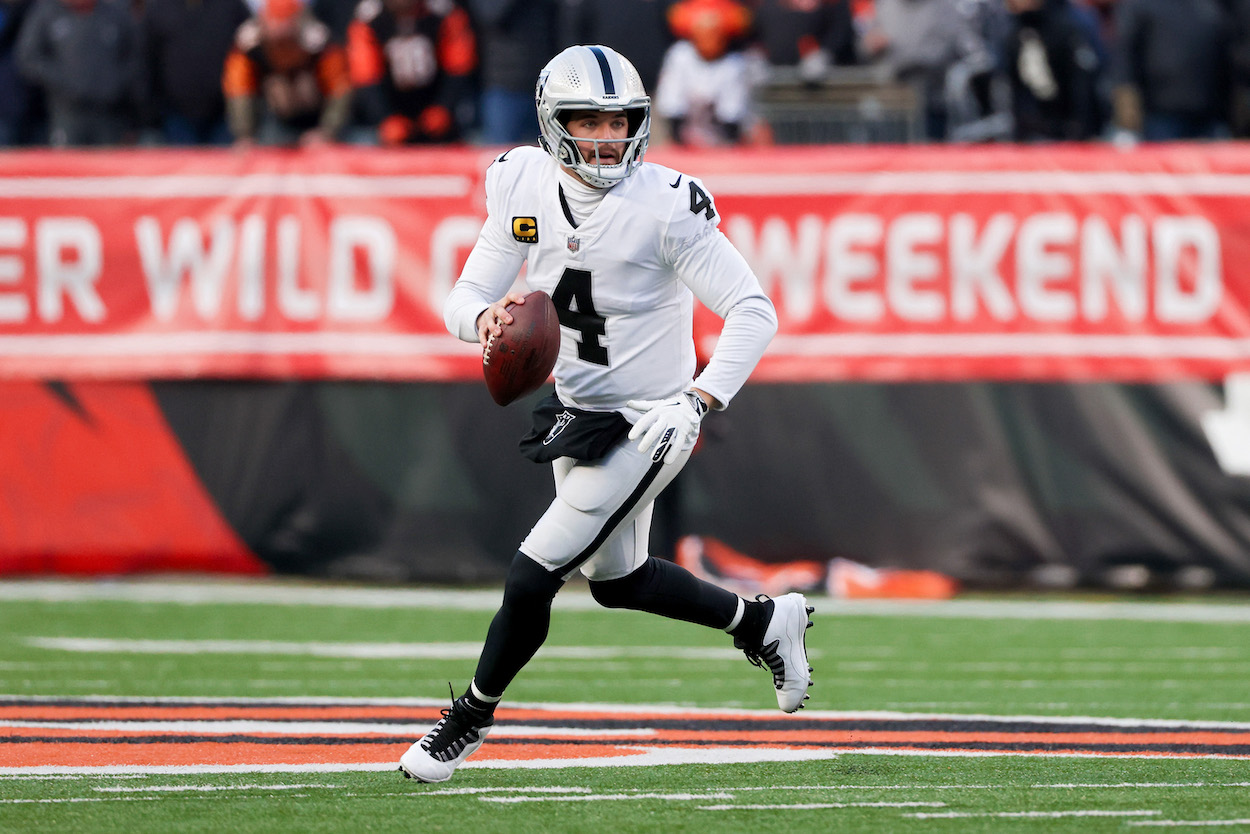 Since being drafted in 2014, Derek Carr has undoubtedly been an above-average quarterback for the Raiders. He's made the Pro Bowl three times, finished third in MVP voting in 2016, and just recently added a playoff appearance to his resume.
His ability to guide Las Vegas to the postseason this past season was awe-inspiring, considering the constant controversy surrounding the franchise all year long. Carr's head coach was fired halfway through the year, and his number one wide receiver was arrested. It was a confusing and challenging year for everyone involved with the Raiders organization — sneaking into the playoffs was impressive.
However, despite Carr's consistent play over the past eight years, he's never been able to stake his claim as an elite passer in the NFL. Carr is good, but he's not on the level of Patrick Mahomes, Josh Allen, Joe Burrow, etc. Now, this new Ziegler-McDaniels duo needs to decide on if he can develop into that caliber of player.
Derek Carr reportedly wants $40 million per year
Carr is in the final year of his contract, which means a firm decision on his future in Las Vegas needs to be arrived at.
The Raiders could extend Carr for another several seasons, committing to him as their franchise quarterback yet again. Or, they could shop him on the open market. Several quarterback-needy teams would likely sacrifice at least a first-round pick in exchange for someone of Carr's caliber.
According to the Las Vegas Review Journal's Vincent Bonsignore, any extension between Carr and the Raiders would "likely" be in the $40 million per season range. Per Over The Cap, this would make Carr tied with Dak Prescott for the third highest-paid QB in all of football on an AAV basis.
That's a lot of cash for a player coming off his first career playoff game (which he lost).
The Raiders should explore trading their star QB
Carr is a good quarterback — replacing him will be no easy task. However, the Raiders should, in fact, look to trade him this offseason. Not only is his value at an all-time high following his impressive 2021 campaign, but the last thing Ziegler and McDaniels should be looking to do is handing out massive, $40 million contract extensions.
The Raiders are a ways away from competing with the Kansas City Chiefs and Buffalo Bills of the world. Before committing that type of money to one player, they need to enter a bit of a re-tooling period.
This likely means 2022 won't be a fun year for Raiders fans. However, it's a necessary step for Las Vegas to develop into a consistent Super Bowl contender. Tying itself down to Carr in a world where Mahomes, Allen, Burrow, and Justin Herbert exist isn't a great plan of attack.
All stats courtesy of Pro Football Reference.