The Rankings Prove That Rafael Nadal is 1 of the Greatest Tennis Players of All Time
The competitive world of men's tennis has generated its fair share of world superstars, from John McEnroe to Andre Agassi to Pete Sampras. More recently, Novak Djokovic, Roger Federer, and Rafael Nadal have dominated the international tennis landscape. Federer currently holds the number one spot in many analysts' eyes, thanks to his record 20 Grand Slam titles.

Yet Nadal is only one title behind Federer's record, and if he can stay healthy, he has a great chance of catching up. Nadal also recently reached a milestone that no player in history has accomplished before. Here we'll take a closer look at the career of the Spanish great, as well as his impressive recent achievement.

Rafael Nadal's ascent to greatness
Nadal burst into the world of professional tennis in 2001, at the tender young age of 15. Nadal's first Association of Tennis Professionals victory came against Roman Delgado. At that time, Nadal was just 15 years and 10 months old — making him only the ninth player to win an ATP match before the age of 16.

Nadal continued to improve rapidly in the following years. By 2003, he finished the year with a ranking of No. 49. Nadal faced some injury setbacks in 2004 — most notably, a stress fracture affecting his left ankle—but still played a major role in helping Spain secure a Davis Cup victory over the United States.

Nadal's dominance in international tennis ramped up in 2005. Few other players could match his prowess, particularly on clay courts. Nadal has long-standing rivalries with a number of his peers, including Federer, Djokovic, Andy Murray, Stan Wawrinka, and David Ferrer.

The Rafael Nadal-Roger Federer rivalry has naturally attracted the most attention over the years. Of the 40 times that the two men have met in competition, Nadal has the advantage, with 24 victories. They met most recently during the semifinal round of the 2019 Wimbledon Championships — a matchup that saw Federer come away with the win in four sets.

Nadal's career accomplishments are second to none
As one can imagine, Nadal has set numerous records in his nearly 20 years of competitive play. Nadal stands alone in having won the French Open 12 times. That record is also the most titles won at any one Grand Slam tournament. In addition, those 12 titles represent the most ever won on a single surface — in this case, clay, Nadal's preferred surface.

Nadal also commands the record for the most consecutive years of winning at least one Grand Slam title, with 10 victories between 2005 and 2014. His 13 non-consecutive years of winning at least one title are also an all-time record. Perhaps even more impressively, Nadal is the only player to simultaneously hold an Olympic singles gold medal and Majors victory on grass, clay, and hard courts.

Rafael Nadal's most recent achievement makes him one of the greats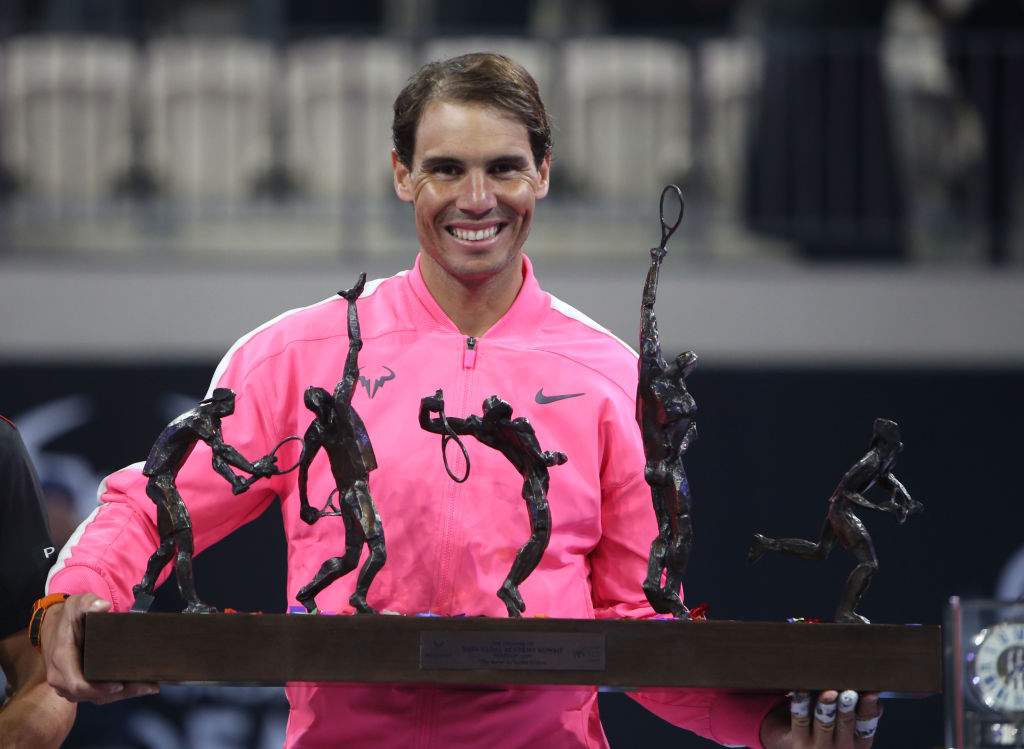 After struggling with injuries in 2014 and 2015, Nadal has enjoyed a serious resurgence in recent years. He was particularly impressive in 2019, winning two major titles, the Davis Cup crown, and earning a No. 1 ranking. The last of those accomplishments put Nadal in a truly unique position at the end of the year.

As the calendar rolled over into 2020, Nadal became the first tennis player of any gender to earn a No. 1 ranking in three separate decades. Nadal's current No. 1 ranking is even more impressive when you consider that he is the oldest ever to hold the honor. Of course, at just 33 years old, Nadal has a real chance of catching Federer's Grand Slam record if he can maintain his elite play for another few years. Health, as always, will prove the deciding factor.