The Real Reason Jerry Rice and Deion Sanders Didn't Get Along Before the Super Bowl
Great NFL teams are bound to have more than one great player. It's practically a necessity. In the '80s and '90s, the San Francisco 49ers won five Super Bowls. They also had their fair share of Hall of Fame-caliber players, including wide receiver Jerry Rice and cornerback Deion Sanders.
While those two couldn't have more different personalities, there was once a rumor that they didn't see eye to eye before one of San Francisco's Super Bowl wins. Let's look at Rice and Sanders' careers as well as this dubious story.
Jerry Rice's Hall of Fame career
Rice is widely regarded as the single best wide receiver to ever play in the NFL. Here's what he achieved during his illustrious career: 
303 games played
1,549 receptions
22,895 receiving yards
197 touchdowns
13-time Pro-Bowl selection
10-time All-Pro selection
Three-time Super Bowl champion
1987 and 1993 AP Offensive Player of the Year
Hall of Fame inductee
Rice bridged two gaps in San Francisco: He played alongside quarterback Joe Montana as well as left-hander Steve Young, winning titles with both under center. The wide receiver also extended his career beyond the 49ers.
Rice went to Oakland at the age of 39 and was very productive well past 40 years old. In his age-40 season, he caught 92 balls for 1,211 yards, earning his final Pro-Bowl selection. Rice wasn't known for his brash style of play — unlike one of his teammates.
Deion Sanders' Hall of Fame career
Nicknamed "Prime Time," Sanders was about as diametrically opposed to the type of player Rice was in every way possible. He was no less great, however.
Sanders was a two-sport star, playing at cornerback, return man, and sometimes wide receiver in the NFL and as an MLB outfielder. Here's what he accomplished over his NFL career: 
188 games played
53 interceptions
Six kickoffs returned for a touchdown
Three punts returned for a touchdown
60 receptions for 784 receiving yards 
Three receiving touchdowns
Eight-time Pro-Bowl selection
Six-time All-Pro selection
Two-time Super Bowl champion
1994 Defensive Player of the Year
Hall of Fame inductee
Sanders was a trash-talker of the highest order. And he joined the 49ers in 1994 for their championship season.
The real reason Rice and Sanders didn't get along before the Super Bowl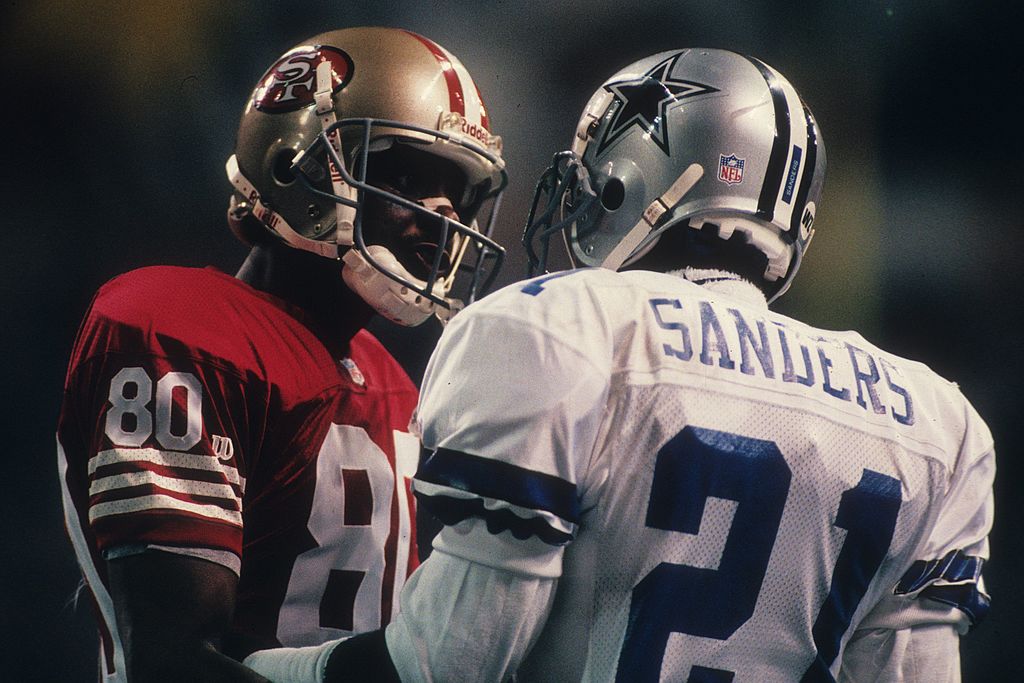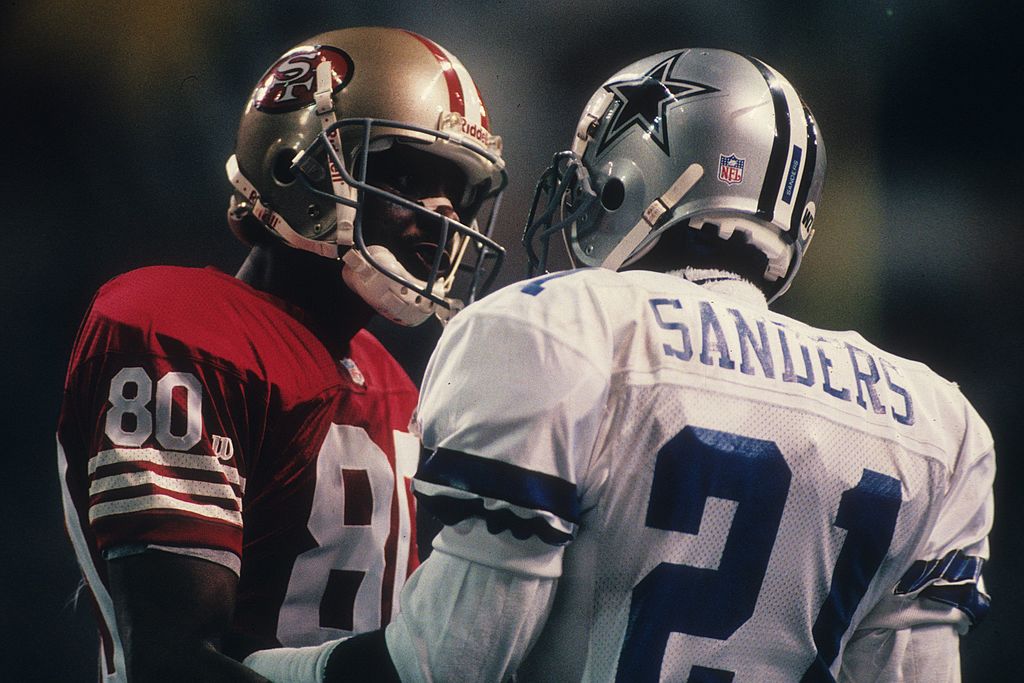 When Sanders joined the 49ers, Rice questioned whether he had the work ethic needed to compete as a team member, according to the NFL Network's A Football Life. According to teammate Ricky Watters, the two didn't get along very well.
When the team went to the Super Bowl, Sanders partied at night. Rice confronted Sanders and the two got rather heated. Sanders didn't back down, but he had yet to be challenged like this by anyone in his career. With Rice being a team leader, Sanders had to listen.
The Niners won the game in a dominant rout, so the "feud" between the two didn't end up mattering much. It was more of a clash in styles; Rice was known for his tireless work ethic while Sanders was more of a free-wheeling athlete who relied on his talent.
In today's era of social media, it may have been a bigger story, but the team kept it behind closed doors for the most part.