The Richest Owners in the NHL in 2019 are Worth Billions
NHL owners may not get the headlines that billionaire sports moguls like Mark Cuban in the NBA, or Jerry Jones in the NFL, or even the Steinbrenners in MLB. However, the owners of these teams all have the same deep pockets as many of these other owners — deep enough that some of them own more than one professional team across multiple sports. It takes a lot of money to buy a sports franchise, and these are the 10 richest owners in the NHL, according to Business Insider.

10. Craig Leipold, Minnesota Wild: $3.6 billion
Billionaire telemarketing mogul Craig Leipold made his money as the driving force behind Ameritel, although his wife, Helen Johnson-Leipold, isn't doing too bad herself. She's an heir to SC Johnson, a multi-billion dollar company, itself. Leipold's ownership style for the Wild, however, leaves something to be desired. His Wild have not won a Stanley Cup.

9. Henry Samueli, Anaheim Ducks: $3.8 billion
Samueli made his fortune behind Broadcom Corporation. He is also known for attaching his name across a wide variety of products and patents. Since buying the formerly Disney-owned Ducks in 2005 for $75 million, his franchise has more than quintupled in value, and they even won a Stanley Cup in 2007.
8. Tom Gaglardi, Dallas Stars: $3.92 billion
When you look at his business history, it's not hard to see how Tom Gagliardi became one of the NHL's richest owners. A hotel and restaurant magnate, Gaglardi has made quite a name for himself in the hospitality field. He owns properties across the world which have been wildly successful, although his Stars have struggled to replicate that success. They have not played in the Stanley Cup Finals during Gagliardi's time as owner, though the team won it all in 1999.

7. Rocky Wirtz, Chicago Blackhawks: $4.2 billion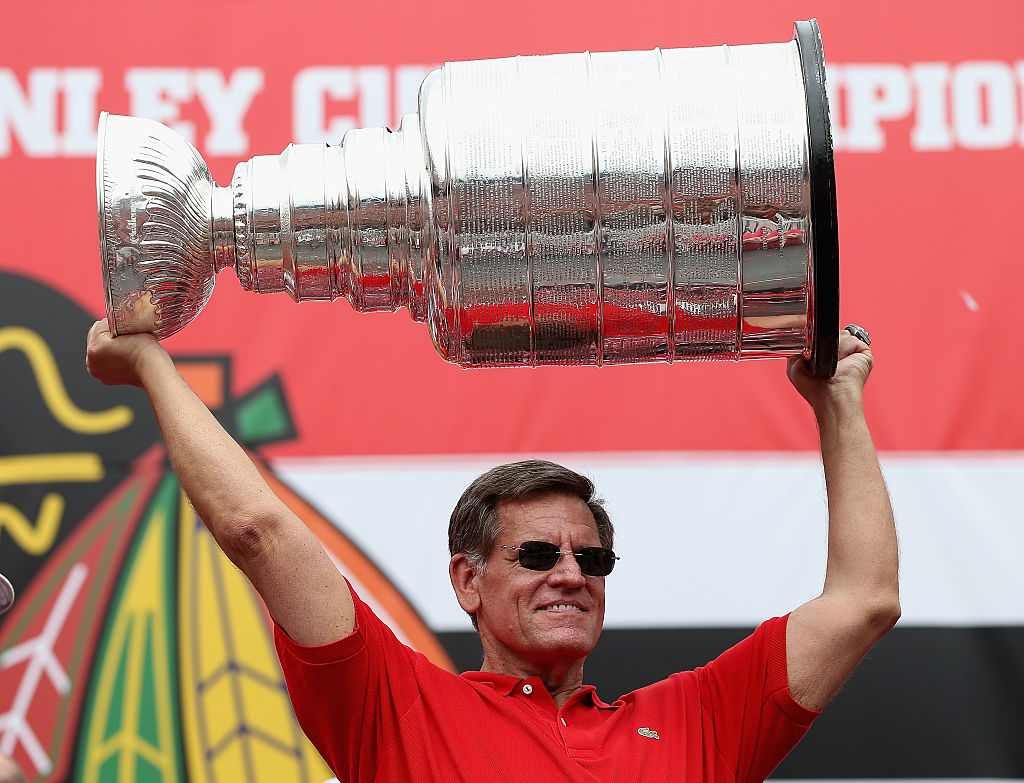 Wirtz is a dynasty owner whose family has owned the Blackhawks for much of his life. On top of that, he owns the building where the Blackhawks pay, the United Center. That is also home to the Chicago Bulls of the NBA. His family corporation, the Wirtz Corporation, is a successful real estate developer that has been around since 1922. The Blackhawks have won four Stanley Cups under the Wirtzes from 1961 to 2015.

6. Terrence Pegula, Buffalo Sabres: $4.3 billion
The Pegula's name and his team might be somewhat anonymous, but he is still one of the richest owners in the NHL. Pegula made money from multiple places, including natural gas development, real estate, and the entertainment industry. His sports interests are as diverse as his business ones. His sports and entertainment company owns the Buffalo Bills, the Buffalo Beauts women's hockey club, lacrosse team the Buffalo Bandits, and the Sabres. He has not, however, been able to convert this vast wealth into a Stanley Cup.

5. Jeremy Jacobs, Boston Bruins: $4.7 billion
Jeremy Jacobs is another hospitality mogul. His family's company, Delaware North, has been around for more than 100 years. Jacobs has owned the Bruins since 1975 and was a major force behind building TD Garden, the arena the Bruins share with the Boston Celtics. Not only is he one of the richest owners in the NHL, but he's also one of the longest-suffering. His long years of dedication all came to a great reward in 2011 when the Bruins won their only Stanley Cup under his ownership.

4. The Ilitches, Detroit Red Wings: $5.3 billion
Mike Ilitch Sr. was the founder of popular pizza chain Little Caesars. He also had a sports empire beneath his family name when he died in 2017. At his death, Ilitch owned an NBA franchise (Detroit Pistons), an MLB franchise (Detroit Tigers), and the NHL's Detroit Red Wings. Now, it is under the ownership of his wife Marian and son Christopher. The Red Wings have won four Stanley Cups under the Ilitches.

3. Ann Walton Kroenke, Colorado Avalanche: $6 billion
Ann Walton Kroenke is an heir to the Walmart fortune. She is also married to billionaire Stan Kroenke, who owns the L.A. Rams, English Premier League club Arsenal, and the Colorado Rapids of MLS. Her husband gave her the team in 2015, and although they have not won a Stanley Cup since she took over, the team won in 2001 with her husband in the owners' box.

2. Hasso Plattner, San Jose Sharks: $12.8 billion
Born in Germany, Plattner started at IBM, left to start the software Firm SAP, then started a venture capital fund after stepping down from SAP in 2003. Around that same time, in 2002, Plattner purchased the San Jose Sharks. Although the Sharks have not won a Stanley Cup under his ownership, they have recently come close, and that could change soon.

1. Philip Anschutz, Los Angeles Kings: $13.1 billion
Worth more than any other two owners after Plattner combined, Philip Anschutz has gotten rich off everything from entertainment to railroads. Not only does he own the Kings, but he is also a founder of the MLS and a part-owner of the Los Angeles Lakers. He has seen recent success, as well. His Kings teams won the Stanley Cup in 2012 and 2014, and he consistently uses his deep pockets to get new talent.