The Rise, Fall, and Resurgence of NBA Star Brandon Roy
From the beginning, Brandon Roy's learning disability impeded his basketball aspirations and nearly prevented him from attending his alma mater, the University of Washington. After several attempts at the SATs, the shooting guard finally earned a score that allowed him to enroll at the university, and most importantly, play basketball.
The college days
Throughout college, Roy evolved not only as a basketball player but as a leader. He progressed from 6.1 PPG to 20.2 and led the Huskies to two straight Sweet Sixteen appearances. Roy's senior year was phenomenal. He became PAC-10 Player of the Year and was a finalist for the highly regarded Oscar Robertson, Adolph Rupp, Naismith, and Wooden Awards.
In 2006, Roy entered the NBA Draft where he went sixth overall to the Minnesota Timberwolves. The team quickly traded him to the Portland Trail Blazers in exchange for draft rights to Randy Foye.  
Brandon Roy's NBA career
Roy became a fan favorite the moment he stepped on the court in Portland. His immense talent, love of the game, and high IQ all contributed to his allure. During his rookie season with the Trail Blazers, Roy averaged 16.8 points, 4.4 rebounds, and four assists, earning a nearly unanimous vote for Rookie of the Year.
What made Roy's achievement concerning Rookie of the Year so impressive: He earned the award playing the second-fewest games, just 57, out of any recipient. His low participation was due to injury, the first of many injuries that eventually led to his early retirement.
As Roy progressed through his six-year career, he accumulated several accolades, most notably becoming a three-time NBA All-Star between 2008 and 2010. He encountered several injuries during his rise to stardom. But seemed like Roy was on track to becoming one of the most prominent NBA players of his generation.
Roy's many injuries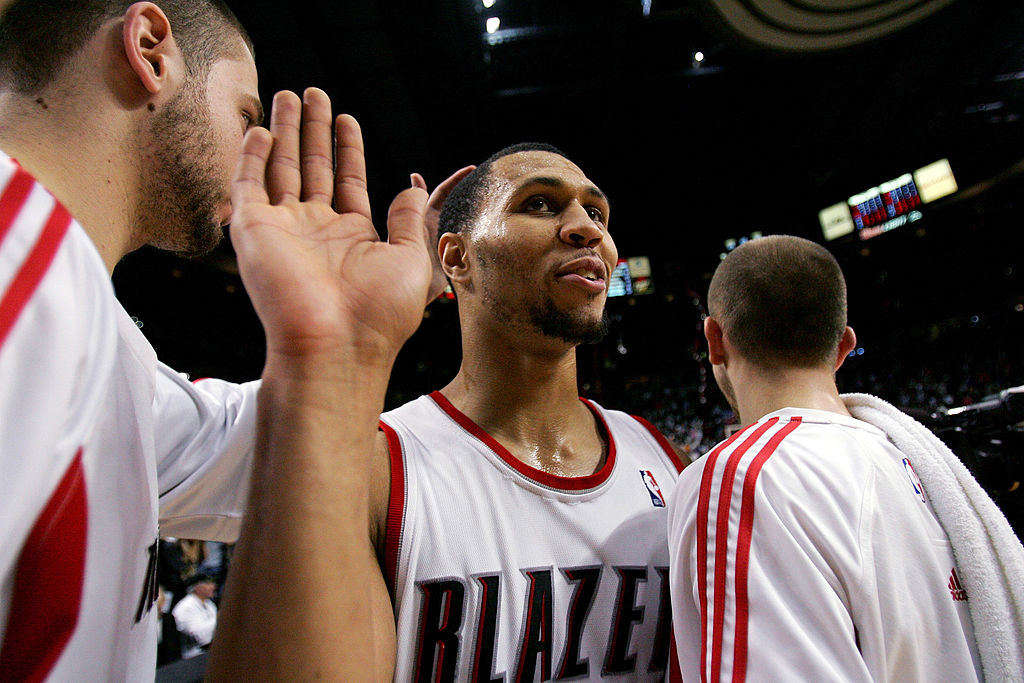 During the 2010-11 season, Roy's knee injuries accumulated to the point where he had to miss nine games. Then, the Blazers announced that Roy would be out indefinitely due to knee issues stemmed from a lack of cartilage. After a round of arthroscopic surgery on both knees, Roy returned as a reserve player on February 25, 2011.
The guard averaged a career-low of 12.2 points, 2.6 rebounds, and 2.7 assists. Roy's lesser role and lack of production prompted many to assume his All-Star days were over. Several physicians warned Roy that if he continued to play basketball, he'd likely be unable to walk in his later years.
In 2011, following the NBA lockout, Roy announced his retirement from the NBA. The next year, he attemped a comeback with the Timberwolves. This came to an unfortunate end due to a knee collision during a preseason game. And Roy retired for good.
Roy's reentry into the basketball world
Though he physically could not play the game, Roy's love for the sport was still strong. Roy saw his situation as an opportunity to help the next generation of basketball players. In 2016, he became the head coach of the Nathan Hale High School boys' basketball team as Bleacher Report reports.
After going 29-0 in the regular season, Roy received the prestigious Naismith National High School Coach of the Year Award. In May 2017, he became the head coach at Garfield High School. Finally, Roy's potential seems limitless.