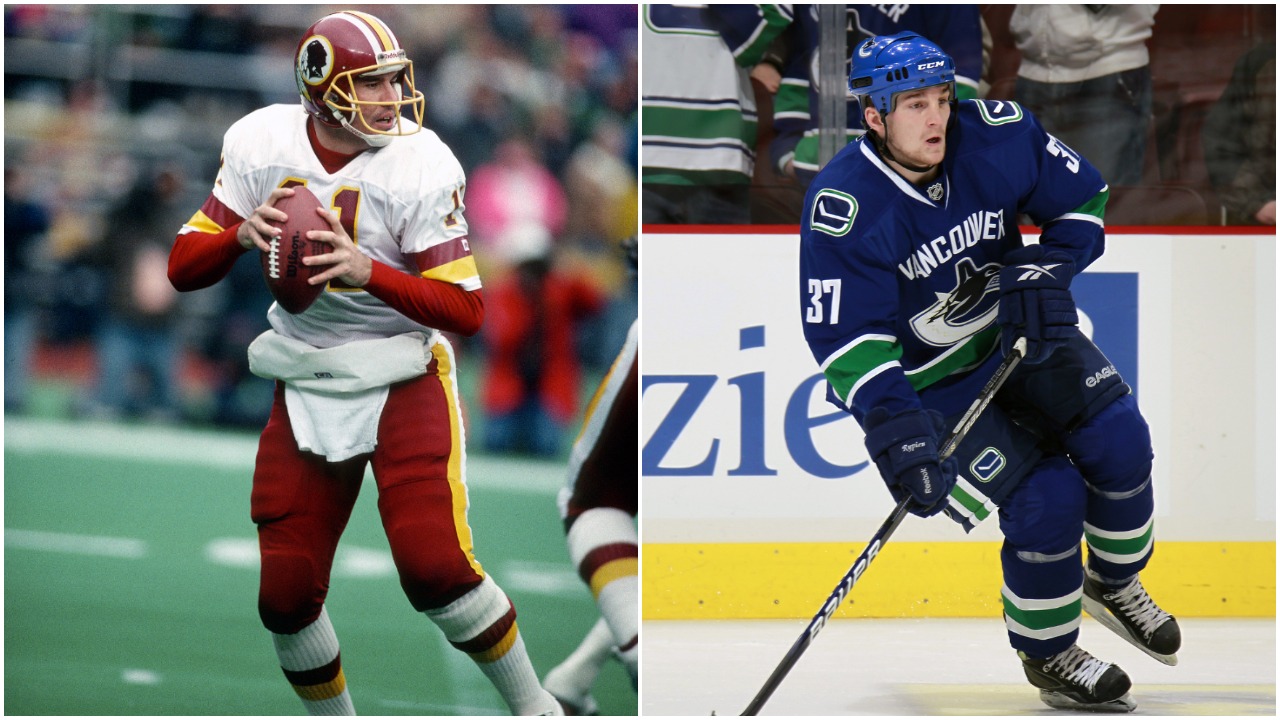 The Rypien Family Has Had to Cope With a Number of Heartbreaking Tragedies
Mark Rypien is just one of a number of pro athletes to come from the family, a family that's had to deal with a number of tragic deaths over the years.
The Rypien family has long been blessed with athletic talent. While Brett Rypien certainly has a long way to go to match the resume of his uncle, Super Bowl-winning quarterback Mark Rypien, he recently picked up his first win as a starting NFL quarterback for the Denver Broncos. The family has also produced two NHL players, Rick Rypien and Shane Churla, and a number of minor-league hockey players as well.
But along with all of the success, a number of heartbreaking tragedies have hit the family as well.
The Rypien family has produced a number of professional athletes
Mark Rypien is seen as the most successful professional athlete of the family, mainly due to the fact that he was named the Most Valuable Player of Super Bowl 26 after leading the Washington Redskins to a 37-24 victory over the Buffalo Bills. He'd also earned a Super Bowl ring four years earlier as the backup to Doug Williams. Rypien officially played for five teams in his career and threw for 18,473 yards and 115 touchdowns. He was selected to the Pro Bowl in 1989 and 1991. His daughter, Angela, played quarterback in the Lingerie Football League, which was later named the Legends Football League, and was one of its most notable players.
His nephew, Brett Rypien, recently made his first career NFL start for the Denver Broncos. Brett played four years for Boise State and was named the 2018 Mountain West Conference Offensive Player of the Year as a senior in 2018. After going undrafted, he signed with the Broncos in 2019.
On the hockey side of things, Rick Rypien, Mark's cousin and the son of Canadian boxing champion Wes Rypien, played in parts of six seasons in the NHL, all with the Vancover Canucks. His older brother, Wes Rypien Jr., also played pro hockey in the WHL and ECHL but never made it to the NHL. Their second cousin, Shane Churla, played 11 NHL seasons with six teams and is currently a scout with the Montreal Canadiens.
Mark Rypien's son died at the age of three after a battle with brain cancer
In the summer of 1997, following his lone season with the Philadelphia Eagles, Mark Rypien and his wife, Annette, were hit with the news that their two-year-old son, Andrew, had a brain tumor. However, Andrew responded very well to the treatment and in early 1998, a test revealed no signs of cancer. The Rypiens thought they might be out of the woods but in June 1998, Andrew suffered a powerful seizure and a new test revealed that the tumor had tripled in size and was still growing.
To make matters worse, Annette Rypien was in the midst of her own battle with cervical cancer, which had been diagnosed that very same month. She was recovering from successful surgery when Andrew's seizure occurred and she rushed him to the hospital, at which point the family was told that Andrew didn't have long to live. The Rypiens were given some radical surgery options but were told that it was likely that the tumor couldn't be fully removed.
It was decided that they would take Andrew home to make him as comfortable as possible in the time he had left. Mark Rypien had signed with the Atlanta Falcons but left the team to be with his family. On August 22, 1998, three-year-old Andrew Rypien passed away in his mother's arms. The family later founded the Rypien Foundation, which is still in existence today, to help provide assistance for families battling childhood cancer.
Rick Rypien died by suicide in 2011 at the age of 27
Rick Rypien worked hard for everything he earned in hockey. Never the most talented player, Rypien had to rely on tenacity and heart to get himself noticed and he certainly had both. When he wasn't selected in the Western Hockey League (a league in Canada and the northeast U.S.) draft, he earned a spot with the Regina Pats as a walk-on. Within three years, he was named a team captain.
When he wasn't drafted to the NHL after juniors, he still found a way to get there and made his debut with the Vancouver Canucks in 2005. He played parts of six seasons with the team and was seen as one of the league's toughest enforcers, despite not being the biggest guy at 5'11" and 190 pounds.
During his career, however, Rick Rypien struggled with clinical depression. Tragically, on August 15, 2011, he succumbed to that depression and died by suicide. Rypien had signed a one-year deal with the Winnipeg Jets earlier that summer and was scheduled to join his new team the day he passed away. According to The Globe and Mail, Rypien had missed his scheduled flight to Winnipeg the night before and didn't respond to phone calls and text messages from family members. Rypien was found in his home in Coleman, Alberta. He was just 27 years old.
How to get help: In the U.S., call the National Suicide Prevention Lifeline at 1-800-273-8255. Or text HOME to 741-741 to connect with a trained crisis counselor at the free Crisis Text Line.