The Sad Death of Former Cincinnati Reds Star Ryan Freel
Ryan Freel never earned an All-Star selection or won a Gold Glove, but he became a fan favorite while on the Cincinnati Reds. Freel hustled more than pretty much every player he played with or against, which baseball fans ultimately loved to watch. Freel only played in parts of eight different seasons in the MLB — most of them coming with the Reds — and he last played in 2009. However, he sadly died just a few years after that.
Ryan Freel had some excellent seasons with the Cincinnati Reds
Freel made his MLB debut in 2001 with the Toronto Blue Jays. He only appeared at the plate in nine games that season before really getting a chance with the Reds in 2003. 
After appearing at the plate in 43 games for the Reds in 2003 — and having a .285 batting average that year — Freel began playing a lot in 2004. He had a .277 average that year to go with 74 runs scored and 37 stolen bases. 
It was his play in the field that really grabbed everyone's attention, though, as he was not afraid to go all out for a play, often making diving catches. 
"People compare the way I play to the way Pete Rose played, and he was a big deal here," Freel said in 2006, according to the Dayton Daily News. "They like that style of baseball. It doesn't take talent and you don't have to be a superstar to play the game hard. It's all about your heart, where your heart is."
However, it ultimately left him banged up as he once estimated that he had sustained up to 10 concussions, according to ESPN. He also missed 30 games in 2007 after a collision with a teammate caused a concussion. 
Freel had a .271 average in both the 2005 and 2006 seasons. He also scored more than 65 runs in each of those seasons and had 36 or more stolen bases. He only appeared at the plate in 75 games in 2007 and then 48 in 2008. A torn tendon in his right hamstring forced him to miss the final 103 games of the 2008 season, according to ESPN. 
The Reds then traded him to the Baltimore Orioles at the winter meetings, also according to ESPN. In 2009, he played for the Orioles, the Chicago Cubs, and the Kansas City Royals. That was the last season he played in the majors.
Ryan Freel sadly died in 2012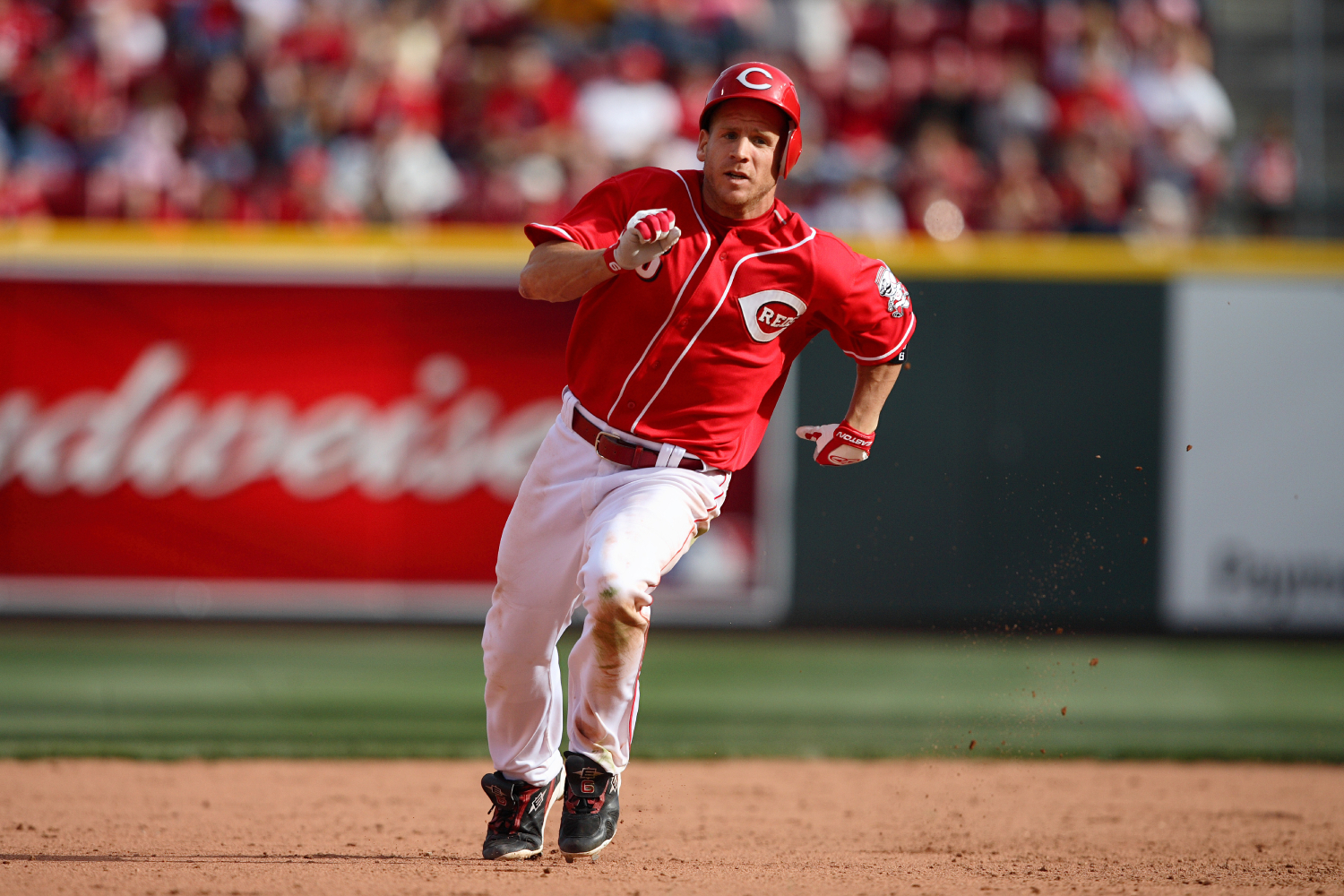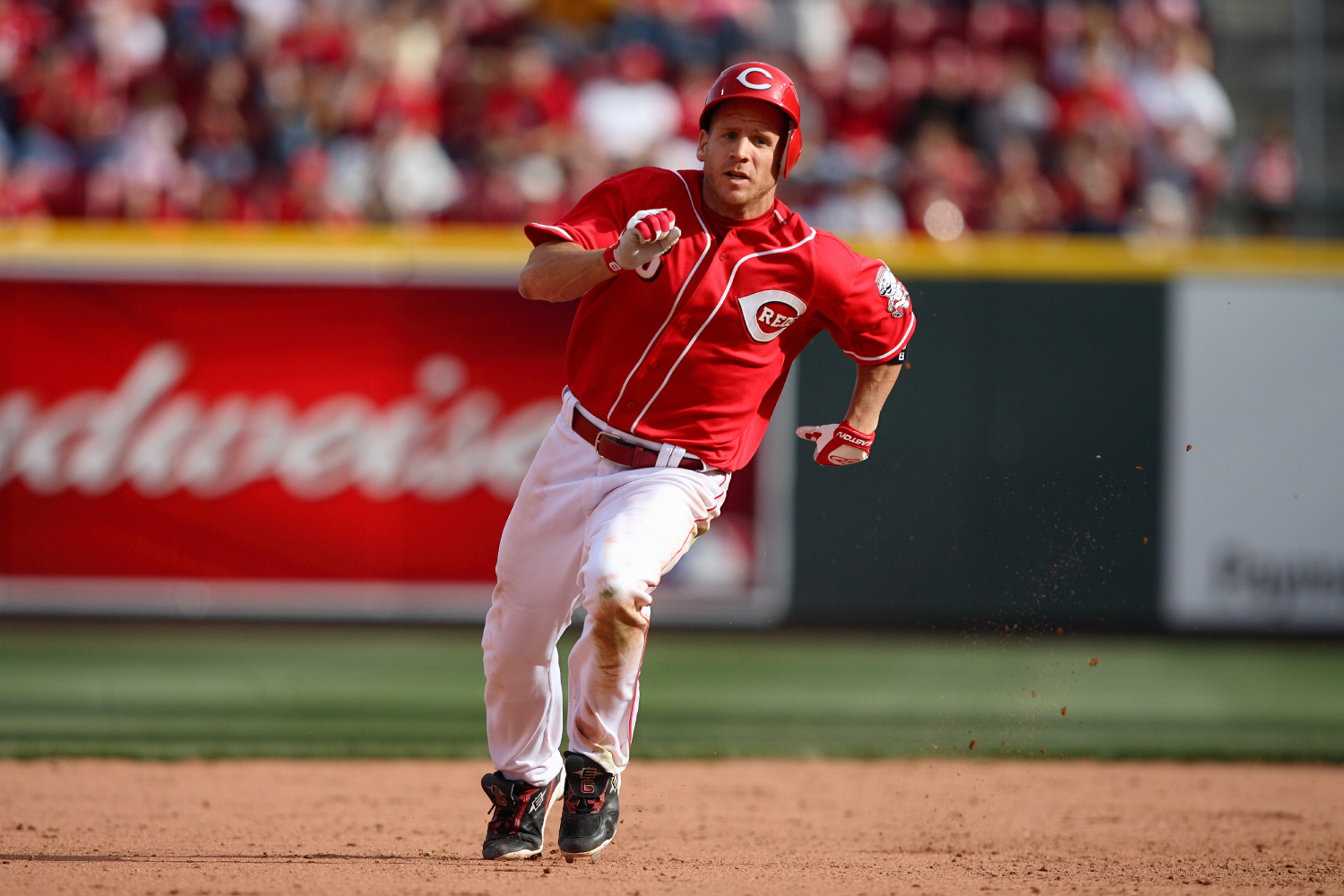 In December 2012, Freel sadly died of a self-inflicted gunshot wound, according to ESPN. He was only 36 years old.
"RIP Ryan Freel!! Great teammate, great guy, [and] loved his family," his former teammate Sean Casey tweeted. "Such a sad day today with his passing! Awful news! Prayers are with his family!"
Former Reds All-Star Brandon Phillips tweeted, "#RIP to my friend and great teammate Ryan Freel! Really hurt by his passing! You'll never will be forgotten."
Additionally, the Reds released a statement about his passing. 
"The Reds family is deeply saddened to hear of the death of Ryan Freel," the team said, according to ESPN. "His teammates and our fans loved him for how hard he played the game, and he loved giving back to the community. Our thoughts and prayers are with his family and friends."
His brain showed signs of CTE
After Freel's death, his family announced that his brain showed signs of CTE, according to the Dayton Daily News. CTE is more associated with former football players who repeatedly sustained head injuries as it is a degenerative brain disease. Freel, though, as mentioned above, suffered several concussions in his career.
His brain was studied after his death by the Boston University Center for the Study of Traumatic Encephalopathy and Sports Legacy Institute, according to ESPN. He had Stage II CTE, and in Stage II, victims often experience headaches, loss of attention and concentration, depression, explosivity, and short-term memory loss, a report said, according to ESPN. 
"Oh yes [it's helpful], especially for the girls," Freel's mother, Norma Vargas, said of his three kids to The Florida Times-Union, according to ESPN. "We adults can understand a little better. It's a closure for the girls who loved their dad so much, and they knew how much their dad loved them. It could help them understand why he did what he did. Maybe not now, but one day they will."
Additionally, in 2018, Freel's father, Patrick Freel, asked fans to send baseball cards featuring his son so he could display them in binders, and ultimately give them to Ryan's three daughters, according to the Dayton Daily News. 
Ryan Freel's life ended way too soon. But Cincinnati Reds fans will certainly never forget him and his play on the field.
Stats courtesy of Baseball Reference