The Seahawks Received Absolutely Crushing Injury News Which Should Spell the End of Pete Carroll's Time in Seattle
Things aren't going the Seattle Seahawks' way this season in the slightest.
Not only are they entering Week 5 dead last in the NFC West with a 2-3 record, but they've also been dealt some crushing news regarding their future Hall of Fame franchise quarterback.
Russell Wilson ruptured a tendon on his throwing hand and will miss anywhere from six to eight weeks of game action. It's an absolutely crushing blow to an organization that's developed its entire identity around its quarterback.
The Seahawks are staring at a losing season
Since Wilson debuted for the Seahawks way back in 2012, they haven't had a losing season. In fact, they haven't even finished at .500. The Seahawks' "worst" year with Wilson under center came in 2017 when they won nine games. Every season before and after that saw the Seahawks finish with double-digit victories.
Wilson is the definition of consistency, and the Seahawks have greatly benefited from it. While their failure to knock off Tom Brady and the New England Patriots in 2014 still stings, their Super Bowl-winning season the year prior is a testament to Seattle's success upon drafting Wilson.
With Wilson on the sideline for potentially two full months, the odds of Seattle mustering up nine wins this year appear incredibly slim. Backup quarterback Geno Smith performed admirably well during Wilson's absence on Thursday Night Football, but he's no Russell Wilson. The Seahawks need their franchise quarterback to be successful.
To make matters even worse, the Seahawks' defense is off to an embarrassingly bad start to the season. They're on pace to be the worst defense in NFL history (Stat Muse), an issue that's spearheaded by safety Jamal Adams' lack of production.
To put things bluntly, it's all spiraling out of control for the Seahawks at the moment.
This could cost Pete Carroll his job
The Seahawks' long-tenured head coach, Pete Carroll, has been under the microscope for quite some time now. The Seahawks haven't returned to the Super Bowl upon losing it in 2014, and the offense is largely viewed as an underachieving one due to how many weapons they possess.
Wilson, Tyler Lockett, D.K. Metcalf and Chris Carson are all in one lineup. The expectation is that the Seahawks should have a top-performing offense year in and year out. Due to Carroll's lack of a creative offensive scheme, this simply hasn't been the case.
With the defense now showing signs of full-blown collapse, even more eyes are being directed toward Carroll.
With his starting quarterback out for the foreseeable future, every ounce of pressure imaginable is being placed on Carroll's shoulders. If he's "exposed" without Wilson under center, the calls for his firing will only grow louder and louder.
What next for the Seahawks?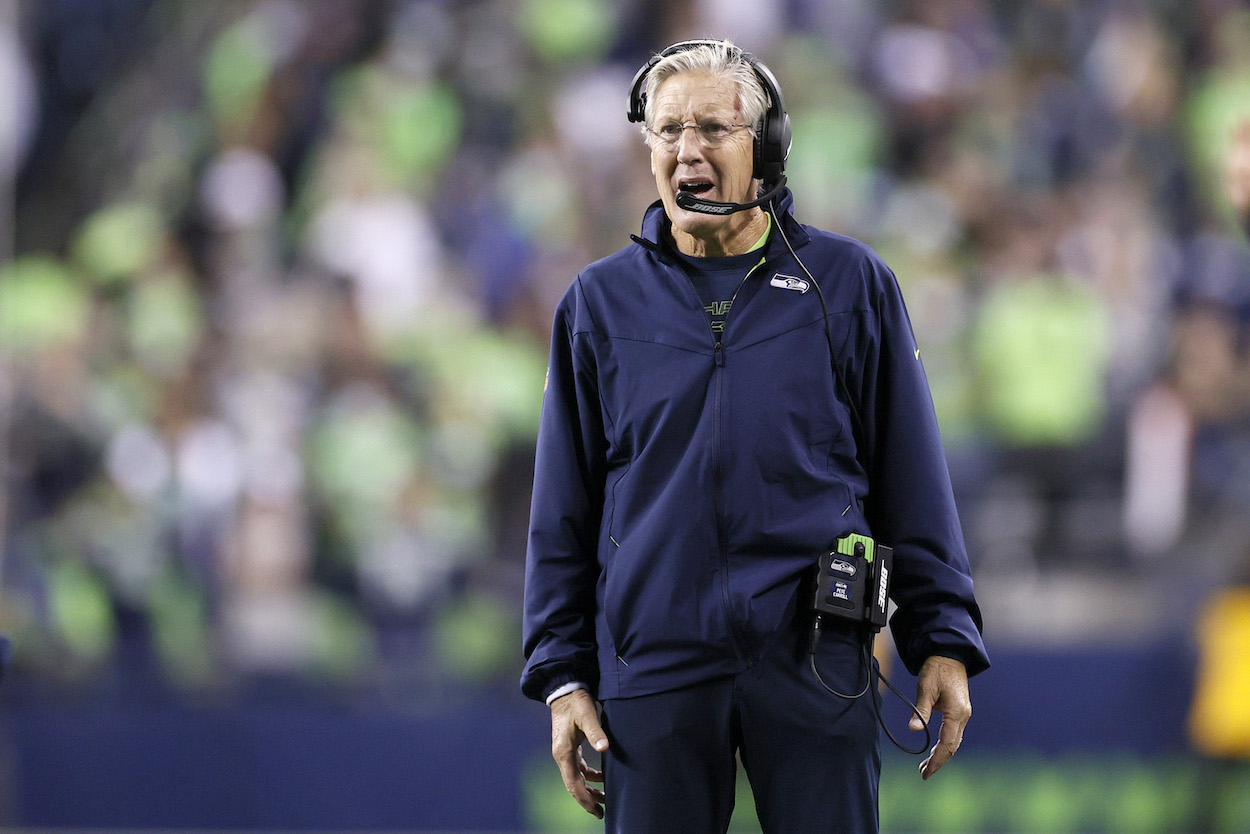 Between Carroll's job status, Wilson potentially wanting a trade at some point, and a horrid defense, the Seahawks were already facing enough drama this year.
This Wilson injury matter makes matters exponentially worse.
A losing season in Seattle could very well inspire change from Seattle's front office while simultaneously pushing Wilson over the edge when it comes to a potential offseason trade. He's pondered switching teams in the past — some time alone in injury rehab could lead to more thinking on Wilson's part.
Regardless, the next 6-8 weeks are crucial ones for Carroll and the Seahawks. The experienced head coach needs to prove he can at least remain competitive without his star QB.
All stats courtesy of Pro Football Reference.
RELATED: Russell Wilson's Extreme Expectations May Force Him to Pull the Ultimate Power Play With the Seahawks This Offseason: 'I Want to Be Legendary'