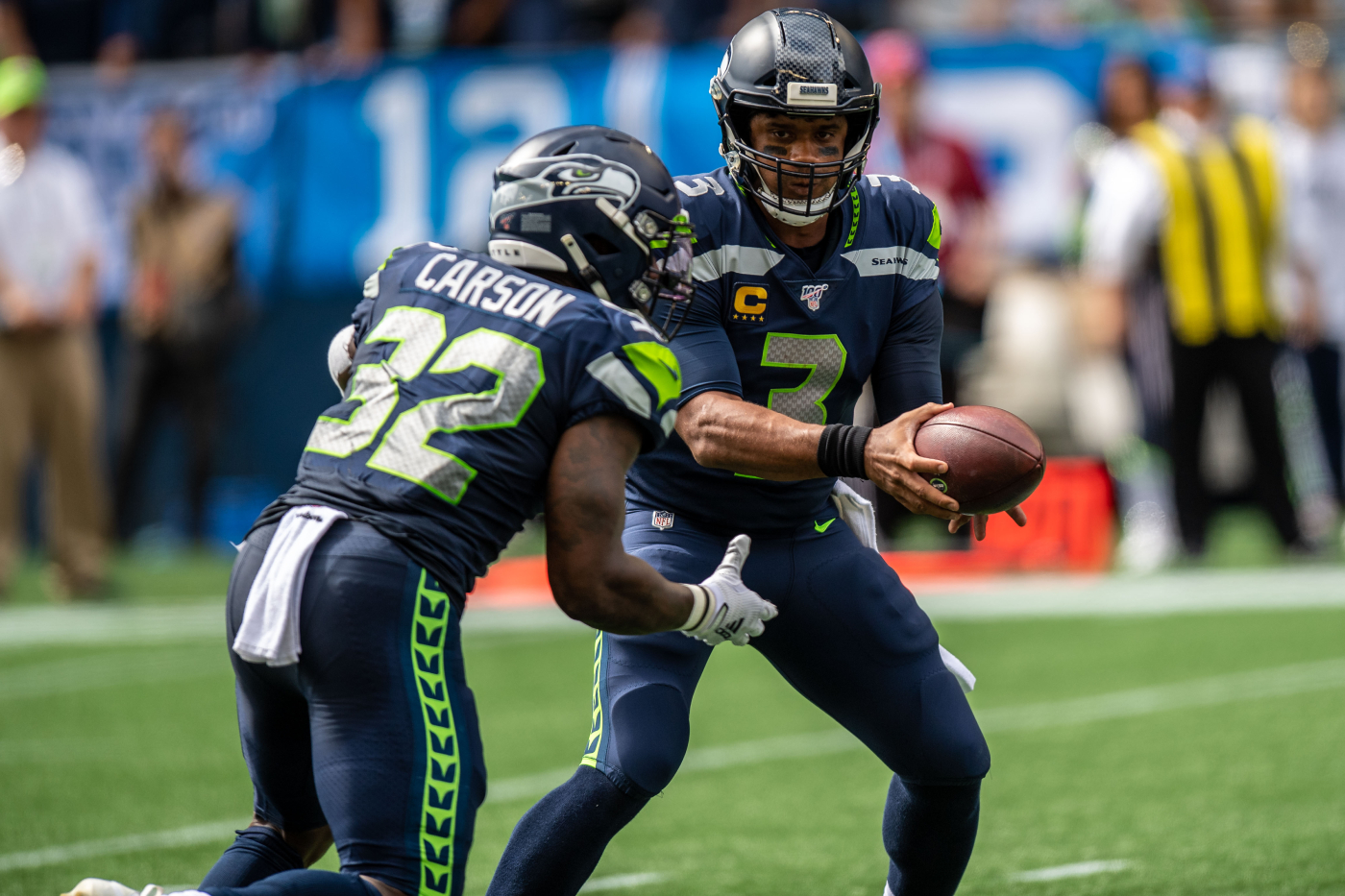 The Seattle Seahawks' Playoff Hopes Are Now in Jeopardy as Their $2.46 Million Star Will Most Likely Miss Time
It appears that star Seattle Seahawks RB Chris Carson will miss some time. This means that their playoff hopes could be in jeopardy.
The Seattle Seahawks have one of the NFL's best young players at young running back in Chris Carson. Throughout his career, Carson has quickly proven that he has a lot of talent and can mean a lot to Seattle's success. However, now, the Seahawks must figure out how to play without their $2.46 million star, as he recently suffered an injury that will most likely force him to miss some time. In fact, their season may depend on them having success without him during the next few weeks.
Chris Carson has become one of the NFL's top running backs for the Seattle Seahawks
In college at Oklahoma State, Carson didn't put up incredible stats. He ran for 517 yards in 2015 and 559 yards in 2016. This led to him not going very high in the 2017 NFL draft, as the Seahawks selected him in the seventh round.
During the 2017 season, after signing a small contract with Seattle worth $2.46 million over four years, according to Spotrac, he only played in four games. However, Carson has since become a star for the Seahawks.
During the 2018 season, Carson ran for 1,151 yards and nine touchdowns. He helped the Seahawks go 10-6 too, as they had one of the best offenses in the NFL, averaging 26.8 points per game. Carson then improved even more during the 2019 season. He ran for 1,230 yards and seven touchdowns that year and helped the Seahawks go 11-5.
This season, Carson has continued to play well. He has run for 323 yards and three touchdowns. He is also running for a career-best 4.9 yards per attempt. His play has helped Seattle become one of the best teams in the league, too. They ultimately started the season 5-0 but are now 5-1.
However, Carson will now most likely miss some time, which could impact the Seahawks' entire season.
Chris Carson will most likely miss time due to injury
During the Seahawks' 37-34 overtime loss to the Arizona Cardinals in Week 7, Carson suffered an injury in the first half and didn't return to the game.
He then got an MRI, which confirmed a midfoot sprain, according to ESPN. He is considered week-to-week, and Ian Rapoport of NFL.com reported that he will most likely miss some time.
"There's something there that we could see," Seahawks head coach Pete Carroll said, according to ESPN. "It's just week-to-week, so we'll see what happens. We don't know. He was real determined to say, 'I can go with it,' but we won't know until the end of the week, for sure."
While it doesn't appear that Carson's injury is too serious, if he misses multiple weeks, it could have an impact on the Seahawks' entire season.
The Seattle Seahawks' season is on the line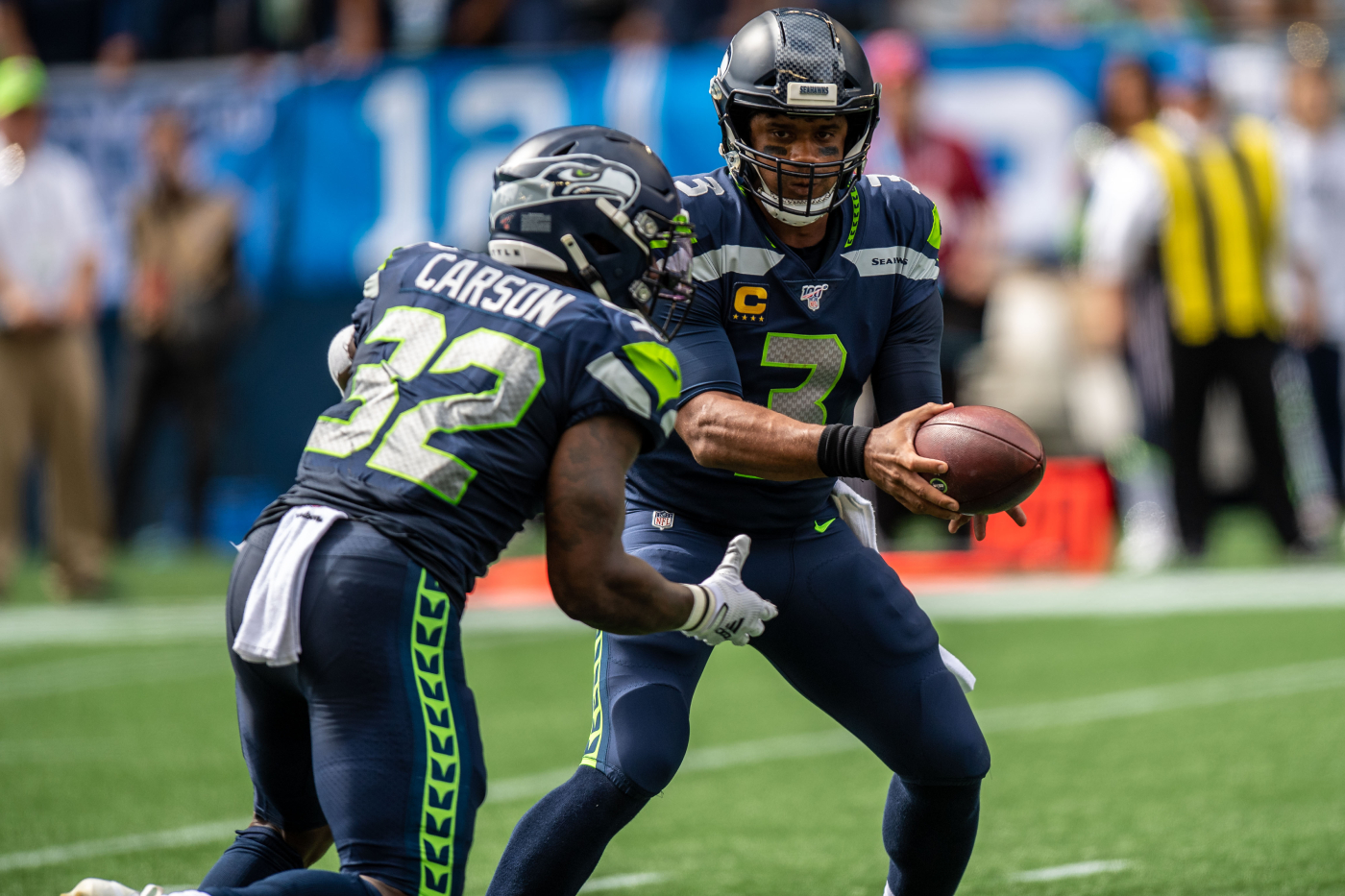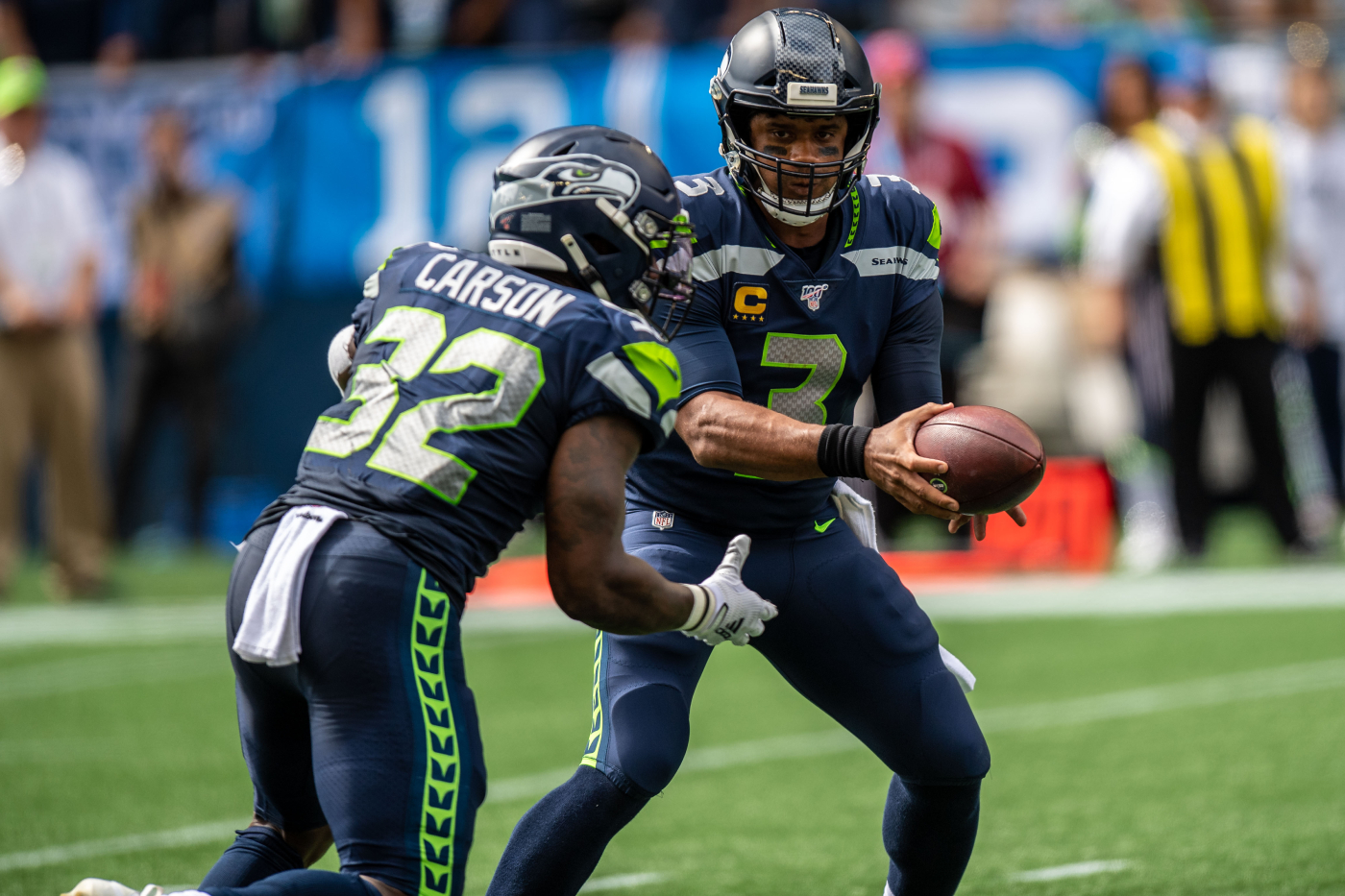 It might be weird to say that Seattle's season is on the line over the next few weeks, even though they have a 5-1 record. However, they are in a tough division, have a tough schedule coming up, and could possibly be without Carson for multiple games.
The Seahawks are first in the NFC West, but the LA Rams and Arizona Cardinals are both a half-game behind them with 5-2 records. The San Francisco 49ers are in last place in that division, but they aren't far behind either, as they are 4-3. 
So, essentially, two of the teams in that division, or even three, could miss the playoffs. The New Orleans Saints are also second in their division with a 4-2 record, and the Chicago Bears are second in the NFC North with a 5-2 record. It could become pretty difficult to get an NFC wild card spot this year.
This all means that Seattle must keep winning to stay in first place in its division. However, the Seahawks must try to do so without their top running back, and potentially without their second running back, Carlos Hyde, because he is working through hamstring tightness.
Their schedule is not easy over the next few weeks, either. They play the 49ers in Week 8, the Buffalo Bills (5-2) in Week 9, the Rams in Week 10, and the Cardinals again in Week 11.
Sure, Russell Wilson is the MVP of this offense and maybe the MVP of the entire league. Potentially not having Carson during this stretch of the season, though, could be tough for the Seahawks. It could result in them fighting for their playoff lives over the next few weeks.
Stats courtesy of Sports Reference and Pro Football Reference