The Self-Destruction of Former NFL Star Terry 'Tank' Johnson
When Terry "Tank" Johnson was drafted by the Chicago Bears in 2004, he showed he could be one of the most promising defensive players the league had seen in years. Aside from his size and overall talent, unfortunately, he had a darker side. Johnson couldn't stay out of trouble with the law. It may have cost him a superstar career in the process.
Now looking back, Tank Johnson's career is a cautionary tale of what can go wrong with a bright young NFL player.
Terry 'Tank' Johnson's start
Johnson went to the Bears late in the second round of the 2004 NFL draft, details Pro-Football-Reference. Coming out of Washington, the 6-foot-3, 320-pound athlete used his size to his advantage. Johnson punished opposing offenses thanks to his understanding of opposing offenses and seemingly psychic ability to see what's coming. 
When the Bears brought Johnson in, they wanted him to anchor in a new generation of talent that harkened back to their glory days in the '80s. Instead, they got a glimpse at what Johnson could do without getting the full experience. When he was on the field, Johnson was a helpful presence who could smash whatever came his way. Off the field, however, he was a distraction. 
Red flags from Johnson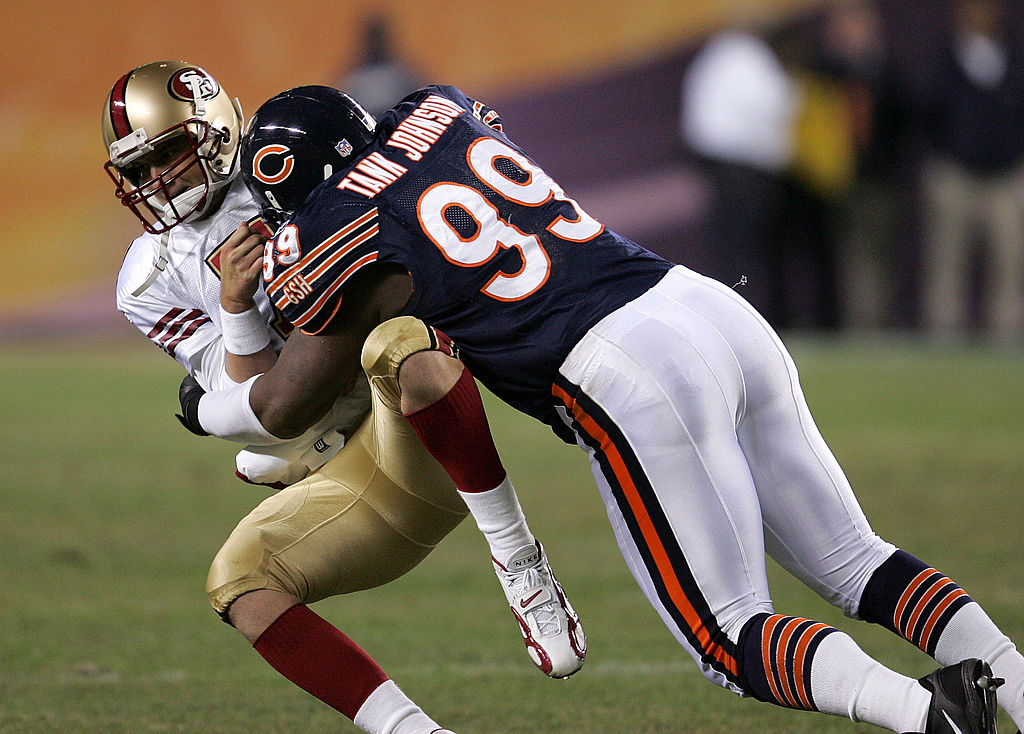 RELATED: Telvin Smith's Arrest Makes His $44 Million Jaguars Contract Look Like a Massive Mistake
The first red flag came in the form of a weapons charge. Johnson was found at a nightclub with a handgun in his hand and sentenced to 18 months of probation and 40 hours of community service in response. Months later, reports The Chicagoist, Johnson was arrested again for aggravated assault and resisting arrest after confronting an officer who was ticketing his limo driver. Those charges were dropped. 
In December 2006, Johnson's house was raided while he was at practice. They found six unlicensed weapons and marijuana at the house, and Johnson's bodyguard, Willie Bernard Posey, was arrested. Two days later, Posey was killed in a shooting at a Chicago bar. It was believed to be a gang-motivated shooting.
Weapons charges, parole violations, speeding tickets, DUIs, and several other incidents began to overshadow what was happening on the field, according to the Seattle Times. After just three years with the team, the Bears grew tired of Johnson's behavior and shipped him off to Dallas. 
Tank Johnson's unceremonious ending
RELATED: The Chiefs Leading Super Bowl Tackler Just Got Arrested on 5 Charges
Johnson came off the bench for the Cowboys for two years, but never showed the same amount of promise that he had in Chicago. He started just two games with the team and never made much of a mark. Eventually, he was off to yet another team in Cincinnati. He experienced a brief resurgence with the Bengals, starting nearly every game in 2009 and playing half the season the following year. His contract was eventually terminated. 
Johnson was out of work. His baggage made it so that no teams wanted him around as a distraction. He had all the makings of a great defender, but too many shenanigans had overshadowed that. He had to make a choice.
Second chances?
Now 38, Johnson isn't going back to an NFL field any time soon. However, that does not mean that this story has a sad ending. Looking back on his career, Johnson finally learned from his mistakes and began to work at rehabilitating both himself and his image. Johnson returned to the NFL as an intern on the business side in 2016.
Johnson spoke with USA Today about his transition and the desire to do good after such a rocky career. 
"With charitable endeavors, social media, and your play on the field, those three things are married together to create opportunities like no time in history," Johnson said. "I think that's unique for the modern athlete, and we, as the NFL, who is staunchly protective of our brand, can teach our athletes something about building their brand and building it in an organic way."
He has largely gone unnoticed since those days, but that type of anonymity is exactly what Johnson wants. Johnson's career should be a warning to anyone who comes to the NFL, but his acceptance and ability to make good out of it should also be lauded. We will never know what Johnson could have been without the distractions, but perhaps, his best is yet to come away from football.