The Silver Lining on Todd Gurley's Disappointing 2019 Season
One season after advancing to the Super Bowl, the Los Angeles Rams will miss the postseason completely in 2019. The Rams temporarily kept their playoff hopes alive when they improved to 8-5 with a 28-12 win over the Seattle Seahawks in Week 14, but back-to-back road losses to the Dallas Cowboys and the San Francisco 49ers have brought those hopes to an end.
There are plenty of reasons for pessimism moving forward, too. Los Angeles has major cap issues that will only get worse when Jared Goff's contract extension kicks in next season, and Goff took a big step backward in his production this season. Todd Gurley has also had a down season, but Rams fans looking for a silver lining on this lost season can enjoy a record that the team's franchise running back set this year.
Todd Gurley set a team record for consecutive seasons with 13 touchdowns
With a five-yard sweep to the right, Todd Gurley rushed into the endzone against the San Francisco 49ers to give Los Angeles a 14-3 lead last Sunday. In doing so, he became the first player in Rams franchise history to record at least 13 touchdowns in three straight seasons. Later in the same quarter, Gurley scored another rushing total to bring his season total to 14 touchdowns (12 rushing and two receiving).
In 2017, Todd Gurley had 1,305 rushing yards, 13 rushing touchdowns, 788 receiving yards and six receiving touchdowns for 2,093 total yards and 19 total touchdowns. He followed that season up with another strong campaign in 2018 with 1,251 rushing yards, 17 rushing touchdowns, 580 receiving yards, and four receiving touchdowns for 1,831 total yards and 21 total touchdowns.
Gurley's total touchdowns are down this season with 14, but the dip is far less drastic than that of his total yards. The 25-year-old has only 789 rushing yards and 186 receiving yards for 977 total yards.
Marshall Faulk and Eric Dickerson never accomplished the feat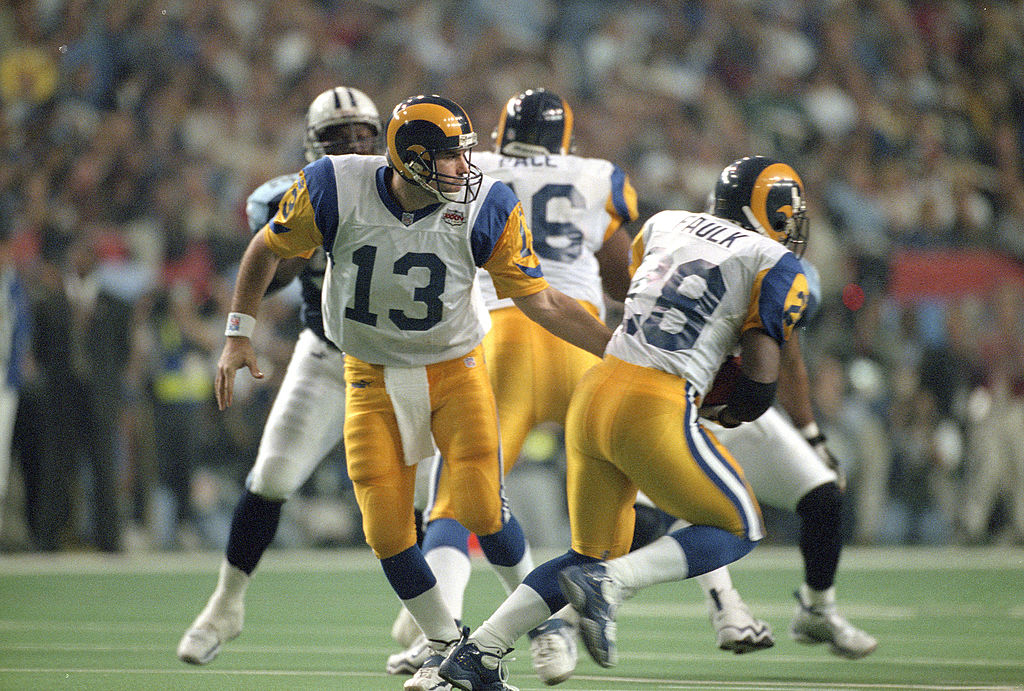 Hall-of-Famer Marshall Faulk had an incredible career with the St. Louis Rams. Faulk made the Pro Bowl in each of his first four seasons in St. Louis and was a First-Team All-Pro in each of his first three seasons in a Rams uniform.
Faulk had 2,429 total yards in 1999, 2,189 total yards in 2000, and 2,147 total yards in 2001. But while he lit up the scoreboard with 26 touchdowns in 2000 and 21 touchdowns in 2001, he only reached the endzone 12 times in 1999 and 10 times in 2002.
Eric Dickerson entered the NFL as a rookie in 1983 for the Los Angeles Rams and had 1,808 rushing yards and 20 total touchdowns. He followed that campaign up with 2,105 rushing yards and 14 total touchdowns in 1984. But in 1985, the Hall-of-Famer's streak of consecutive seasons with 13+ touchdowns came to an end when Dickerson recorded only 12 touchdowns.
Todd Gurley's place in Rams' history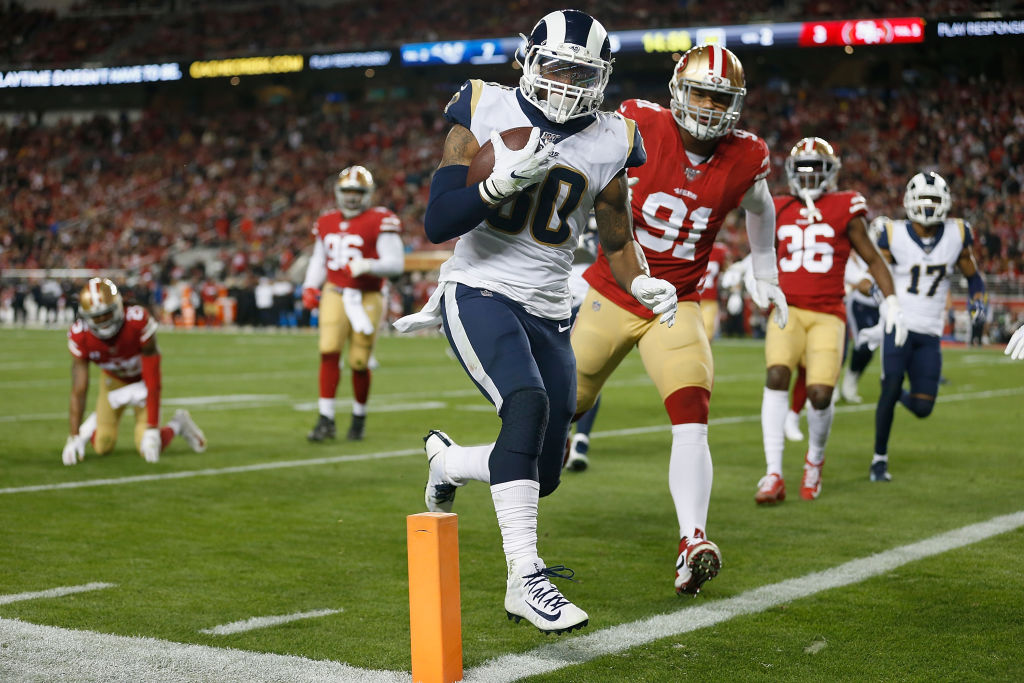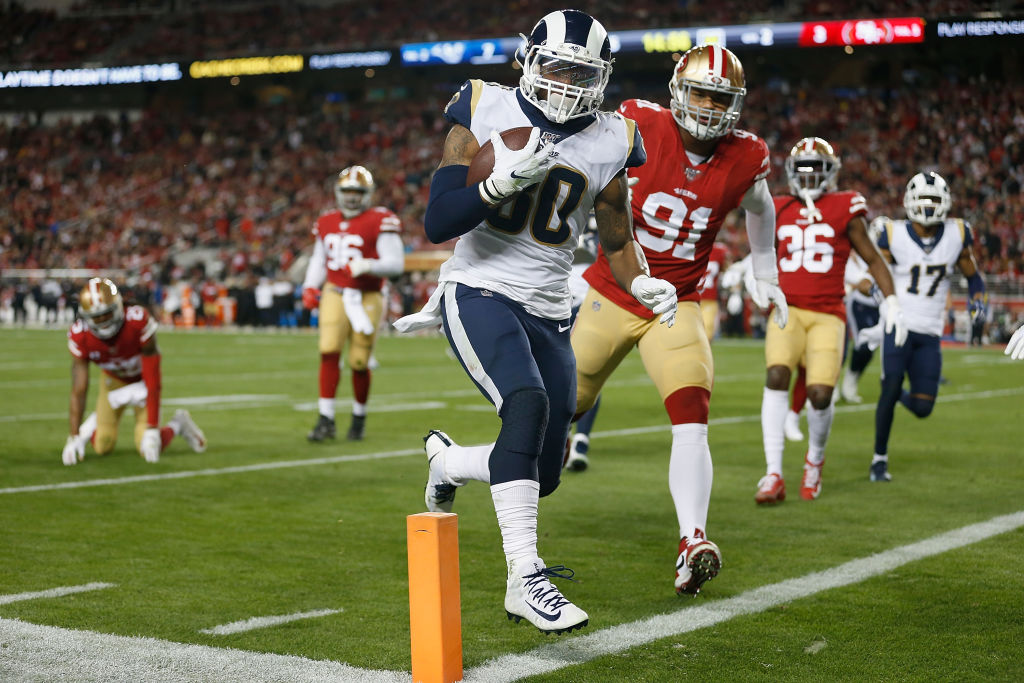 Todd Gurley has a long way to go to catch Steven Jackson and his all-time Ram record of 10,138 career rushing yards. Gurley currently ranks in sixth place in Rams history in career rushing yards with 5,336.
But when it comes to touchdowns, Gurley is already well on his way to becoming the undisputed king. With his two rushing touchdowns against the 49ers, Todd Gurley moved into a tie with Marshall Faulk for the team-record of 58 rushing touchdowns; and Gurley has played in 27 fewer games with the Rams than Faulk had.
Los Angeles wraps up its 2019 season with a home game against the Arizona Cardinals on Sunday. And then comes the offseason, where Sean McVay is going to have a lot of work to do in getting this roster back up to speed in the NFC West.