The Tennessee Titans Are Completely Wasting $22.5 Million on Players Who Have Stunk This Year
Through their first five games of the 2020 NFL season, the Tennessee Titans appeared to be one of the league's best teams. However, they are now on a two-game losing streak, and their weaknesses are really starting to show. One major weakness for the Titans this season has been the team's pass-rushing abilities (or lack thereof), as Tennessee is essentially wasting $22.5 million on two players who have stunk so far this year. Those two players are Jadeveon Clowney and Vic Beasley.
The Tennessee Titans have lost two games in a row
Coming off a season where they went on a surprise run to the AFC Championship Game, the Tennessee Titans started the year 5-0. However, they then played the Pittsburgh Steelers in Week 7 and ultimately lost. No one really faulted them for that loss, though, as Tennessee only lost by three points, and the Steelers are 7-0 so far this year.
The Titans' most recent loss, though, was inexcusable. They ultimately fell to the Cincinnati Bengals 31-20, who had a 1-5-1 record coming into Week 8.
The most embarrassing stat for the Titans in that game was that Bengals quarterback Joe Burrow got sacked zero times. Heading into the week, he had been sacked an NFL-leading 28 times.
Why couldn't the Titans get to Burrow? You would think that it would be no problem for them to do so since they signed two pass-rushers this offseason. Well, those two moves have not gone well for the Titans this year.
The Tennessee Titans signed Jadeveon Clowney and Vic Beasley this offseason
Before the 2020 NFL season started, it appeared that the Titans would have a pretty good pass rush. 
Tennessee signed Jadeveon Clowney and Vic Beasley both to one-year deals this past offseason. Clowney was the No. 1 overall pick in the 2014 NFL draft and was supposed to have a Hall-of-Fame career. He ultimately had some good seasons with the Houston Texans, as he had 9.5 sacks in 2017 and nine sacks in 2018. He, however, has been anything but productive this season.
Beasley, on the other hand, was the No. 8 overall pick in the 2015 NFL draft. He had an excellent season with the Atlanta Falcons in 2016, as he led the NFL with 15.5 sacks, which earned him First-Team All-Pro honors. Beasley also had a good year last season with the Falcons, recording eight sacks.
Like Clowney, though, Beasley has been a major disappointment this year.
Tennessee is wasting $22.5 million on players who have stunk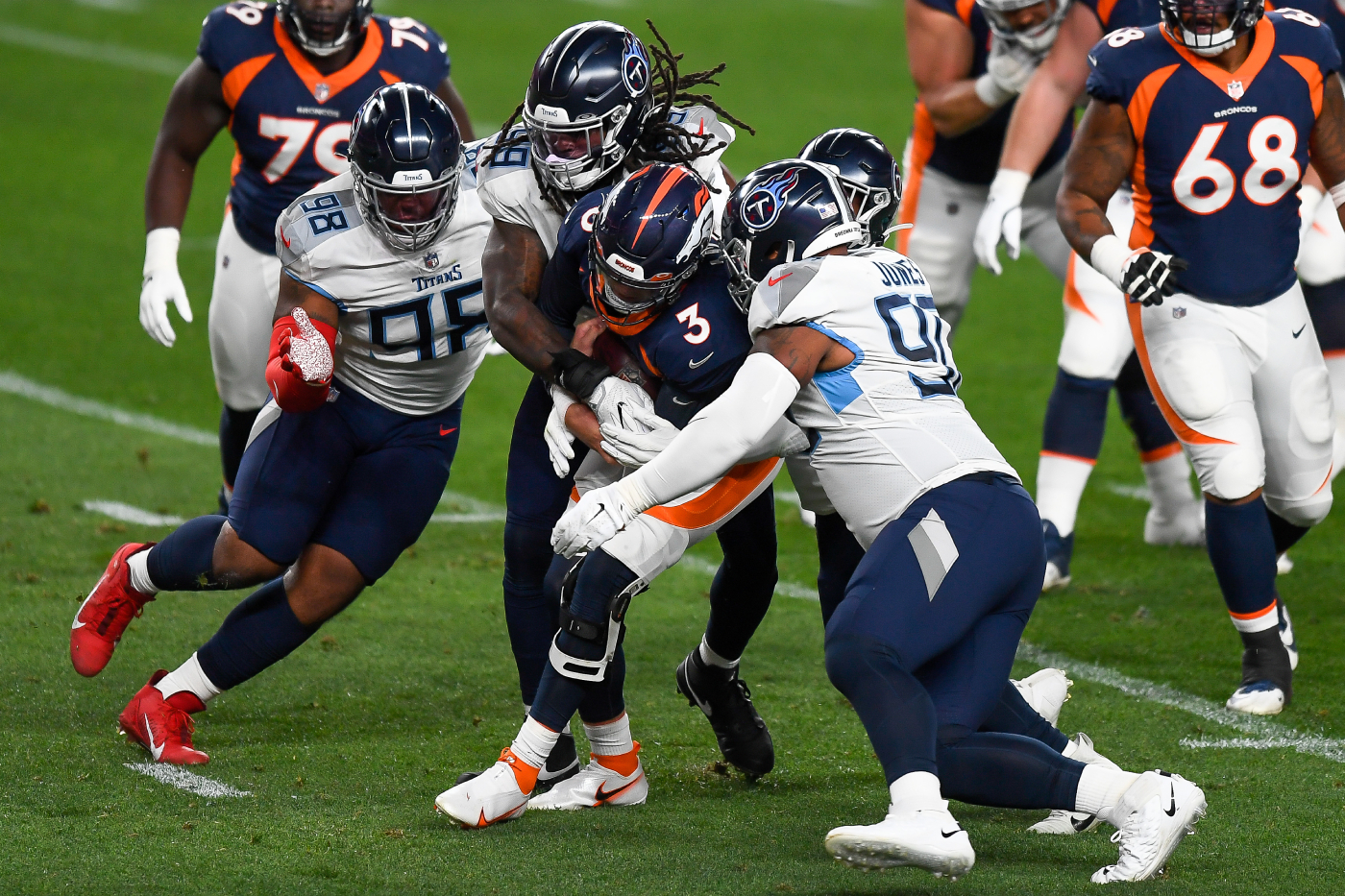 This was pointed out by NFL reporter Dov Kleiman recently.
In the offseason, the Titans signed Clowney to a one-year deal worth $13 million. He could also earn $2 million in incentives, according to ProFootballTalk, but it is hard to imagine him making that $2 million now.
Beasley signed with the Titans on a one-year deal, worth $9.5 million, according to Spotrac. So, the Titans are spending around $22.5 million on Clowney and Beasley with the expectation that they are going to get sacks.
How many sacks have they combined for this year? Zero. Beasley has three total tackles in five games this season, while Clowney has 15 total tackles in seven games this season.
This has resulted in the Titans being one of the worst teams in the league in getting to the quarterback. They are tied for No. 30 in the NFL with seven total sacks as a team this year. This, in turn, has made them one of the worst passing defenses, as the Titans have allowed the eighth-most passing yards this season and the fourth-most passing touchdowns.
The Tennessee Titans are certainly a good team, and they have a talented offense. However, they are completely wasting millions on two players who have stunk this year. If Clowney and Beasley can't start getting to the quarterback, or if someone else can't step up in the pass rush, then it is hard to imagine the Titans making the playoffs this season.
Stats courtesy of Pro Football Reference