The Texans Are Oddly Taking a Page out of Tim Tebow and Urban Meyer's Book in an Attempt to Revive a Struggling Career
The Houston Texans' 2021 season is not off to a promising start. They're 1-8, with their lone win coming back in Week 1 against Urban Meyer and the Jacksonville Jaguars. Since then, the Texans have pretty much been the worst team in the NFL. Part of their struggles can be blamed on losing starting QB Tyrod Taylor to a hamstring injury for a few games. However, this was never a roster designed to be competitive.
The Texans, at a deeper level, are flat-out tanking this season.
The Texans have an oddly constructed roster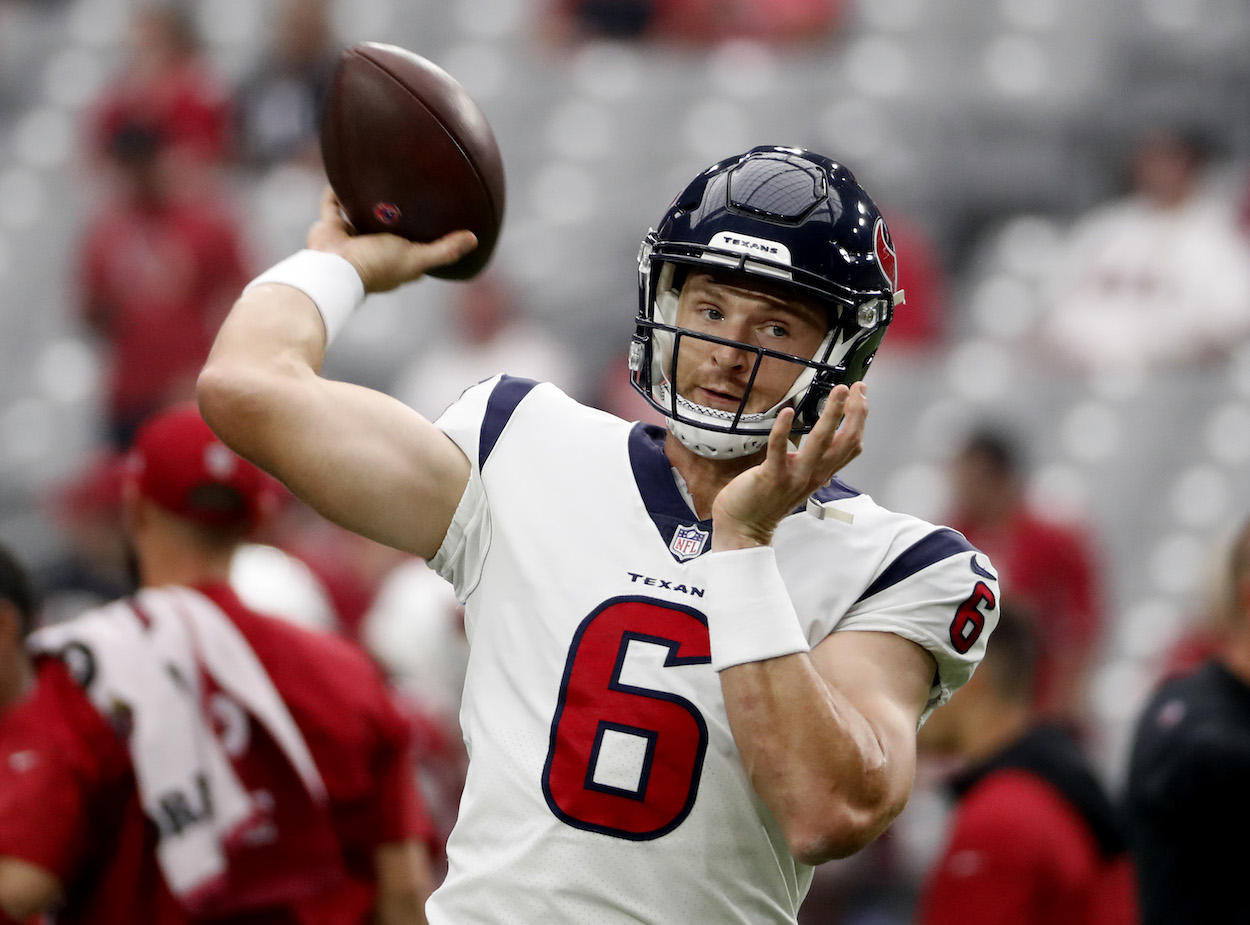 Teams tank in all different manners. Some general managers like employing as many rookies and undrafted free agents as possible, relying on their inexperience as a way to encourage losing against veteran-heavy opponents. The 2019 Miami Dolphins are an excellent example of this method being put into practice.
On the other hand, some general managers like to lean on aging veterans and outcast free agents to fill out their roster. This is the tactic Houston and their first-year GM, Nick Caserio, employed. He signed up as many lowly free agents as possible on one-year deals to come in and lose a bunch of games. The best outcome is to possess the No. 1 overall pick in the 2022 NFL Draft at the end of the year.
Veterans Danny Amendola, Philip Lindsay, David Johnson, Rex Burkhead, Desmond King II, and the before-mentioned Tyrod Taylor are just a few examples of the types of players Houston targeted this past offseason.
QB Jeff Driskel is moving to TE
With the Texans' oddly built roster in mind, this brings us to quarterback Jeff Driskel. A three-year veteran who's spent time with the Detroit Lions, Cincinnati Bengals, and Denver Broncos, Driskel was signed by the Texans this past offseason with no real plan in mind.
Including Driskel, the Texans had four quarterbacks on the roster. Only two of them have taken snaps this season (Taylor and rookie Davis Mills).
Driskel was operating as a glorified waterboy for Houston through their first nine games. So, the team decided to outright change his position in an attempt to save his career. According to NFL.com, Driskel will be moving to tight end.
A rare position change is happening in Houston.

Jeff Driskel will be making the switch from quarterback to tight end, according to Texans TEs coach Andy Bischoff.

Calling the 28-year-old "a rare athlete," Bischoff said Driskel is full-time participant in the TE room going forward and there's a possibility he could contribute on special teams as well. How soon we see Driskel catching passes and making blocks as a TE or running up and down the field as a special teamer remains to be seen.

Michael Baca, NFL.com
The Texans are searching for Taysom Hill 2.0
Since the emergence of Taysom Hill in New Orleans, more and more teams are looking into the idea of converting athletic quarterbacks to the tight end position.
The Philadelphia Eagles turned former college QB Tyree Jackson into a TE this past offseason and are reportedly pleased with his progress after a full year. The Texans are seemingly looking to do the same. Urban Meyer and the Jacksonville Jaguars are the most recent team to explore such an idea. However, their well-documented Tim Tebow experiment failed miserably. Funny enough, Driskel also played for the Florida Gators in college.
At 6-foot-4 and 235-pounds, Driskel certainly has the frame of a tight end. He needs to put on another few pounds to become an effective blocker. However, he's not far off. The excellent news for Driskel is that Houston's tight end room is pretty light on talent. There's a clear pathway to playing time for him if he's able to make the switch.
All stats courtesy of Pro Football Reference.