The Thunder Should Build Around Westbrook if Durant Leaves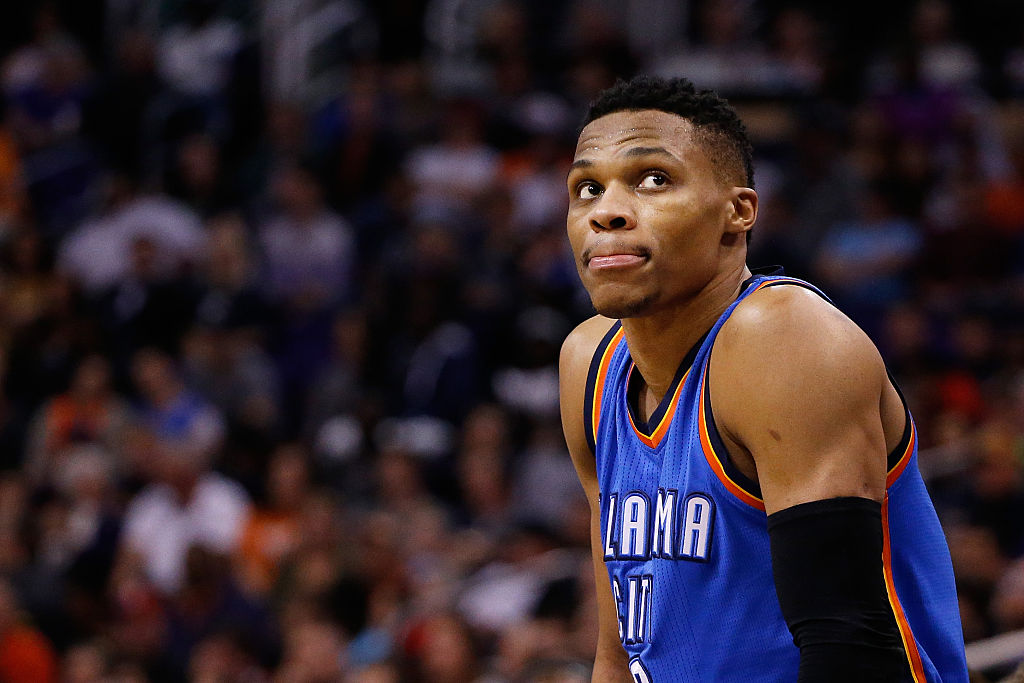 The Oklahoma City Thunder franchise is in an interesting situation after they finish their push for an NBA title this season. While they have two superstars in Kevin Durant and Russell Westbrook, it's not quite as simple as continuing to compete for championships. Durant is set to become a free agent after this season, while Westbrook will be a free agent next offseason.
What should the Thunder do when the playoffs come to a close (aside from the obvious)? For starters, they should attempt to re-sign both players as hard and fast as possible. The higher-ups need to sell the idea of Durant and Westbrook playing together and winning championships for years down the road. It must be the focus immediately after this season concludes.
Now, what happens if the Thunder can't convince Durant to stay in Oklahoma City, or another team does enough convincing to pull him away? At that point, the decision becomes an easy one. It's full-sell mode for the Thunder in an attempt to keep Westbrook happy and let him know that he's the player they want to build around. This may seem like the obvious answer, but it will be tough to do.
In 2017, Westbrook will have a full season to run the show on his own, and that's either going to go just fine and he'll love always controlling the game, or the Thunder will take a big step backward and he'll hate it. This is why the Thunder need to address the situation immediately — as in during the 2016 offseason.
Re-sign Westbrook and add more talent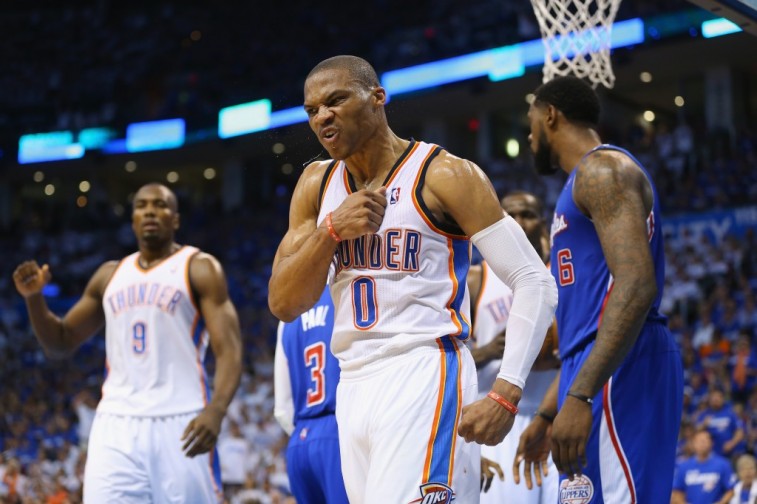 In this hypothetical situation, OKC needs to attack free agency like their life depends on it, because it very well may. If the team loses Durant this year, then Westbrook next year, the fans will be completely shocked and distraught heading into 2018.
Worst of all, the Thunder will likely be looking at a lottery pick in that situation — more than a playoff spot. This means that if Durant leaves, it needs to be an all-out push to first convince Westbrook that he's the future in OKC, and then re-sign him to a max deal. After doing that, the team needs to start hitting free agency full speed ahead.
The team's potential targets would include Hassan Whiteside (although center isn't a major need), DeMar DeRozan, Al Horford, Bradley Beal, or Pau Gasol. It'd be great to see the Thunder land a player like DeRozan or Beal, who could pair with Westbrook and help with the scoring immediately. Any of those players would likely come in with an understanding that the ball will be in Westbrook's hands for the bulk of play.
With that said, DeRozan played alongside Kyle Lowry, and Beal played with John Wall, so they've both spent plenty of time with incredibly talented point guards. Whiteside, Horford, and Gasol have all spent time with strong point guards too, but honestly each of them could be easily sold on the idea of playing alongside Westbrook for years to come, while bringing championships back to OKC.
The decision is an easy one if Durant chooses not to stay, but the Thunder will need to go all-in on Westbrook and convince him that they're thrilled to do so as well. Simply because letting Westbrook leave town won't be an option at that point, at least not if the Thunder want to remain in the top half of the brutal Western Conference.
Statistics courtesy of ESPN.com and Basketball-Reference.com.