10 Greatest NBA Point Guards of All Time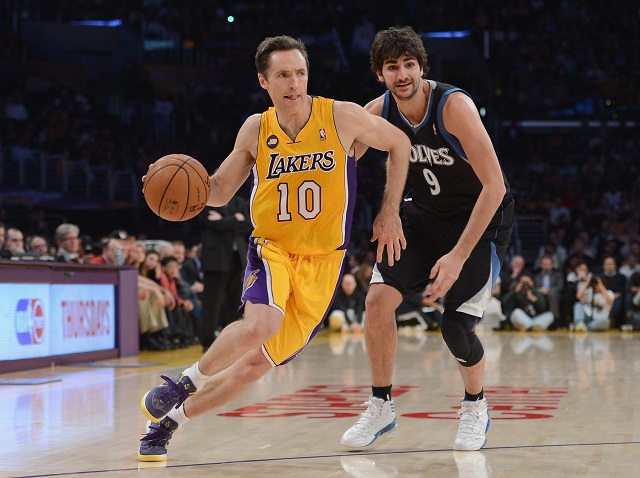 The point guard best captures the imagination of the weekend warrior, accommodating all shapes and sizes — from 5-foot-3 Tyrone "Mugsey" Bouges and doughboy Khalid El-Amin to the 6-foot-9 force that was Magic Johnson. An elite point guard can completely dominate the game without even scoring.
The best point men are typically pass-first team players who subjugate their own offensive talent to get teammates involved in the flow of the basketball game. For that reason, assist totals are a leading indicator of point guard play. With that, here's our take on the top 10 NBA point guards of all time.
Honorable Mention: Steve Nash will go down as one of the most efficient offensive players in the history of basketball. While the tail end of Nash's career — with the Los Angeles Lakers — was marred by nagging injuries in conjunction with a monstrous contract, we'll always remember him for his playing days with the Phoenix Suns; a run that single-handedly popularized the constant pick and roll you see today.
10. Kevin Johnson
Armed with a deadly first step and high-top fade, Kevin Johnson worked his signature crossover dribble to perfection. Classic KJ would go rope-a-dope, where he would hesitate and lean to his left, just before crossing back over to the right and exploding into the paint.
As a finisher, 6-foot-1 Kevin had the hops to give the business to all comers at the rim, including Hakeem Olajuwon. In Phoenix, little people everywhere prevailed, as No. 7 climbed the ladder to throw down a thunderous jam upon The Dream's neck. For the majority of his 13-year career, KJ sparked a high-octane offense in the Valley of the Sun, with 6,711 career assists, three All-Star nominations, and one NBA Finals appearance.
At the height of his powers, KJ joined the ranks of Isiah Thomas, Magic, and Oscar Robertson as the only point guards in history who were automatic for 20 points and 10 assists each night. In 1991, Kevin, the eventual mayor of Sacramento, slapped together 22 points, 10 assists, and four rebounds per game.
9. Chris Paul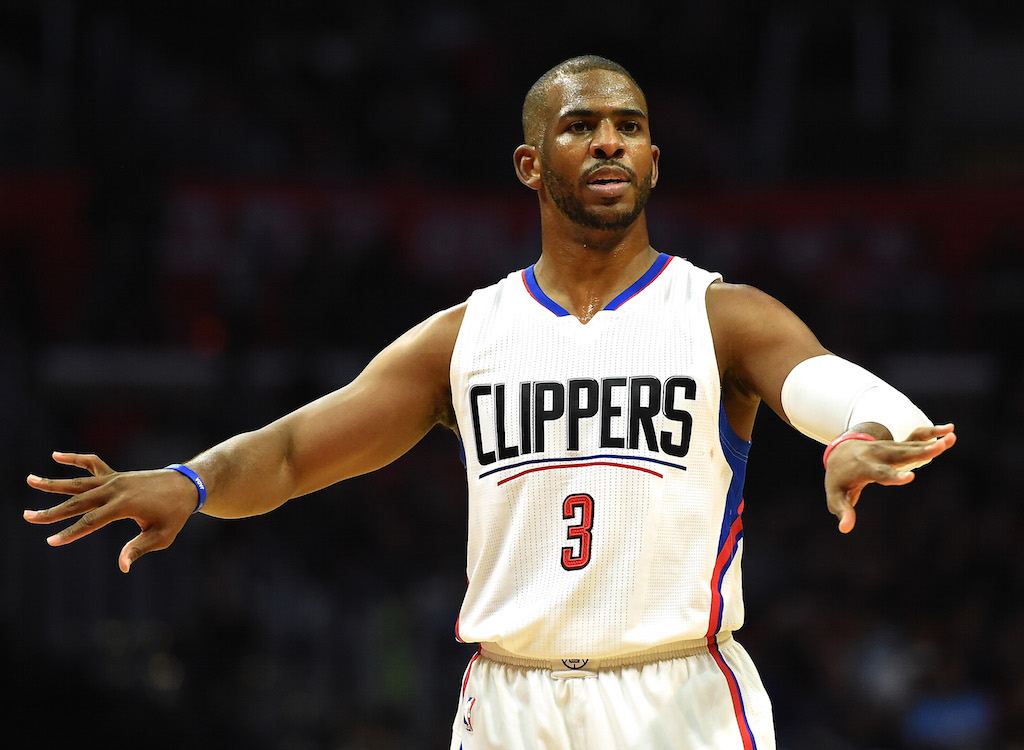 At the tender age of 31, Chris Paul has already thrown his name into the ring as one of the all-time greats at point guard. As he honed his skills at Wake Forest, Paul emerged as another product of the ACC point guard blueprint that preached intelligence, heart, and above all else, the pick and roll. As a member of Lob City, Paul mastered the art of feeding both Blake Griffin and DeAndre Jordan at the front of the rim for hammer dunks.
At 6-foot and 175 pounds, Paul has always been deceptively quick. On the perimeter, he can be impossible to contain, as he barrels into the lane at will to either set the table for a cutting big man, kick the ball out to sharpshooter J.J. Redick for an open three, or even finish himself with either hand at the rim.
In half-court sets, Paul has also mastered the art of the step-back three, where he feints a drive, delivers a forearm shiver, and fades behind the arc to knock down clutch jumpers, firing up the Staples Center crowd. For his career, Paul has averaged nearly 19 points, 10 assists, and 2.3 steals per game.
8. Jason Kidd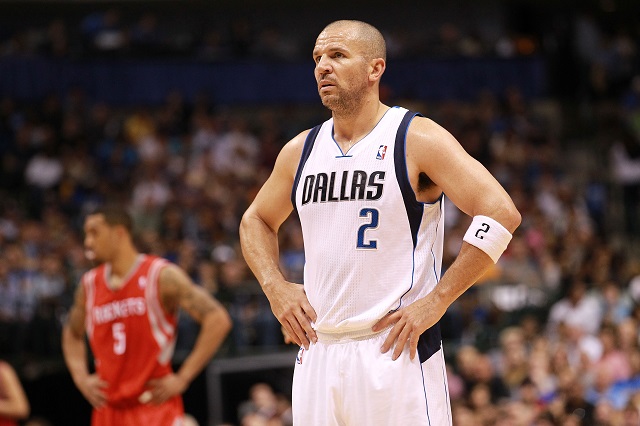 Similar to Magic Johnson, Jason Kidd did not need to score a point to dominate the game. Once nicknamed Ason, for his lack of a "J" (or jumpshot), Kidd's career has been nothing short of remarkable.
In all, he closed out his 19-year career with one NBA championship, two Olympic gold medals, 10 All-Star game appearances, 1,988 three-point conversions, 12,091 assists (second of all time), and 2,684 steals (second of all time). As a triple-double machine, Kidd was a stat sheet stuffer, who finished among the all-time leaders for point guards in every significant statistical category.
In his prime, Kidd was a speed demon who arguably starred as the league's fastest end-to-end performer. He was at his best in a freelance, up-tempo game, where he could turn on the jets and find the right man at the right place in transition. Over time, Kidd aged gracefully into the elder Mavericks statesmen, who facilitated half-court sets and even added a consistent three-point shot to his offensive arsenal.
7. Walt "Clyde" Frazier
Walt "Clyde" Frazier was just too cool for school. As a Knick, Frazier owned New York in the '70s on the strength of his well-coiffed afro, mutton-chop sideburns, tailored suits, fur coats, fedora hats, Rolls Royce cars, and two NBA Championships. Frazier was the charismatic leader of a Knicks Dream Team, which included fellow and future Hall of Famers Dave DeBusschere, Jerry Lucas, Willis Reed, Earl "The Pearl" Monroe, and Zen Master Phil Jackson amongst its ranks.
At lead guard, only the calm, cool, and collected Frazier could put this cast of characters in check. Frazier put on a show in the clinching Game 7 of the 1970 NBA Finals versus the Los Angeles Lakers. Beneath the bright lights of Madison Square Garden, Frazier paced his Knicks to the tune of 36 points and 19 assists. 
6. Gary Payton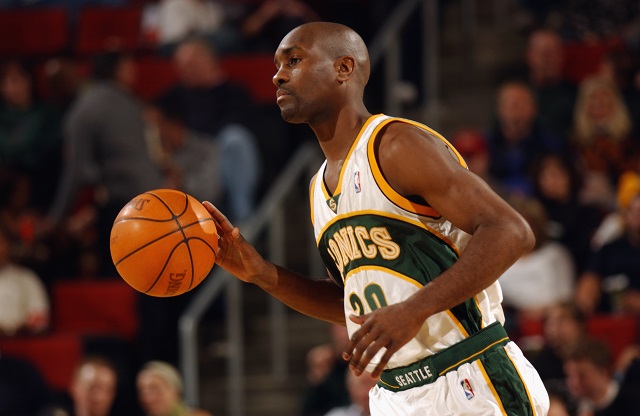 Gary Payton was the greatest defensive point guard of all time. Nicknamed "The Glove," Payton initially earned recognition as a ball hawk for his ability to shut down the likes of Kevin Johnson, John Stockton, and Steve Nash. With his wiry strength, physical style of play, and non-stop trash talk, Payton also starred as the rare athlete who could get into the head of the great Michael Jordan.
In the 1996 NBA Finals, Payton harassed Jordan into a subpar performance (by his Airness's standards). Payton held Jordan to 23, 26, and 22 points in the final three games of the series. As a member of the Seattle SuperSonics, Payton was the mastermind behind bang-bang alley-oop plays to "Man-Child" Shawn Kemp. In addition to the flair for the dramatic, Payton was fundamentally sound, as he thrived in the post to cook opponents with head fakes, turnaround jumpers, and a lethal drop step toward the goal.
During the 1999-2000 season, GP put it all together to average 24 points, nine assists, and seven boards per game in one of the greatest statistical performances in NBA history. In the twilight of his career, Payton finally rode off into the sunset as an NBA champion with the 2006 Miami Heat.
5. John Stockton
As far as style was concerned, John Stockton was the anti-Clyde Frazier. With his choir boy looks and comb-over haircut, Stockton appeared equally ready to either prepare your income taxes or throw on a pair of butt-hugger shorts and school all comers out on the basketball floor. As a professional, Stockton was most notable for the economic efficiency of his game.
As the NBA's all-time assist leader (15,806 career assists), he played the angles to perfection, never committed to pounding the ball unnecessarily, and he appeared to always instinctively make the right decision at the right time. Stock's limited use of steps made for a deceptively fast floor general who often blew right past defenders out on the perimeter, despite his apparent lack of raw athleticism.
As the ultimate scrapper, No. 12 would scratch, claw, grab, and battle his way into position on each and every possession. On the pick and roll, Stockton hooked up with Karl "The Mailman" Malone for an ongoing montage of pretty-boy hand-behind-the-head dunks, and-one layups, and mid-range jump shots. To keep defenses honest, Stockton would sometimes curl off the Malone screen and fake the pass to The Mailman before stepping back behind the arc and knocking down a three from deep.
4. Bob Cousy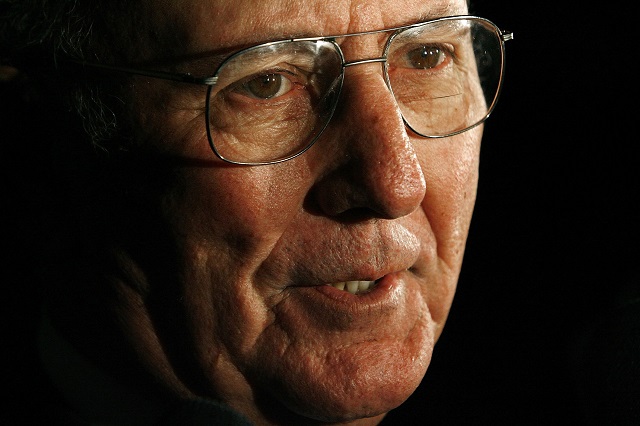 At first, nobody wanted Bob Cousy. As a young journeyman, he forced himself upon the Boston Celtics after he refused to report to the Tri Cities Blackhawks. After the Chicago Stags organization folded, Cousy signed on with the 1950 Celtics for $9,000 in salary. At the time, Celtics brass and head honcho Red Auerbach doubted that Cousy's "local yokel" style and gimmicks could translate into success at the professional level.
Cousy, of course, went on to serve as the original building block for a budding dynasty. By his second season, he earned the nickname "Houdini of the Hardwood," as he dazzled fans with his slick ball-handling, no-look passes, and 20 points-per-game average. After his sophomore campaign, "The Cooz" went on to lead the NBA in assists for eight consecutive seasons between 1953 and 1960.
In 1959, Cousy slapped together 20 points, nine rebounds, and six assists per game, as the primary spark plug for Auerbach's high-octane offense. The Celtic Tradition now prides itself upon team play and winning championships. Between 1957 and 1963, Cousy joined forces with The Great Bill Russell to bring home six NBA Championships in seven years.
3. Isiah Thomas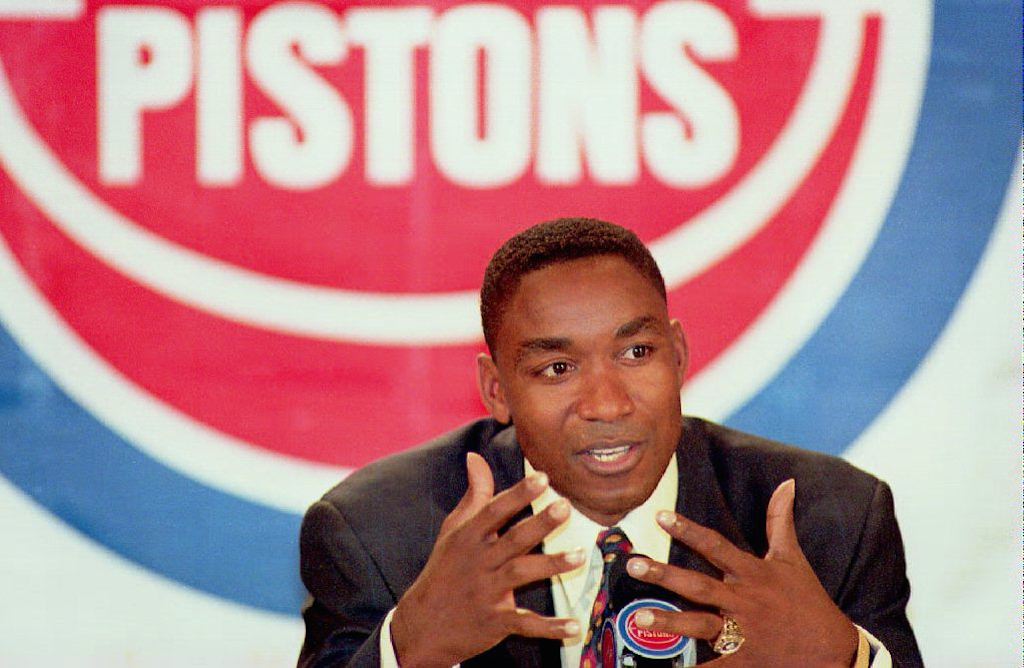 Despite his baby face and radiant smile, Isiah Thomas was the Baddest of the Bad Boys. In Detroit, he was the ringleader for a collection of goons who thrived upon intimidation, dust ups, and rough-and-tumble play. The group, in its prime, gave both Jordan and Scottie Pippen fits as Detroit enforced the Jordan Rules, which called for Piston enforcers to close out on drives in the paint and slam the more athletic Bulls players into the basketball support.
For years, many notable basketball historians had rightfully speculated that bad blood between Detroit and Chicago ultimately kept Thomas off the 1992 Dream Team. However, he did win back-to-back titles in 1989 and 1990, between the Lakers, Celtics, and Bulls dynasties. In true point guard form, he looked to get the likes of Joe Dumars, Bill Laimbeer, and Mark Aguirre involved throughout the first three quarters of each game. As a passer, Thomas averaged 9.3 assists per game throughout his 13-year career.
In 1985, he led the NBA with 1,123 assists, or 13.9 dimes per game. As a scorer, Thomas often waited until crunch time to dominate. In the fourth quarter, he was especially notable for scoring points in bunches off an array of jumpers, dribble drives, and baby hooks. Thomas, again, was the ultimate link between championship dynasties in Boston, Los Angeles, and Chicago.
As a young buck, he averaged 26 points per game in an '85 playoff run that ended against Larry Bird and the Boston Celtics. In defeat, Thomas infamously had his inbounds pass stolen by Bird, who flipped a pass to Dennis Johnson for the clinching lay-up.
Three short seasons later, Thomas also hobbled his way to a sensational 25 points in one quarter against Magic Johnson and the LA Lakers, en route to a 1988 NBA Finals loss. After winning two titles, the Bad Boy run came to a crashing halt in Chicago. In 1991, Thomas refused to shake hands with the Bulls and led his Pistons off the Chicago Stadium floor after being swept out of the playoffs.
2. Oscar Robertson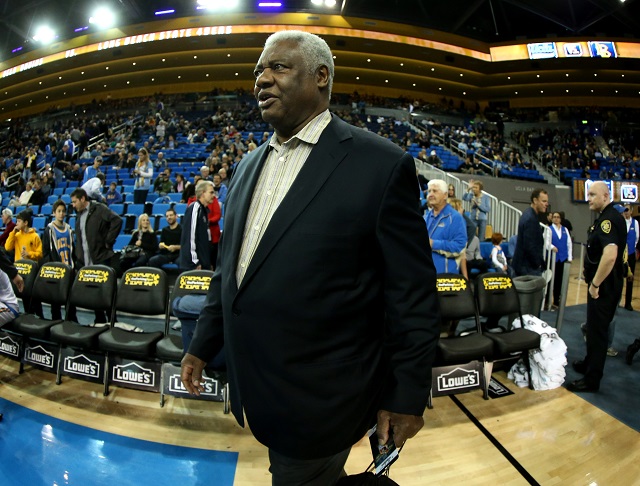 Oscar Robertson was a force. Over the course of 14 seasons between the Cincinnati Royals and Milwaukee Bucks, Robertson put up unbelievable numbers to dominate the NBA. For his part, the Big O has ranked as a single-season leader in points, assists, free-throw attempts, free-throw percentage, and minutes played.
As the ultimate measure of his all-around game and end-to-end play, he tallied a record 181 triple-doubles, which included a remarkable 1962 run, where he averaged 31 points, 13 rebounds, and 11 assists per game. As a young star, Robertson did everything for the moribund Cincinnati Royals franchise. Through his first five years as a professional, Robertson averaged more than 30 points, 10 rebounds, and 11 assists per contest.
After a 1970 trade to the Milwaukee Bucks, he was finally able to showcase his skills to the benefit of a winning program. Teamed up with a young Lew Alcindor, Robertson helped lead his Milwaukee Bucks to a 4-0 NBA Finals sweep over the Baltimore Bullets that season.
1. Magic Johnson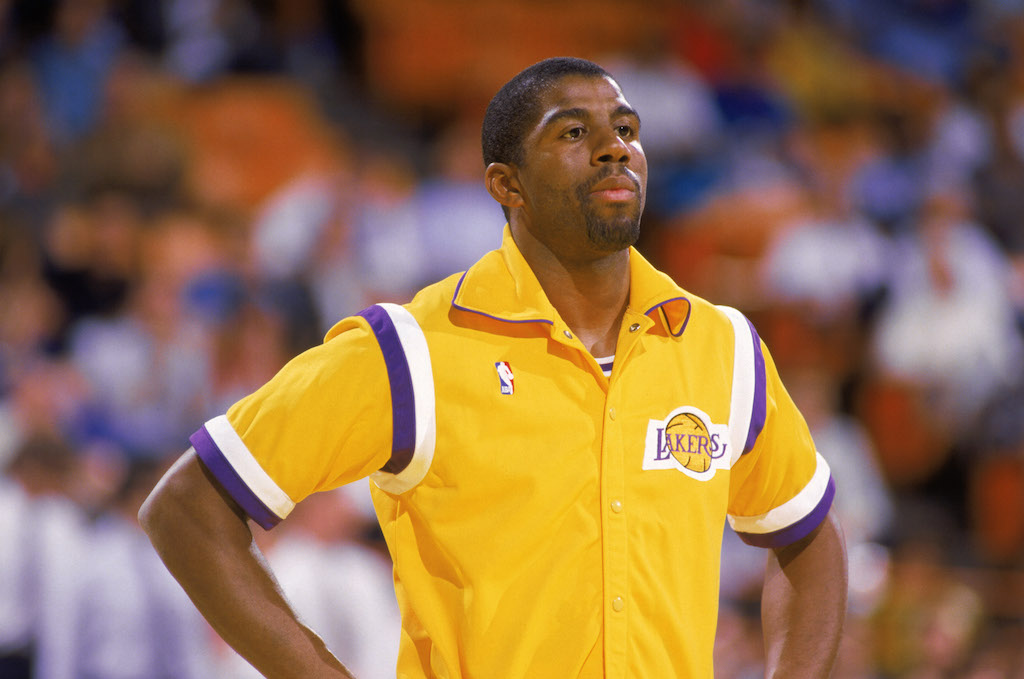 At 6-foot-9, Magic Johnson starred as the only NBA athlete who could perform at a high level at all five positions. As a rookie in Game 6 of the 1980 Finals, the Magic Man subbed in for an injured Kareem Abdul-Jabbar to record 42 points, 15 rebounds, and seven assists. As a backdrop, Magic's all-around performance came against Julius Erving's Philadelphia 76ers, and clinched the first of his five titles with the Los Angeles Lakers.
From there, assistant coach Pat Riley was ultimately promoted as head coach, and Showtime was born on the West Coast. In Showtime, Magic was a one-man fast break who could crash the boards, control the basketball, and push the tempo. In the open court, Magic often fed the likes of Big Game James Worthy, Byron Scott, A.C. Green, and Michael Cooper with pinpoint no-look passes for easy buckets.
Magic's uptempo style and Hollywood marquee showmanship made for the perfect contrast in heated battles between the Lakers and Celtics. Between 1983 and 1987, Magic's Lakers won two out of three heated NBA Finals matchups against the Boston Celtics, who were a dynasty in their own right. As a winner and consummate team player, Magic closed out his career with 10,141 assists (now fifth of all time) and claimed five NBA titles.
Statistics courtesy of Basketball-Reference.