NBA: The Top 5 Centers on the Court
The franchise center is in danger of extinction. Fans of old school basketball, of course, will always be able to look back nostalgically to Bill Russell blocking shots, Kareem Abdul-Jabbar raining down sky hooks, Hakeem Olajuwon taking over in the post, or even Shaquille O'Neal tearing down the goal on a rim rocking jam. While it was once common knowledge that a strong and dominant center was the ultimate cornerstone for any winning franchise, the game of basketball has evolved over time to showcase perimeter play at the expense of the true blue center.
One of the trickle down wrinkles of this effect is that elite centers are now increasingly comfortable turning and facing the basket. The mid-range game has added another dimension to the center position, while a skilled big man will still combine finesse and power to score easy buckets on the low block. In today's NBA, an elite center is a luxury, as he is nearly an automatic bucket or foul late in the game. As defenders, great centers routinely step up to erase defensive lapses and back up their teammates. The best five centers in the game right now represent the total package for any aspiring big man to hope to match.
5. Al Jefferson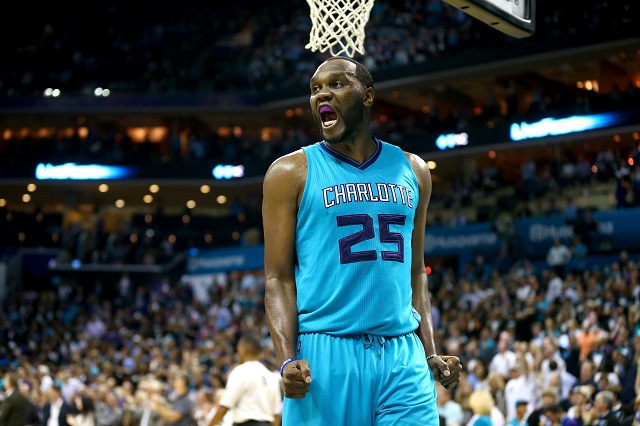 Al Jefferson was the lone bright spot for a struggling Charlotte Hornets ball club this season, even though the team disappointed mightily in 2015, going 16 games below .500 overall. Jefferson is a technician on the low block. In the post, he's known to wheel and deal with an assortment of pump fakes, spins, and drop steps. When on the move, Jefferson can shoot the baby hook with either hand, or even power his way all the way to the basket for the jam. This season, Al Jefferson averaged 16 points and eight rebounds per game, despite staring down multiple double teams and a dysfunctional locker room each night.
4. Marc Gasol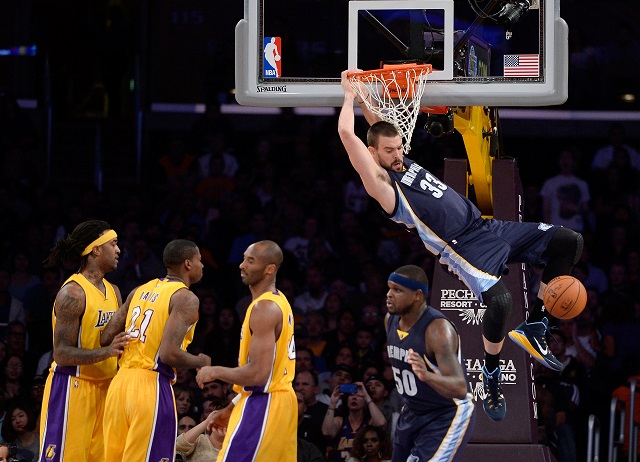 We are watching Pau Gasol's little brother grow up right before our very own eyes, as the Gasol brothers (alongside Chicago's Joakim Noah) are often cited as the best passing big men in the game today. As a passer, Marc Gasol is especially adept in the high post at playing the angles and finding cutters for easy baskets. He has averaged roughly four assists per game, over the course of the past three seasons.
In Memphis, Marc Gasol and Zach Randolph have forged a unique chemistry on the front line, despite looking like somewhat of an odd couple on paper. Randolph came into the league as a brash youngster out of Michigan State and earned his stripes as a key contributor to the "Jailblazers" era in Portland. Meanwhile, Gasol was working his craft in Spain, and was drafted into the league as a lowly 48th overall pick, in the 2007 draft. Still, both have managed to control the paint through skill in order to make up for their lack of raw athleticism. Gasol, in particular, has rapidly improved his shooting touch and post footwork over the years. In his best season yet, Marc Gasol posted averages of 17.4 points, nearly eight rebounds and just below four assists per game.
3. Dwight Howard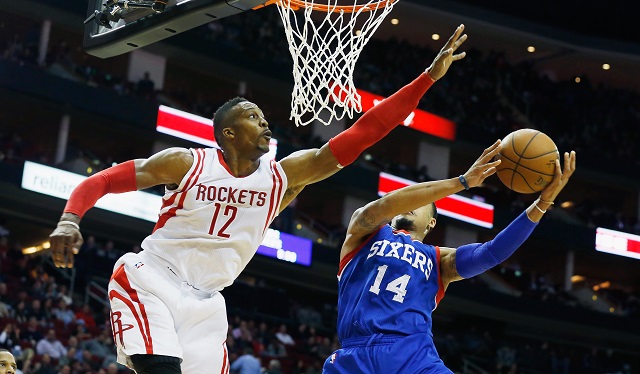 Dwight Howard, at six-foot-eleven and 265 pounds, is undoubtedly one of the most impressive physical specimens to ever pick up a basketball. In 2008, he actually put his cape on and soared through the air from the free throw line to claim the slam-dunk championship. At the time, Dwight was a loveable kid, who could almost make Orlando fans forget about their original Superman, Shaquille O'Neal. The following year, in 2009, Dwight Howard helped lead an overachieving Magic squad to the NBA Finals, where they ultimately lost to Kobe Bryant and the Los Angeles Lakers, four games to one.
Unfortunately, the league's love afair with Howard was relatively short lived. In 2011, he was non-committal toward returning to Orlando, making a spectacle of the free agent process and ultimately demanding a trade out of town. The Magic granted Howard his wish, and dealt him to the Lakers in a complicated four-way trade between Los Angeles, Philadelphia, Orlando, and Denver. Dwight lasted one frustrating year in L.A. before moving on to Houston via free agency, in 2013.
In Houston, it is now up to Dwight Howard to use all of his physical tools to transform his reputation away from that of a petulant child and toward a grown man who is serious about winning. Last season, he did post 26 points and 13 rebounds per game, in a wild first round playoff series that the Rockets eventually lost to Portland, 4-2. Over the regular season, a relatively spry Howard came back back to put up per game averages of 19 points, 11 rebounds, and 2 blocks. As a shot blocker, Howard has been tasked with the formidable duty of cleaning up after James Harden's mistakes on the defensive end of the floor.
2. DeMarcus Cousins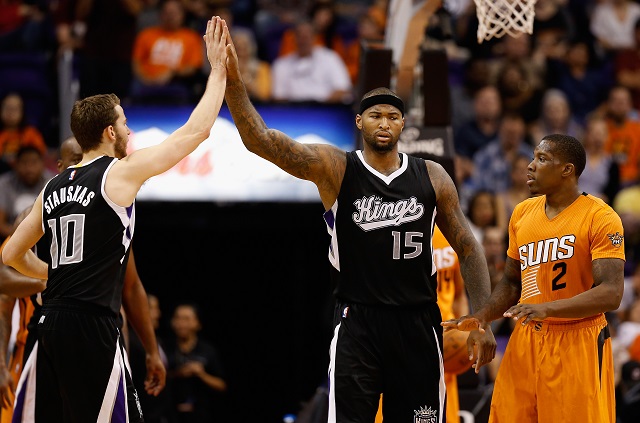 The walking definition of a natural talent, DeMarcus Cousins' abilities were never questioned. In one package, Cousins carries a big body that is also exceptionally quick in running the floor and getting off the ground. Apparently DMC was ripping down defensive rebounds, going coast to coast, whipping bullet passes, and throwing down tomahawk jams as early as high school. At the same time, rumors of a combative attitude and various run-ins with coaches, players, and officials have also followed Cousins since his time as a schoolboy legend. Jonathan Abrams, in his recent Grantland piece, referred to Cousins as a "tyrant [that] inflicted the most damage on himself."
This year, at age 24, DeMarcus Cousins has seemingly channeled his passion for the game into productivity, instead of technical fouls and shouting matches with rivals. Cousins just averaged a career-high 24 points per game, while nearly leading the league in rebounding at 12.6 boards per game. As an added bonus, Boogie knocked down 80% of his free throws, which is remarkable for a big man. Going forward, DeMarcus Cousins promises to emerge as the focal point for a young and exciting Sacramento Kings franchise in the loaded West.
1. Anthony Davis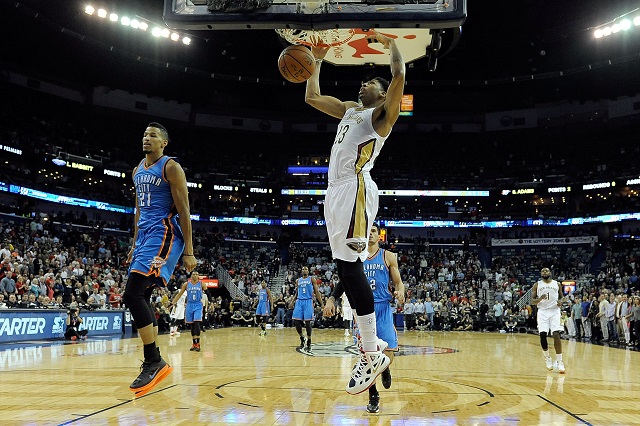 In today's game, Anthony Davis performs somewhat of a hybrid between power forward and center. By any definition, Davis is the most dominant big man in the NBA [Editor's note: This is why we included him on our top Power Fowards list, too]. Last summer, at 23, Anthony Davis emerged as the "go to" guy on a U.S.A. Basketball team stacked with talent. For many, his performance as the starting U.S.A. center in the FIBA World Cup confirmed that he was the third best player in the NBA, behind LeBron James and Kevin Durant. University of Kentucky head coach John Calipari has already allowed Davis five short years to become the best player in the NBA.
This last season, The Brow appears to be making good upon those predictions, as he filled up the stat sheet to average roughly 24 points, 11 rebounds, three blocks and two steals per game. A lock-down defender, Anthony Davis has spent his entire career capable of emerging as the most dominant player on the floor, without scoring one point, but this season, he's expanded his offensive game to include an array of drop steps, up and under moves, and baby hooks on the low block. At this early stage in his career, Anthony Davis already appears to be a once-in-a-generation player.