The Top 5 NBA Power Forwards in the Game Right Now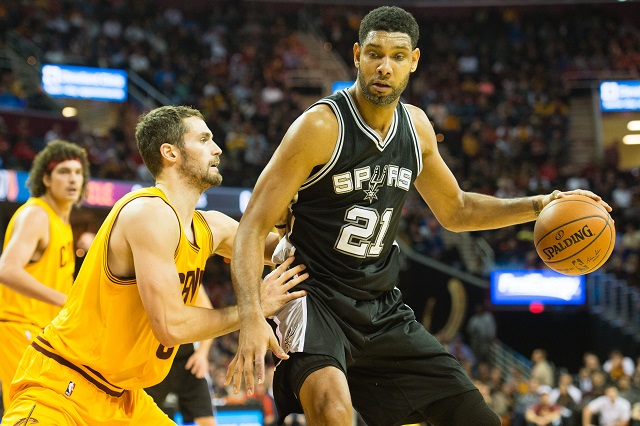 Many of the big differences between the best power forwards of today and their historical brethren have evolved out of the front office's desire to promote what should, in theory, be a more fan friendly product: More finesse scoring and less "bully ball." This has shifted the emphasis from the low post outward, and in recent years, point guards and wing players have been free to create out of 1-4 pick and roll sets involving the power forward.
As such, the "stretch four" is now in high demand — a power forward who can step back behind the three-point arc and knock down open jumpers. That's not to say that the best of the best can't bang down low, but that the best 5 power forwards in the NBA right now understand that spacing the floor is now the name of the game. Of course, if you're good enough, you don't have to be hanging out 23 feet from the basket.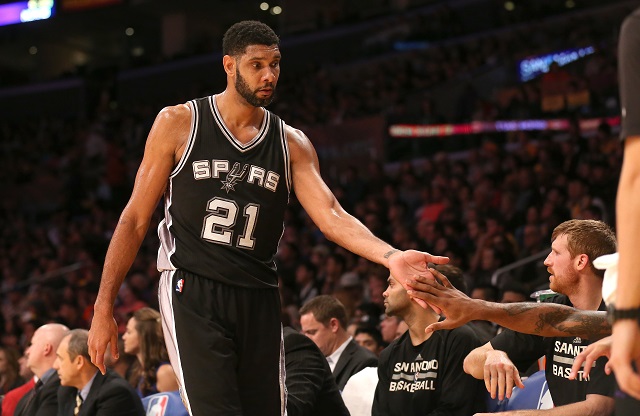 5. Tim Duncan
Tim Duncan will almost certainly go down as the greatest power forward of all time after all is said and done. A consummate winner, Duncan has claimed five NBA championships while anchoring the San Antonio Spurs throughout the most successful stretch of basketball ever played in the modern era of the league. Those five titles, of course, include last year's 4-1 Finals romp over LeBron James and the Miami Heat. In all, Tim Duncan has scored more than 25,000 points, grabbed more than 14,000 rebounds, and blocked more than 2,800 shots. On a per-game basis, Tim Duncan is averaging 20 points, 11 rebounds, 3 assists, and 2 blocks, through 18 years as a professional basketball player.
From here, any immediate seasonal accolades laid at his feet are more like Lifetime Achievement awards. This season, at 38, Tim Duncan is averaging just 14 points per game, and Gregg Popovich has once again limited his playing time to 30 minutes each contest, in order to conserve his energy for another deep run into the playoffs. Duncan, of course, has assumed the nickname Big Fundamental, because his game has always been more reliant upon technique rather than raw athleticism. As an elder statesman, he is still capable of scoring in the clutch, through an array of drop step, up and under, and spin moves. As a shooter, Duncan often demonstrates textbook use of the glass. Apparently, Tim Duncan never gets old.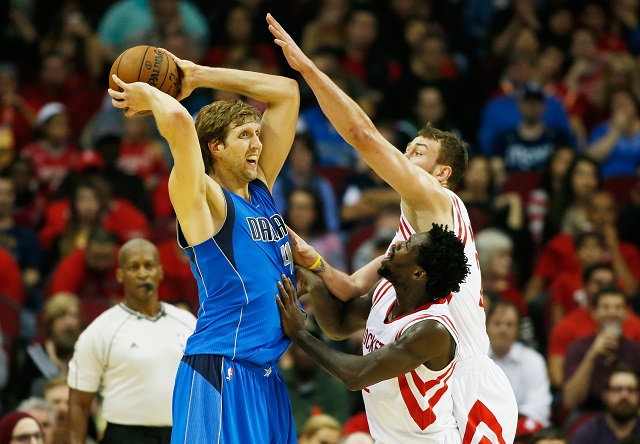 4. Dirk Nowitzki
One of the progenitors of the modern day stretch four, Dirk Nowizki, at seven-feet tall, was always a match-up nightmare, with the range and shooting ability to simply put it up over the top of defenders. As a young star, however, Dirk's Mavs were often bounced out of the postseason by the likes of the L.A. Lakers and San Antonio Spurs dynasties. In 2007, Nowitzki's big game struggles really came to a head, when his top seeded Mavericks were ran out of the playoffs by the upstart Golden State Warriors, 4-2. At that point, Dirk was dismissed as a mere volume scorer in the regular season, who could be easily bullied by teams when the games really started to matter.
In response, Dirk Nowitzki added a high-post scoring dimension to his game. Rather than going to war in the post, Nowitzki grew even more adept at setting up shop at the elbow, and raining down mid-range jumpers. Dirk Nowitzki went on to put his full talents on display in the 2010-2011 NBA Finals, when he finally brought championship and MVP hardware back to Dallas. For his part, Dirk averaged 26 points and 10 rebounds per game, dominating LeBron James and company throughout this Finals match-up. This year, Nowitzki is still performing as one of the more efficient scorers in the league, averaging 20 points per game, 49% shooting from the field, 37% from beyond the arc, and 86% from the free throw line.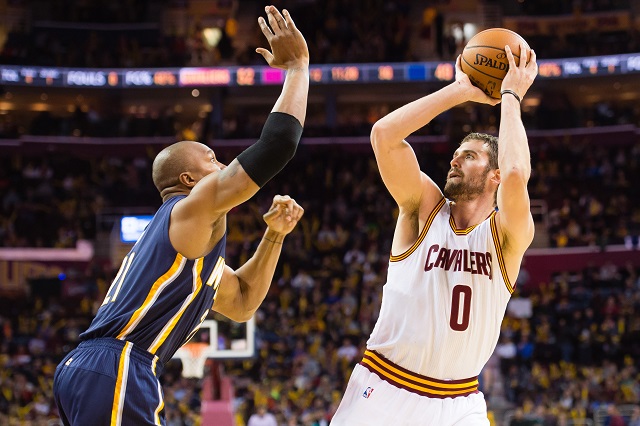 3. Kevin Love
You could be forgiven for comparing Kevin Love's career to at least one other UCLA alumni, but we're not sure there's much real comparison to be had between Bill Walton and the nephew of a Beach Boy beyond their extraordinary outlet passing. As one of the league's best rebounders, Love has a reputation for anticipating the angles on missed shots before anyone else, allowing him to box out and establish position to clean up the glass. In half-court sets, he could be the best stretch four in the game right now, with the ability to set up shop down low or step outside to torch defenses from behind the arc. Last season, Love tallied 26 points, 13 rebounds, and 4 assists per game on the Minnesota Timberwolves.
This season, as you may have heard, Love is a member of the Cleveland Cavaliers, pairing with LeBron James and Kyrie Irving to create the latest "Big Three." To this point, Kevin Love's numbers are down across the board — and we're reminded that Chris Bosh issued a warning to Kevin Love over the offseason about how difficult it can be to subjugate your own game to make way for Lebron. Furthermore, Love has never made it to the playoffs, despite his talented play, which has lead to questions about his real ability. Of course, should Cleveland go all the way, Love may find himself feeling a bit like Dirk Nowitzki — able to watch just how quickly winning changes people's perceptions.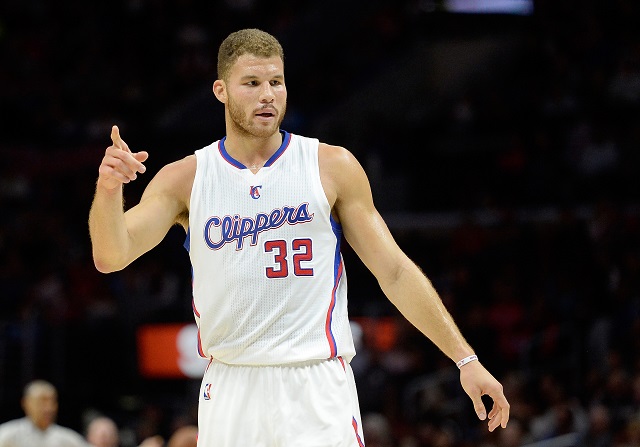 2. Blake Griffin
At the age of 25, Blake Griffin has already established himself as one of the league's most tremendous dunkers, earning mentions alongside the likes of Vince Carter, Shawn Kemp, Dominique Wilkins, and Michael Jordan. Griffin, of course, is at his best in transition, where he is able to run the floor in space, and put the hammer down with windmill and tomahawk jams. In half-court sets, pass-first point guard Chris Paul will often hit a rolling Blake Griffin at the front of the rim for power dunks. Taken together, Blake Griffin, DeAndre Jordan, and Chris Paul have brought the Lob City movement to Los Angeles.
As he matures, Griffin will continue to prove that he is more than just a one-dimensional dunker. Through hard work, Blake Griffin has added an array of drop step post moves, hook shots, and fade-away jumpers to his offensive toolbox. Beyond the paint, Blake has also improved his midrange shot and playmaking ability to find open teammates with every passing year in the NBA. This season, Blake Griffin is averaging 22.6 points, 7.5 rebounds, and 3.8 assists per game.
1. Anthony Davis
Right now, Anthony Davis, 23, brings more upside potential to the table than any other player in the NBA. Legions of fans, commentators, and even players themselves, have already highlighted Anthony Davis as the third best player in the NBA behind LeBron James and Kevin Durant. The Brow may actually be most impressive as a defender, where he sets the tone in the paint and along the baseline. During any particular set, Davis may rotate out for help defense on the perimeter, recover back toward the post, contest the shot, and crash the boards for the rebound. So far, Davis is averaging 11 rebounds, 2 steals, and 3 blocks per game.
As a sign of things to come, Anthony Davis took home a title and MVP honors in the 2012 Final Four after recording 6 points, 16 rebounds, 5 assists, 6 blocks, and 3 steals, for a stacked Kentucky ball club. While Davis does not need to score to dominate, he's still averaging nearly 25 points per game this season, after adding an array of jab steps, spin moves, turnaround jumpers, and floaters to his own offensive repertoire. So far, the first overall pick in the 2012 NBA Draft has more than earned his keep.